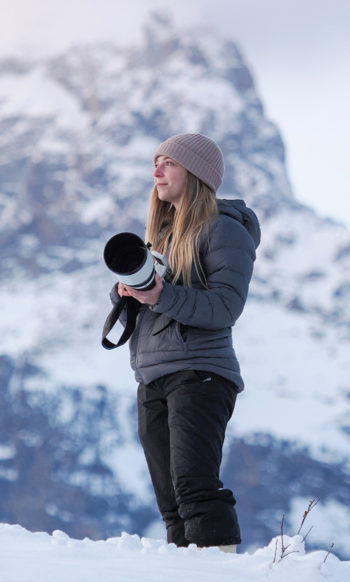 Wildlife photography, a passion and a profession, is the medium through which Tiffany shares her knowledge of the Greater Yellowstone Ecosystem.  As a guide, she enjoys engaging her guests in discussions on conservation and wildlife.  Tiffany leads our daily wildlife safari tours as well as our specialty photography experiences.
Certifications
Wilderness First Aid & CPR

B.A. Studio Art | Florida State University
More Adventures
Tiffany's Favorite Safari Tours
Full Bio
Tiffany was born and raised outside of Fort Lauderdale, Florida. Growing up near the water, her love for scuba diving brought her close to nature and marine life and helped foster a profound appreciation for all wildlife. Enamored by photographing life under the water and landscapes above, led Tiffany to fall in love with this art form.
She pursued a Bachelor's degree in Studio Art with a concentration in photography and digital media from Florida State University and moved to Jackson shortly after graduating to pursue wildlife photography. Tiffany is committed to promoting conservation and awareness, and in fostering a deep appreciation and understanding of wildlife through her photographic work.
When Tiffany is not guiding, she is out in the park exploring for interesting wildlife behavior to document. She exudes passion which is reflected in her art and she is always excited to share this deep love and respect for wildlife and the majestic Grand Teton and Yellowstone National Park, where she feels fortunate to spend most of her days watching wildlife.