Overview
During the winter months, Jackson Hole transforms into a magical winter wonderland and becomes the perfect point from which to explore the rest of the Greater Yellowstone Ecosystem.  Jackson Hole Wildlife Safaris has orchestrated the perfect tour that will include three incredible days of searching for wildlife, witnessing some of the most beautiful wild landscapes left in North America, and gaining a wealth of knowledge about the geology, ecology, and history of the region.  Led by one of our expert guides who are equipped with extensive field experience, the most will be made of your adventure in two stunning national parks.
Highlights
Wolf Watching in Yellowstone National Park

Winter Landscapes & Wildlife Photography

In-Depth Experience in the Greater Yellowstone Ecosystem
This winter, allow us to show you the beauty and wonder of the Greater Yellowstone Ecosystem!  You'll enjoy three days with one of our professional naturalist guides, and you will witness the wonders of two national parks, a national wildlife refuge as well as enjoy what the communities that surround these amazing natural landscapes have to offer.  This is an experience that will be catered to your interests as our valued guest, and no matter what, will emphasize revealing the best wildlife watching, scenery, and insightful experience that this region provides.
Tour availability is contingent on room night availability at our preferred lodging locations.  Reserve your wildlife safari first, then we will confirm room nights and give you a final confirmation when everything is set.  
On the first day of this multi-day trip, you will be promptly picked up from your place of lodging in the Jackson area early in the morning to begin scouting for native species like elk, moose, bighorn sheep, and bison in the illustrious terrain found in Grand Teton National Park and the National Elk Refuge.  On a clear day, the stunning views of jagged high alpine peaks, frosted trees, winding rivers, and frozen lakes will be abundant.  Even on the snowiest of days, photo opportunities will be around nearly every corner.  After a morning in Jackson Hole, your guide will drive you over the scenic Teton Pass (weather permitting) and eventually to West Yellowstone, MT where you will stay for the evening.
The next day's journey will be ripe with adventures that could include a snowshoeing trek into Yellowstone National Park, or a full-day excursion in a snowcoach or by snowmobile to see the iconic Old Faithful geyser erupting in the winter scene.  It is important to note that snowcoach or snowmobile tours are the only way to see Old Faithful in the wintertime as a majority of roads in Yellowstone are closed to normal vehicle traffic.  You may opt to forgo a snowmobile or snowcoach tour, and if wildlife is still the primary interest, we may stop for a visit to the Grizzly and Wolf Discovery Center.  This educational facility provides the chance to observe these apex predators in closer proximity than in the wild.  There are also enclosures to observe river otters, bald eagles, and great horned owls, along with highly informative exhibits about the conservation history of Yellowstone National Park.  We'll head north from here, and the search for the gray wolf begins.  That evening you will be staying in Gardiner, MT the gateway community of the North Entrance to Yellowstone.  
The grand finale of this multi-day excursion entails spending the early hours of the morning in Yellowstone expanding on the opportunity to observe the elusive gray wolf, as well as any other native species the keen eye of your personal guide might spot.  The northern region of this 2.2 million acre park is not only a hot spot for wildlife activity but includes highlights like Mammoth Hot Springs where one can witness naturally forming travertine terraces with steaming flows of water cascading down them.  There will even be the possibility for spectacular views of the Gallatin and Beartooth mountain ranges, and lovely winding waterways such as the Lamar and Gardiner River.  Seemingly too soon, the voyage back to Jackson will commence, and we'll drop you at your place of lodging in Jackson.  
What's Included
Professional naturalist guide

Use of UHD binoculars and spotting scopes

National Park entrance fees
Private Safari
$7295 per vehicle for 1-2 guests; $1625 for each additional guest, (plus taxes and fees). Maximum per vehicle, 6 guests. No minimum age. This is a private safari.

*Reservations are dependent on hotel availability at the time of booking.
Pick-up Times
All guests are picked up and returned to their place of lodging. We pick up at hotels and condos in Jackson and Teton Village. Please make note of your pickup time, and save it for your reference.
Please be ready and waiting in the hotel lobby a few minutes before your pickup, and allow an additional 5-10 minutes for your guide to arrive, just in case they are delayed for any reason.
Seasonal changes to trip timing may be made to accommodate daylight and/or optimum wildlife viewing.
Approximate pickup times for Jackson Hole include:
7:00AM, November-February
6:30AM, March-April
Our group thoroughly enjoyed our tour! We did a tour through north Yellowstone and it was amazing! Our guide was extremely knowledgable about the park and wildlife and answered all of our questions! We saw as much of the sites as we could that was open to cars during winter and got to see a lot of the wildlife! It was phenomenal! I would definitely love to go back and visit other areas of Yellowstone.
Samantha I.
Itinerary
Day 1
Grand Teton National Park / Yellowstone National Park
We'll spend the morning exploring in and around the town of Jackson, Grand Teton National Park and the National Elk Refuge.  In the afternoon, we'll leave the valley and head over Teton Pass on our way to West Yellowstone, MT, where we will spend the night.  (Alternatively, you may request an overnight in Gardiner, MT, if the goal is spending time in Lamar Valley).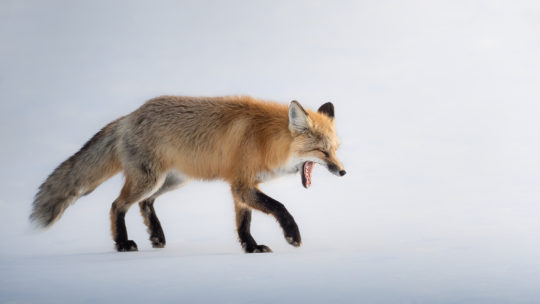 Day 2
Yellowstone National Park
We may opt for an adventure this morning, heading directly into Yellowstone National Park via snowcoach or snowmobile.  (This is an optional activity that must be booked in advance at an additional charge.) Or we may choose to explore the area by snowshoe, keeping an eye out for wildlife as we go.  We may stop in at the Grizzly and Wolf Discovery Center before reaching Gardiner, MT, our lodging location for the evening.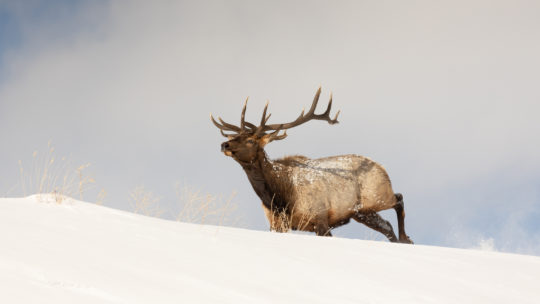 Day 3
Yellowstone National Park
We'll spend the morning searching the Lamar Valley for the elusive gray wolf and other species that you may see.  On the way back to Jackson Hole, we may stop at Mammoth Hot Springs, to witness some geothermal features unique to Yellowstone National Park.  On a clear day, the Gallatin and Beartooth mountain ranges may even be visible.  You'll be dropped back at your hotel before dinnertime on the third day.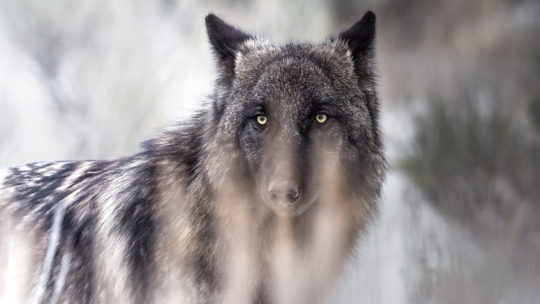 FAQs
What is the weather like during the winter?
Winter in Yellowstone ranges from early November to early April. Average high temperatures in the valley during the winter season range from 27F to 52F, (-3C to 11C), but daily temperatures can fluctuate far below freezing at times. The valley floor will typically see snow from October through April and in the high alpine elevations, it usually snows from September to June. The high elevation of Yellowstone National Park has been known to create wild temperature fluctuations from night to day, sometimes by 50F degrees or more. It is important to come prepared for winter conditions, as they can vary.
Average highs and lows by winter months:
November: Average High 39F/4C, Average Low 16F/-8C
December: Average High 28F/-2C, Average Low 6F/-14C
January: Average High 27F/-3C, Average Low 5F/-15C
February: Average High 32F/0C, Average Low 8F/-13C
March: Average High 41F/5C, Average Low 16F/-9C
April: Average High 52F/11C, Average Low 24F/-4C
Will we see wolves in Yellowstone National Park?
The most exhilarating part of searching for wildlife in their natural habitats is the "hunt", so to speak.  There is never a guarantee the species you are seeking will be found, but this just makes any chance to observe that animal all the more rewarding.  The often highly sought after gray wolf can be an especially elusive creature.  Being an apex predator in the Greater Yellowstone Ecosystem, there is naturally a low concentration of the species which makes their distribution across the landscape rather sparse.  This is what makes the trained eye of a guide along with high powered optics like binoculars and spotting scopes all the more vital!  The seasons also heavily impact wolf activity.  As snow deepens and temperatures drop in higher elevations, prey species that are essential to a wolf's survival migrate into valley floors, making areas like the Lamar Valley especially prosperous for finding this large, wild canid.  However, there is one place that can fulfill the promise of seeing not only wolves, but grizzly bears year round.  The Grizzly and Wolf Discovery Center located in West Yellowstone is home to two wolf packs and multiple grizzly bears that were brought to this sanctuary as an alternative to being euthanized.  This facility is also home to river otters, a variety of beautiful birds of prey and many informative exhibits about wildlife conservation.  
Will we have access to binoculars and spotting scopes?
Jackson Hole Wildlife Safaris is a company that ensures you will have the best experience possible when observing the incredible native wildlife of the Greater Yellowstone Ecosystem.  This entails searching for animals from long distances, and also observing any wildlife from a safe distance that will protect you and the living organism being observed.  This is what makes utilizing tools like binoculars and spotting scopes essential, and fortunately Jackson Hole Wildlife Safaris offers both!  Guests on every tour will be equipped with auto-focussing Bushnell binoculars that are extremely beginner friendly (for those who do not often get the opportunity to utilize binoculars) and a Vortex spotting scope that makes comfortable viewing of species like wolves, bighorn sheep and mountain goats from what could be a mile away.  
How much time will we spend in the vehicle during this three day wildlife safari tour?
Traversing terrain in states like Wyoming, Idaho and Montana is dramatically different from regions of greater metropolitan development.  Things are more dispersed, with easily hundreds of miles between one community to the next with an abundance of scenic natural terrain in between.  Fortunately, the route for this 3 day Winter Wolf and Wildlife Safari is not so severely remote and is still packed with beautiful views.  While touring around Grand Teton and Yellowstone you will be traveling by vehicle, with ample opportunities to get out to admire views of wildlife and landscapes.  The journey between Jackson Hole and West Yellowstone, MT usually takes approximately 2.5 hours, and you will pass through the lovely local communities of Victor, Driggs and Island Park, ID as well as a gradient of geologically unique terrain.  After an evening in West Yellowstone, MT the drive north will continue to Gardiner, MT which equates to about 3 hours.  Along this route you will pass through not only Big Sky and Bozeman, MT but the beautiful Paradise Valley where a variety of wildlife could be found, including the ever-coveted gray wolf.  The longest stretch of driving involved on this tour would be the journey back to Jackson, WY.  This part of the trip will require a little over 5 hours of driving to return to your point of origin, though your guide will make sure to include plenty of opportunities to get out and stretch your legs as well as restroom breaks!  Being a customizable tour however, if you prefer to stay in Bozeman, MT and fly out of the Bozeman / Yellowstone International Airport this option would eliminate the lengthy, yet still scenic drive back to Jackson Hole.  
Will we see Old Faithful?
Old Faithful is undoubtedly a quintessential part of Yellowstone National Park, but it is not an easy destination to access in the winter months due to road closures.  Aside from the 50 mile stretch between the North and Northeast Entrance of Yellowstone, the rest of the roadways close to exclusively snowmobile and snowcoach vehicular traffic.  Between December 15th and March 15 daily tours travel in and out of the west entrance of Yellowstone, which will escort you through a snow globe-esque world and to the iconic Old Faithful Geyser.  If seeing this keystone geothermal feature is a priority, Jackson Hole Wildlife Safaris can arrange for a full day (8-9 hour) snowcoach or snowmobile tour for your 3 day Winter Wolves and Wildlife Safari.  Alternatives to this type of excursion would be a snowshoeing tour into Yellowstone National Park, a visit to the Grizzly and Wolf Discovery Center in West Yellowstone, MT or to continue on directly into the Lamar Valley which is part of the limited region in Yellowstone which can still be accessed by normal road-based vehicles.  
What else will we see in Yellowstone National Park?
Yellowstone National Park is rich with a diversity of unique geological features, world class wildlife and a complex backstory of exploration, conservation and discovery that is begging to be told.  At 2.2 million acres this park is one of the largest in the contiguous United States, hence its wealth of natural resources and why it is worth spending more than a mere day visiting the region.  Even with winter road closures limiting travel in Yellowstone, there is so much to see.  The northern range of the park (which remains open year round) contains the incredible Mammoth Hot Springs, the beautiful Gallatin Mountain Range and the American Serengeti- better known as the Lamar Valley.  With a diversity of habitat like canyons, riverways and valleys there is also a spectrum of wildlife inhabiting this versatile terrain.  With the trained eye of a naturalist guide animals like bighorn sheep, bison, elk, deer, eagles, wolves, coyotes and river otters could potentially be spotted in their natural, native domain.  Jackson Hole Wildlife Safaris 3 Day Winter Wolf and Wildlife tour will not only show you the wonders of Yellowstone, but also the beauty of Grand Teton National Park.  Two glorious National Parks packed into one amazing adventure!  
Guides and Staff
Our Team
Local, experienced, and passionate guides and photographers.
More Adventures
Keep Exploring