Overview
This multi-day safari tour makes the most of your time in both Grand Teton National Park and Yellowstone National Park.  Our expert naturalist guides are equipped with invaluable insight into seasonal wildlife behaviors and will prioritize going to prime locations to search for animals depending on the time of year.  While wolves and grizzly bears are usually the central focus, species such as bison, elk, moose, bighorn sheep, eagles, and more can also be observed throughout this untamed territory.  Your guide will also provide binoculars and spotting scopes to allow you to observe wildlife as clearly as possible while maintaining safe distances.
We will spend our time in prime grizzly and wolf habitat within both Grand Teton and Yellowstone National Parks, including places like Willow Flats, Pacific Creek, Hayden Valley, and the famous Lamar Valley, often referred to as the Serengeti of North America. During your safari, you will also have the opportunity to visit famous Yellowstone landmarks like Old Faithful, the Grand Canyon of Yellowstone, Mammoth Hot Springs, and several waterfalls.
Tour availability is contingent on room night availability at our preferred lodging locations.  Reserve your wildlife safari first, then we will confirm room nights and give you a final confirmation when everything is set. 
Grand Teton and Yellowstone National Park are part of a nearly intact ecosystem that supports some of the most amazing wildlife species in North America.  The ample wild lands of the region allow apex predators, like the iconic Gray Wolf and Grizzly Bear to survive and fulfill their natural roles in this complex ecological community.  Many visitors venture into these national parks in hopes of seeing a wolf or bear in their native habitat, which is not the easiest of accomplishments.  With millions of acres to roam, these species are well dispersed across the landscape.  It takes time and intuition to maximize the chances of spotting wildlife, which is why Jackson Hole Wildlife Safaris offers multi-day excursions into the Greater Yellowstone Ecosystem.  
Due to the distances required to travel throughout the Greater Yellowstone Ecosystem, this tour is predominantly vehicle-based, but there will be plenty of opportunities to get out of the vehicle as stops are made for scenery, but most importantly to get out and look for wildlife activity.  Make sure to communicate your interests to your guide, to help them customize this 2-Day Safari to suit your interests.  Things to consider would be; do you want to see Old Faithful in Yellowstone?  Would you prefer to go on more hikes?  Do you want to dedicate the time to only looking for animals and omit the geothermal features?  This is essential for your guide to know in order to ensure you have the experience of a lifetime!

This multi-day tour is so much more than driving around and looking for animals.  You will learn an abundance of facts about the geology, history, and ecology of wildlife and the national parks from your personal guide.  Just make sure to ask questions, guides often have plenty of stories and information to share and love to engage with their guests when traveling through some of the most beautiful countryside the United States has to offer.  
The exact routes and itineraries will depend on a number of factors – the most important being your areas of interest and expectations. One of the great things about our safaris and our guides is that we customize each safari for you. Our guides are all highly experienced with thousands of hours in both Grand Teton and Yellowstone allowing them to make suggestions and calibrate the tour to your experience level and desires. Every day is different for us which makes our safaris more fun for both you and your guide.
What's Included
Professional naturalist guide

Small group safari: 8 guests per vehicle, maximum

Use of UHD binoculars and spotting scopes

National Park entrance fees
Private Safari
$4200 per vehicle for 1-2 guests; $875 for each additional guest, (plus taxes and fees). Maximum per vehicle, 6-8 guests. No minimum age. This is a private safari.

*Reservations are dependent on hotel availability at the time of booking.
Pick-up Times
All guests are picked up and returned to their place of lodging. We pick up at hotels and condos in Jackson and Teton Village. Please make note of your pickup time, and save it for your reference.
Please be ready and waiting in the hotel lobby a few minutes before your pickup, and allow an additional 5-10 minutes for your guide to arrive, just in case they are delayed for any reason.
Seasonal changes to trip timing may be made to accommodate daylight and/or optimum wildlife viewing.
Approximate pickup times for Jackson Hole include:
6:30AM, May-October
We absolutely LOVED this experience!! This is a top-notch company, they are customer oriented and highly professional in all aspects of what they do.
Cherry, NJ
Itinerary
Day 1
Grand Teton National Park
Your multi-day safari tour into Grand Teton and Yellowstone National Parks will begin when your guide meets you at your Jackson Hole area hotel. We will begin by searching for the abundant wildlife of Grand Teton National Park. Over the last several years Grand Teton has become one of the best wildlife viewing parks in the world with all of the region's wildlife represented. Moose, elk, deer, bison, pronghorn, fox, coyote, bald and golden eagles, black bears, grizzly bears and even wolves are commonly spotted depending on season. We will also spend time enjoying the scenery and attractions of Grand Teton with time to enjoy famous park sites and scenic overlooks including the Moulton Barns, Mormon Row, Schwabacher's Landing, Elk Ranch, Signal Mountain and Maude Noble's cabin, to name a few options.
The tour will then travel north into Yellowstone National Park along the Snake and Lewis rivers, past Lewis Falls and Lewis Lake to the continental divide. From here we drop into the Yellowstone Lake Basin to West Thumb Junction with an option of going around the lower loop in either direction depending on conditions and current events that might dictate the route on your trip.
We may make stops at some of the attractions and highlights in Yellowstone during the middle of the day.  This might include the upper, middle and lower geyser basins and, of course, time to see the eruption of Old Faithful located in the upper geyser basin.  Sometimes we will travel to the east side on day one which will take us around Yellowstone Lake to the north side where the Yellowstone River flows out to the north at the famous Fishing Bridge. From here on is some of the best bear and wolf watching in Yellowstone! We may see Mud Volcano on our way to Hayden Valley where the river flows through open sage meadows towards the Grand Canyon of Yellowstone. At the top of the canyon the river falls over both the upper and lower falls creating the 20 mile long canyon that is one of the most scenic places in Yellowstone.
From here, the route will vary on road conditions but we will make our way to the Lamar Valley, often called the Serengeti of North America. This is the single best wildlife viewing area in Yellowstone and is known for the abundance of grizzlies and wolves. Here we will spend the afternoon and evening in search of these apex predators with time to learn about and photograph other wildlife, thermal features and the magnificent scenery in this part of the park.
The day will end in Silvergate Montana.  Silvergate is only a half mile from the park entrance and is one of the most remote places you will ever spend the night. We will enjoy dinner at a local eatery and then roast marshmallows over a fire surrounded by Soda Butte creek and huge mountains. This is one of our favorite places on earth!
Because the best wildlife viewing during the summer months is often in the morning and in the evening, we'll have the option to head out for a game drive this evening if the conditions are favorable.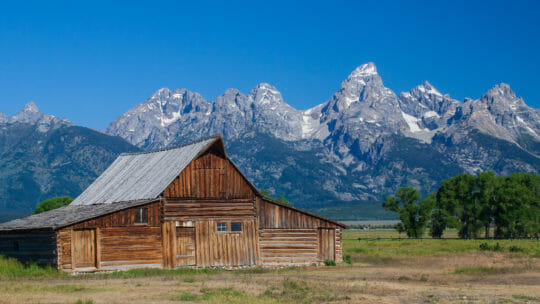 Day 2
Yellowstone National Park
Plan for an early start!  Wildlife are often most active at dawn, especially the wolves!  You might be waking up well before sunrise in order to reach the best location to look for animals at that hour of the day.  After spending the morning searching for wildlife, your guide could take you on hike, to see geothermal features or exquisite scenery in Yellowstone.  Overall, the route will be leading you south back towards Jackson Hole allowing us to enjoy other park attractions and wildlife that we didn't see on the first day. 
Our guides will make recommendations but we will see the other side of the loop on the second day on the return trip. Often, this is the best day to explore Hayden Valley and continue our search for wildlife.  We will then travel south over the continental divide three times on the return trip to Grand Teton National Park and Jackson Hole. We will return you to your Jackson Hole area hotel by early evening in time to check-in and get some dinner.
If this itinerary feels too rushed and you'd like to include more down time in your day, then our 3 day Bear and Wolf Safari may be what you're looking for.  This two day itinerary is great for folks who have a limited amount of time, but still want to see as much as possible and have plans to return in the future for a longer tour.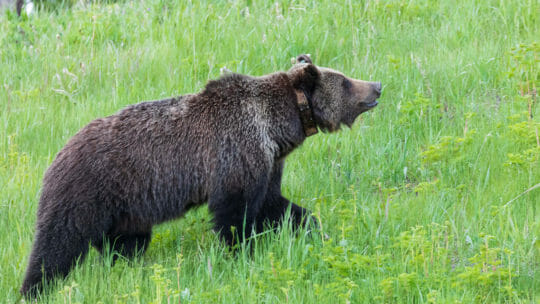 FAQs
Where can I see wolves in Jackson Hole?
The best way to see wolves in the wild is on a multi-day tour that covers not only Grand Teton National Park, but Yellowstone National Park as well.  While you may be able to spot wolves on the National Elk Refuge during the winter months, your best chances at seeing them in the summer months is in the Lamar Valley in the northern region of Yellowstone National Park.  Yellowstone occupies a huge landmass, and the actual distances can be deceiving when you're looking at a map.  You'll need a full two (or even three) days to cover all the highlights of both parks, so a multi-day tour offers the best opportunities to see this magnificent apex predator in the wild.
What should I pack for a two day wildlife safari in Jackson Hole?
Be strategic about your wardrobe and pack as light as possible.  A small daypack that you can keep a few items with you during the day is nice to have, especially if it packs down small and you can travel with it in your larger bag.  You'll spend both days getting in and out of the vehicle throughout the day, so layers will work best.  Summer in high mountain elevations can bring variable temperatures from early morning, to midday, to evening.  It's best to layer your clothing appropriately so you can add or take away layers as needed to keep yourself comfortable.  Start with a lightweight short sleeve synthetic or wool layer, add a long sleeve synthetic or wool layer to this and finish with an insulating layer like a fleece jacket.  Bring a waterproof / windproof shell to wear over this, if needed.  Wear sturdy hiking boots or walking shoes with good traction that you are comfortable wearing.  A lightweight or midweight hiking sock will help keep your feet warm and dry.  Sunglasses and a hat are optional and don't forget to pack sunscreen for use throughout the day.  For the evenings, you'll want comfortable clothing and possibly a pair of sandals to slip into when you're done with your hiking boots for the day.  Bring any toiletries or medications you may need.
Will there be hiking on a 2 Day Bear and Wolf Safari?
That is your decision to make.  Your guide could accommodate hikes that might be 1 to 6 miles in length.  This is something to express when booking your tour, and to also communicate to your guide.  If you do want to go on a longer, more strenuous hike, consider bringing along a small backpack of your own to carry water, snacks and layers in case any rain, wind or colder temperatures occur. 
What do others say about this tour?
5 Stars
FIRST: Do NOT visit Yellowstone without a wildlife guide. I first visited nearly 40 years ago, when the garbage receptacles were unlocked and scavengers would come down to the dumps to get a morsel. It was easy to spot wildlife then. But now that the dumps are sealed and the elk population has been culled by the wolves reintroduced into the ecosystem, you won't see wildlife unless you REALLY know what you're doing. Although you CAN see the waterfall, canyon of the Yellowstone, the geysers, and other thermal features on your own or on a group tour, you won't see the Park's extraordinary wildlife without a trained wildlife guide. And it's the wildlife that really distinguishes this National Park from all others.  SECOND: Make sure you get a GOOD guide. JHWS has some of the best. National Geographic had a 4-night special on TV this week about Yellowstone; and their entire crew combined couldn't get a glimpse of wolves until the fourth day, when they spotted part of a pack at leisure … Our guide was able to get us to see a pack of 5 wolves hunting small varmints the first morning that we went out looking for them. My wife and I took the two-day Wolf and Bear Wildlife Safari and it was absolutely fabulous. We saw and photographed elk, coyote, black bear (one popped up less than 100 feet away), mountain goat, prong horned antelope, mule deer, moose, fox, bald eagle, golden eagle, osprey, and more bison ("buffalo") then you can count (one walked over to our car and tried to poke his head in).
Neil G.
5 Stars
My family and I booked a 2-day Private Bear and Wolf Safari Tour. Our guide was absolutely amazing. He had so much knowledge of Yellowstone and the animals. You can tell he is very passionate about the wildlife and nature. Because we did a private tour for 2 days we really got to utilize our time on our terms as far as what we wanted to see and let me tell you we saw a lot. First day of the tour he picked us up at our cabin and provided us with breakfast snacks and drinks. We started off our tour and first thing we saw in the first hour was a black bear. We opted to see more hot spring attractions and waterfalls on our first day while also looking out for wildlife of course. Our first day we saw so many animals we saw black bears, elk, and bison. We also got to see Old Faithful and had lunch at Old Faithful Inn and experience some nearby hot springs in that area. We traveled onward and stayed one night in Gardiner, Montana a small little town outside the north entrance of Yellowstone. We had a nice dinner at Wonderland Cafe a contemporary and modern little restaurant. The 2nd day we got up really early as our guide had said the earlier we leave the better chances of seeing some grizzly bears. We couldn't believe what we ended up seeing, we saw a black and grey wolf and grizzly bear eating a bison carcass. We moved along through Lamar Valley and Hayden Valley and saw multiple bisons. Since it's mating season we saw some male bisons fight over some of the female bisons. We had some fine dining lunch at Lake Hotel. We got to see one last waterfall and traveled back. It was honestly the most amazing experience and worth every penny spent. Our guide was experienced, knowledgeable, professional and friendly. He knew how to accommodate our family of 5. In our family we have one 10 year old and one vegetarian so he let us know about all bathroom stops especially for us having a kid with us and took us to places to eat that had vegetarian options. We highly recommend booking a tour whether it be a 4 hour or even a 2 day tour like us to navigate through Yellowstone. We would have not seen half the things we saw if we tried to navigate through it alone.
Sandra Y.
5 Stars
Our family was doing a "grand tour" of the American West and we wanted to see Yellowstone and Grand Teton but only had a few days. Booking Jackson Hole Wildlife Safaris was an excellent decision. Our guide, (a wildlife photographer as well as guide) was highly knowledgeable, enthusiastic, and very enjoyable company. The parks are huge, so having someone who knew all of the best places to spot wildlife and where the most beautiful views were was fantastic. We managed to see quite a lot in our short time, spotting bears, elk, moose, eagles, a badger, and lots of bison. We also really enjoyed learning about the fascinating geology of Yellowstone. It was great having someone else do the driving and arrange all of the logistics of meals, overnight accommodation, etc. so we could just concentrate on enjoying the incredible nature of these parks. It is certainly not the least expensive way to see Yellowstone, but well worth it if you want to get the most out of a visit in a relatively brief period of time. Thanks to our guide and Wildlife Safaris for a very memorable time!
S R.
Guides and Staff
Our Team
Local, experienced, and passionate guides and photographers.
Further Reading
Plan the Ultimate Spring Trip to Yellowstone National Park
Mar 6, 2022
Spring is an especially revitalizing time to visit places like Grand Teton and Yellowstone National Park.  The spring thaw might take longer than in other regions of the United States to reach Yellowstone, but typically by the end of April, winter's retreat will be undeniable.
Visit Yellowstone in the Fall
Aug 18, 2021
During the autumn months, Yellowstone National Park is even more striking as the leaves turn to vivid hues of reds and oranges, and the crowds have simmered down. Read on to explore some other reasons why you should visit Yellowstone National Park in the fall.
More Adventures
Keep Exploring