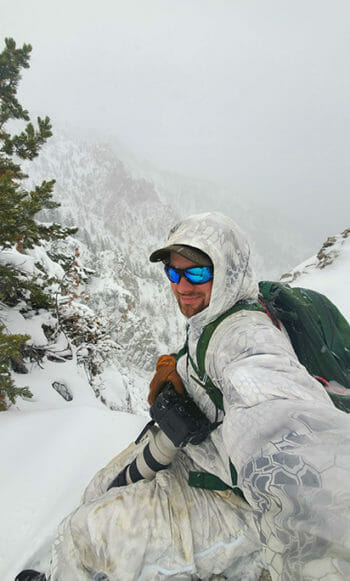 Peter has a diverse educational and professional background, and tying together his experiences shows a common thread of stewardship for public lands.  He is a land manager by training, but a wildlife photographer by passion.  He has an extensive knowledge of the flora, fauna and landscapes of Grand Teton and Yellowstone National Parks and he loves to share this with his guests.  Tracking wildlife through the parks has led Peter to some incredible places he may not have seen otherwise.  He's passionate about the land and the wildlife found here and he's grateful to work in a place that is so incredibly amazing.
Certifications
Level II Wildlife Track & Sign / CyberTracker

B.S. Forestry Recreation Resource Management | Paul Smiths College

Wildland Firefighter

Firefighter I

Firefighter II

EMT-B

SAR (NYSDEC)

Best Photographer - Bronze Award | Best of Jackson Hole
More Adventures
Peter's Favorite Safari Tours
Bio
Peter is the world's biggest sucker for adventure.  On his very long and incredibly diverse resume, Peter lists experiences that you wouldn't normally tie together; taking care of endangered plants at the San Diego Zoo, training sled dogs in Montana, working for the Olympic Authority building bobsled tracks, National Park Ranger, Professional Photographer, Wildland Firefighter… the list goes on.  The one thing that ties it all together?  Adventure.
Peter grew up in Massachusetts and went to college in New York, graduating from Paul Smith's College with a degree in Forestry and GIS.  He spent his college years working seasonally in the summertime as a fishing guide and wilderness guide.  He loved being outside so much that he lived in a tent.  His guiding experience in the Adirondacks prepared him well for his next adventure in Yellowstone National Park.
Peter was landscaping in New Hampshire and applying for government jobs with the Forest Service and National Park Service when he got a phone call that would change his life.  Yellowstone National Park had an opening in the east district for a Resource Management position.  He took it, and jumped into a world that was unfamiliar, but exciting.  He's been here ever since.
During his time with the National Park Service, Peter has worked in several different capacities and has experience with bear management, grizzly captures, wildlife management, bison control during the rut, integrated pest management, bat relocation, small animal trapping, assistance in scientific studies, invasive plant management, vegetation management, native plant management, wildland fire fighting – just to name a few.
Over the years, Peter has developed an eye for wildlife and wildland photography.  While he was working as a Park Ranger in Yellowstone National Park, Peter started documenting what life was like as a Park Ranger.  He felt that photography was a wonderful way to share his life experiences and the fantastic landscapes he lives in with those who couldn't experience it for themselves.  Photography became an addiction, but a positive one.  He credits photography with helping him seek out places he may not normally go.
"Tracking wildlife can get you into some pretty incredible places.  It is a privilege to show and educate others what this world is about.  It's a picture of how beautiful it is and why it needs to be protected."