Overview
Jackson Hole is a gateway to two amazing National Parks, both of which offer over a million acres of natural landscape to explore.  Conservation efforts dating back to 1872 have enabled this invaluable resource to be protected and managed for all to enjoy, and has simultaneously enabled the restoration and persistence of incredible habitats, geological features, archaeological sites and wildlife species. 
Every year millions of visitors make the journey to Yellowstone and Grand Teton National Park to revel in the features that have been preserved for the benefit and enjoyment of future generations, but the vastness of these parks can make this a daunting task.  Fortunately, Jackson Hole Wildlife Safaris offers an extensive 3 Day Bear and Wolf Safari, which is perfect for the park enthusiasts that want to make the most of their visit to the Greater Yellowstone Ecosystem. 
Most visitors to Jackson Hole arrive with the plans of spending 1-2 days exploring both Grand Teton and Yellowstone National Park.  While many of these parks' iconic features can be seen in that time frame, to truly observe what's beyond the common tourist hotspots requires more time and guidance.  Jackson Hole Wildlife Safaris aims to immerse visitors in these incredible National Parks by offering a 3 Day Wolf & Grizzly Discovery Center.  With more than just a day, an expert naturalist guides can lead you through Grand Teton and both the southern and northern regions of Yellowstone National Park.  
As the name of this tour implies, seeing token features like Old Faithful will not be the only goal.  Seeking out some of the most elusive apex predators in their natural habitat is a top priority.  The team of naturalist guides that Jackson Hole Wildlife Safaris employs is what makes this company top tier, without their field experience and insight into seasonal wildlife behaviors this 3 Day Wolf and Grizzly Bear Safari would not be the quality product it is.  Prepared to be immersed in the art of visually combing valleys, mountainsides, meadows and woodlands for a diversity of wildlife species.  Equipped with binoculars, high powered spotting scopes and the expertise of your personal guide the possibility of seeing wolves and grizzly bears will increase exponentially.  
The journey will begin near dawn in the incredible valley of Jackson Hole.  Bordered by the jagged alpine peaks of the Teton Range to the west and the more rolling, but just as picturesque Gros Ventre Mountain Range to the east the scenery at this point of origin is abundant.  The search for wildlife will begin as soon as you enter Grand Teton National Park, which is just 5 miles north of downtown Jackson, WY.  In the morning there are often prospects of moose and elk sightings, and depending on the season the chance of spotting a foraging Black or Grizzly Bear.  Eventually you will enter the southern boundaries of Yellowstone National Park, from there your guide might take you to see the amazing array of geyser basins and vistas the world's first national park harbors, or proceed to more fruitful wildlife hotspots and save the rest for another day.  
Be prepared for 3 action packed days of exploring the hidden gems of the Greater Yellowstone ecosystem.  One of a kind geothermal features, impeccable terrain and an amazing diversity of wildlife are only the headliners of this experience.  Depending on your interests, activities such as hiking, souvenir shopping or visits to park museums can be incorporated into the tour.  But do not forget to take advantage of the greatest resource- your personal guide.  They will have a wealth of knowledge and stories to share along the way.  Don't be afraid to ask questions, and you will take home with you some amazing insights into Grand Teton and Yellowstone National Park.  
What's Included
Professional naturalist guide

Small group safari: 8 guests per vehicle, maximum

Use of UHD binoculars and spotting scopes

National Park entrance fees
Private Safari
$7295 per vehicle for 1-2 guests; $1625 for each additional guest, (plus taxes and fees). Maximum per vehicle, 6 guests. No minimum age. This is a private safari.

*Reservations are dependent on hotel availability at the time of booking.
Pick-up Times
All guests are picked up and returned to their place of lodging. We pick up at hotels and condos in Jackson and Teton Village. Please make note of your pickup time, and save it for your reference.
Please be ready and waiting in the hotel lobby a few minutes before your pickup, and allow an additional 5-10 minutes for your guide to arrive, just in case they are delayed for any reason.
Seasonal changes to trip timing may be made to accommodate daylight and/or optimum wildlife viewing.
Approximate pickup times for Jackson Hole include:
6:30AM, May-October
We booked a tour with this company and it was fabulous! Our guide was extremely knowledgeable and shared lots of information about both the animals and the area. We would gladly go again! The company was very professional and made us feel like a valued client. We saw every animal we wanted to see as well as the most beautiful scenery ever. We highly recommend it.
Tammy, Georgia
Itinerary
Day 1
Grand Teton National Park
We will begin by searching for the abundant wildlife of Grand Teton National Park. Over the last several years Grand Teton has become one of the best wildlife viewing parks in the world with all of the region's wildlife represented. Moose, elk, deer, bison, pronghorn, fox, coyote, bald and golden eagles, black bears, grizzly bears and even wolves are commonly spotted depending on season. We will also spend time enjoying the scenery and attractions of Grand Teton with time to enjoy famous park sites and scenic overlooks including the Moulton Barns, Mormon Row, Schwabacher's Landing, Elk Ranch, Signal Mountain and Maude Noble's cabin to name a few options.
From here the route will vary on road conditions but we will make our way to the Lamar Valley, often called the Serengeti of North America. This is the single best wildlife viewing area in Yellowstone and known for the abundance of grizzlies and wolves. Here we will spend the afternoon and evening in search of these apex predators with time to learn about and photograph other wildlife, thermal features and the magnificent scenery in this part of the park.
The day will end in Silvergate, Montana (or similar). Silvergate is only a half mile from the park entrance and one of the most remote places you will ever spend the night. We will enjoy dinner at a local eatery and rest up for another full day in the park.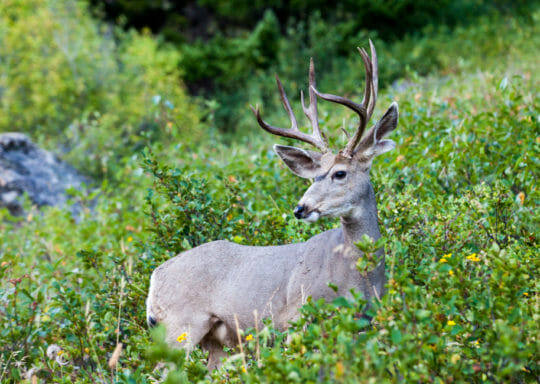 Day 2
Yellowstone National Park
Expect an early start to the day, finding wildlife (especially wolves) is most opportune at dawn.  The morning will be dedicated to searching for animals, and the rest of the day can then be spent on enjoying scenery, seeing geothermal features such as Mammoth Hot Springs and potentially going on a hike.  The day will conclude with returning to your place of lodging and going to dinner.  If there is time and energy for it, a quick trip into the park to look for wildlife at dusk is an option.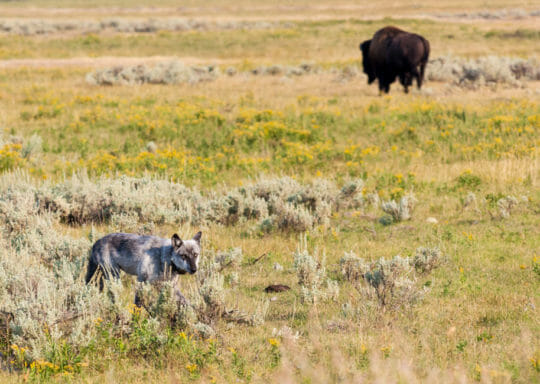 Day 3
Yellowstone National Park
That last day of this three day wildlife safari adventure will entail seeking out any more wildlife species that might have not yet been seen, visiting any remaining geothermal features or iconic locations of interest and going on any hikes that you did not yet get to.  Ultimately you will be proceeding south in order to end the tour in Jackson Hole where you will be dropped off just before dinnertime at wherever you might be staying for that night.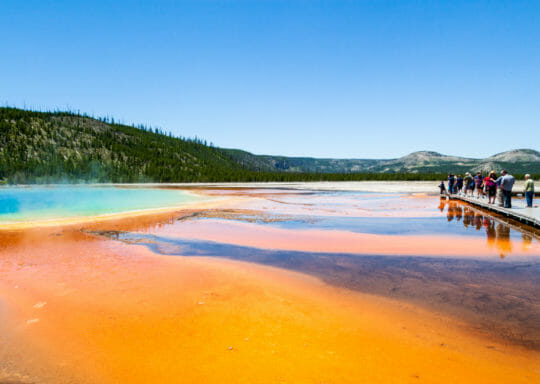 FAQs
What is the best time of year to visit Grand Teton National Park and Yellowstone National Park?
There's not one season that is better than another in the Greater Yellowstone Ecosystem.  Each season brings with it its own highlights.  Springtime boasts vibrant greens and yellows across the landscape as the snows recede and temperatures warm.  Grizzly bears and black bears emerge from hibernation, sometimes with small cubs in tow.  Bison calves, (called red dogs due to their fur coloring), may be seen from March to May, followed by deer, moose, and elk, who usually give birth in late spring/early summer.  As temperatures warm and the summer sun becomes intense, some wildlife restrict their activity to early mornings and late evenings, doing their best to avoid the heat of the day.  For this reason, a multi-day wildlife safari offers the best viewing opportunities because we can arrange game drives in the early mornings and late evenings when wildlife will be most active.  By September, the days are cooling and autumn has settled in and seasonal animal behaviors can become quite interesting.  Bighorn sheep, moose and elk begin their mating season known as "rut", while black bears and grizzly bears start packing on the pounds in anticipation of winter hibernation.
What is the best way to see wildlife in the Grand Teton and Yellowstone?
A multi-day offers the best opportunities at spotting wildlife in the wild.  During the summer months, having the option to head out for early mornings and late evenings with a professional naturalist guide gives us the best chances to spot wildlife that may be active during those times.  On a single day safari, we are limited by the return time, but on a multi-day safari, we can schedule our days around the wildlife activity and increase our chances of seeing animals in their natural habitat. 
What do others say about this tour?
5 Stars
Our family of 4 (kids 7 and 9) loved the 3 day Yellowstone safari. Our guide was incredible – we felt like we were being shown around by a family friend – she adjusted the pace to suit us, was well informed and had the most incredible ability to spot animals. We saw elk, moose, wolves, bison, a bear, and more.
Tom H.
5 Stars
We just returned from a 3 day wolf and wildlife safari and we couldn't be happier. With the rest of the country on shut down due to Covid 19 this was a fantastic getaway. This was our 5th trip with Jackson Hole Wildlife Safaris and each trip is better than the last. Our guide was outstanding. He worked hard to make sure we saw wildlife that I am sure we could not have seen on our own. He would pick us up at 5:00am and bring us back to our accommodations at 10:00pm. You can tell that he truly loves what he does and he never seems to get tired. The wolf sightings were off the charts. We also saw bear, moose, elk, bison, pronghorns and many others. He is a magician with a spotting scope and a cell phone. Because of him we now have some great videos of our wolf and bear sightings. Makes me wonder why we spent so much money on camera equipment. There are many guide services to choose from in the Teton and Yellowstone area but these guys are the best. We highly recommend Jackson Hole Wildlife Safaris and we will definitely be back for trip number 6.
Gregory C.
5 Stars
We used Jackson Hole Wildlife Safaris for our tour of Yellowstone during our visit to Jackson Hole. I can not begin to express how everything far exceeded my expectations. Our guide was incredibly (no, SUPER incredibly) knowledgeable about the area and his information could have been expressed in a book! We learned so much about where we visited in Yellowstone, and he made the experience of learning and exploring so much fun with his animated, funny, witty personality and very intelligent mind! He was so professional and treated my children and I with such kindness, along with always a step ahead in planning the whole experience.
I highly recommend Wildlife Safaris literally to everyone, and anyone visiting who wants an elite, informative, and fun experience.
Cynthia L.
Will I be in a vehicle the entire time during our tour?
No.  While there will be a lot of driving required to navigate Grand Teton (310,000 acres) and Yellowstone National Park (2.2 million acres) the opportunity to stop for scenery, wildlife and hiking will be abundant.  Never hesitate to communicate to your guide if you need a break to stretch your legs or would like to dedicate more time to walking.  
What if there is inclement weather while we are out on safari?
Due to both Grand Teton and Yellowstone being at elevations of 5,000ft above sea level and higher, the chance of rain or snow is possible anytime of year.  July and August are usually the warmest months of the summer season, however unexpected cold fronts can occur.  Fortunately, wildlife viewing is usually not impacted by rain or snow.  In fact, during the hottest times of the year cooler temperatures can improve the probability of seeing animals.  The guides of Jackson Hole Wildlife Safaris are equipped with the experience of conducting tours in all sorts of weather, and have valuable insight of alternative routes in the case of road closures. 
What should I bring in my overnight bag for my three day wildlife safari?
Aside from basic toiletries, make sure to pack a variety of clothing for varying temperatures and weather.  Don't hesitate to pack shorts if the forecast predicts temperatures of 70-80 degrees fahrenheit, but it's a good idea to also bring along warmer and waterproof layers just in case.  Walking shoes are vital, even if you do not plan on hiking you can expect to do some walking around geyser basins and scenic overlooks.  Jackson Hole Wildlife Safaris will supply bug spray, sunscreen, snacks, water and meals will be included with the tour.  
Guides and Staff
Our Team
Local, experienced, and passionate guides and photographers.
Further Reading
Best Places to View Wildlife in Yellowstone: Lamar Valley
Apr 12, 2022
The 2.2 million acres of landscape that makes up Yellowstone National Park has been regarded as wondrous and unique since humankind first discovered it.  Native Americans in the region were the first humans to traverse that wild landscape approximately 11,000 years ago, utilizing the ample resources of the region to survive. Learn more about the land of Lamar Valley here.
Best Places to View Wildlife in Yellowstone: Dunraven Pass
Apr 12, 2022
Visible from the Lamar Valley is one of the highest spots you can drive to in Yellowstone National Park, known as Dunraven Pass.  The highest point along this drive is 8,859 feet above sea level, and if you are feeling adventurous there is a trail from the roadway that will take you up to the top of Mt. Washburn, and a whopping 10,243 feet in elevation.
More Adventures
Keep Exploring