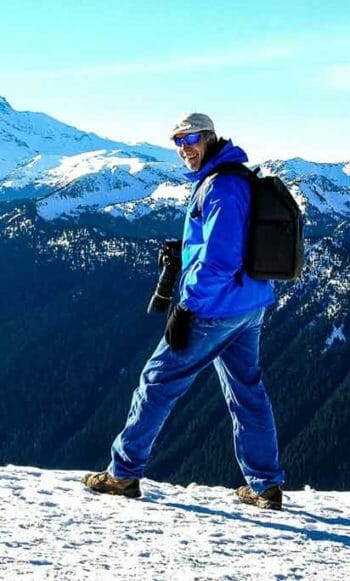 Like many of his peers, Dwight has a love and passion for the flora, fauna, geology and history of the Greater Yellowstone Ecosystem.  He was introduced to Grand Teton National Park and Yellowstone National Park when he led his first photography workshop through the area nearly a decade ago.  Dwight is a professionally trained photographer, nominated for 28 Emmy Awards during his time working with NBC.  Dwight now guides full time here in the summer months and teaches photography at a Texas university during the winter months.  His fine art photography hangs in Gallery Wild in downtown Jackson Hole.
Certifications
Level I Wildlife Track & Sign / CyberTracker

Best Wildlife Tour Guide - Gold Award | Best of Jackson Hole

B.S. Radio & Television | Southern Illinois University

14 Emmy Award Wins

28 Emmy Award Nominations

Wilderness First Aid & CPR
More Adventures
Dwight's Favorite Safari Tours
Bio
Dwight was born in central Illinois and earned a degree in Radio and Television from Southern Illinois University. His lifelong passion for photography has taken him to the top of skyscrapers, to the bottom of the Grand Canyon and even onto the field with the Dallas Cowboys.
Dwight found his "new home" back in 2014 as he prepared to lead his first photography workshop in Grand Teton and Yellowstone National Parks. The calling of the majestic Teton mountain range and the legendary Yellowstone was too much to ignore. Dwight's main role at Jackson Hole Wildlife Safaris is photography. He leads the 5 day Photography Workshops in the Spring and Fall; as well as the more personal photography trips guests book throughout the season. Dwight's Fine Art Photography hangs at Gallery Wild in downtown Jackson, where his goal, through photography, is to have an impact on one's awareness about the conservation and preservation of our wildlife, our landscape and our natural resources in this country.
Although Dwight's main forte is photography, he also has a love and passion for the flora, fauna, geology and the history of Grand Teton and Yellowstone National Parks. Before becoming a part of Jackson Hole Wildlife Safaris, Dwight spent the majority of his professional career in Broadcast Television working for PBS, ABC and NBC. Dwight was nominated for 28 Emmy Awards and won 14 Emmy Awards while working for NBC. He also owns and operates a photography business and is an Instructor at TCU (Texas Christian University) for their Digital Photography Program.
In his down time, Dwight enjoys the outdoors; biking, hiking, watching wildlife and he finds that nothing beats a good sunrise or sunset. He also enjoys watching and playing sports of all kinds, listening to music, keeping up on technology and reading a good book from time to time.
Dwight has been married to his wife Carol for 40+ years, raised 4 children, is the owner of 2 rescue dogs and now enjoys being "Gramps" to 9 grandchildren. The family gatherings and backyard cookouts are fun-filled chaos! It's simply the best; he's so proud of them all.
Photography Credentials
Bachelor of Science: Radio and Television, Southern Illinois University
30+ year career in broadcast television for PBS, ABC and NBC
Nominated for 28 Emmy Awards
Recipient of 14 Emmy Awards
30+ years experience specializing in portrait and wedding photography, corporate photography and landscape, wildlife and fine art photography
10+ years instructing digital photography for Big 12 University TCU, extended education department and private digital photography classes for individuals
10+ years spent photographing, living and guiding in the Greater Yellowstone Ecosystem
has led numerous 5 -Day Photography Workshops throughout Jackson Hole, Grand Teton National Park and Yellowstone National Park
has led countless photography day tours while working for Jackson Hole Wildlife Safaris
has led polar bear photography expeditions in Churchill, Manitoba (Canada)
his fine art photography can be found on his website, at fine art galleries in Jackson Hole and Texas