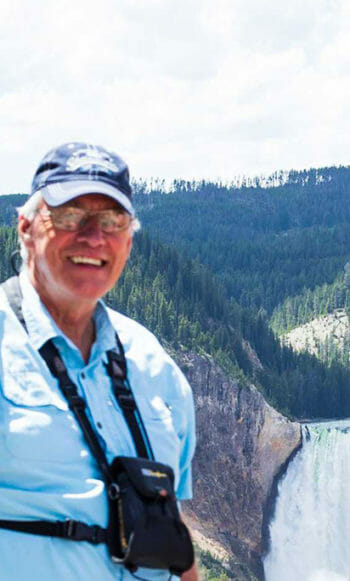 Grant grew up in Idaho, not far from Grand Teton and Yellowstone National Park.  As a child, he spent summers in Yellowstone National Park where his grandparents worked as campground hosts.  He went on to study business at university and worked for a large corporation for a while before starting his own business.  His love for the parks led him into guiding as an adult, and over a decade later, he delights in sharing the park every day with his guests. He is an avid fisherman and outdoorsman and spends his free time studying and learning as much as he can about the wildlife, the history, the geology and the ecology of the parks.
Certifications
Wilderness First Responder & CPR

Level II Wildlife Track & Sign / CyberTracker
More Adventures
Grant's Favorite Safari Tours
Bio
Grant fell in love with Grand Teton and Yellowstone National Parks as a boy when his grandparents would tow their camper to the area every summer to work for the park service as campground hosts. He spent several weeks of his summers with them each year.  He remembers helping his grandfather each morning cleaning up the garbage the bears left behind after going through the garbage cans each night. This was before Yellowstone National Park put bear proof bins in place. After the duties were done each day, they often took their small boat out on Yellowstone Lake in the evenings to fish for cutthroat trout.
Grant grew up in a small town, population 90, in eastern Idaho. His family had six acres of land that allowed him to grow up with horses, sheep, calves, rabbits,  chickens, and lots of dogs and cats. The property also bordered the Big Lost River, so he grew up with a fishing pole in his hand, hunting and hiking in the mountains. When he was fifteen his father was offered a job in Boise, Idaho, which meant selling the farm and moving to the big city.
Getting out of town to enjoy nature, backpacking into the mountains, fishing the mountain lakes and archery hunting remained a priority. Hunting wasn't just a way of getting meat, it was the challenge of learning the behavior of the elk and deer and attempting to outsmart them to get close enough for a sure shot.  It was also time spent enjoying watching wildlife and sharing the landscape with them. Nowadays, Grant loves to shoot them with his camera.
After high school he had the great experience of living in southern Germany for two years and returned home to attend college at Boise State University studying business and German. For the next 18 years he worked for Hewlett Packard and when they moved operations overseas, Grant started a landscape company. He eventually moved the company to Rexburg where 5 of his 6 kids attended college. Unable to landscape in the winter, Grant started to drive buses. A contract to drive tours in Teton and Yellowstone parks came up and piqued his interest, so  he started spending all of his spare time studying and learning as much as he could about the parks, the animals, the history, the geology and art of being a great guide. Finally, the company he worked for gave him an opportunity to run that route. He received rave reviews and has been guiding ever since.
Grant has been guiding in the parks since 2011 and joined the team at Jackson Hole Wildlife Safaris in 2016, wishing he had made the move much sooner!
Grant is passionate about his job, and proud to work for a company that is focused on providing the best tours possible.  "It is wonderful to be part of such a great team, I feel like I am one of the most blessed people around to have the opportunity to do something I truly love and live and work in such a spectacular place."