Overview
We begin this wildlife photo tour by heading north along the western boundary of the National Elk Refuge to Grand Teton National Park. Here we will travel along the southern park roads watching for wildlife and stopping frequently for photo-ops. You will see places like Antelope flats, home to historic homesteads and free ranging herds of bison and pronghorn. We will also show you the Moose-Wilson road famous for abundant flora and fauna.
Wildlife we frequently encounter on this trip includes bison, elk, deer, moose, pronghorn (aka antelope) fox, coyote, bear, bald eagle, trumpeter swans, and if we're lucky wolves. If time allows we might choose to stop at the Jackson Visitor Center or the new Moose visitor center in Grand Teton National Park.
The route varies seasonally based on group interest, road closures and wildlife migration.
What's Included
Professional naturalist guide

Small group safari: 8 guests per vehicle, maximum

National Park entrance fees
Open Safari
$145 per guest. Two person minimum booking requirement. Maximum per vehicle, 6-8 guests. Minimum age is 8. This is a mixed group safari.

*This tour has limited availability - please contact us directly to make reservations.
Private Safari
$765 for 1-4 guests; $105 for each additional guest. Maximum per vehicle, 6-8 guests. No age minimum. This is a private safari.
Pick-up Times
All guests are picked up and returned to their place of lodging. We pick up at hotels and condos in Jackson and Teton Village.  Your exact pick up time will be determined by your hotel location. Please make note of your pickup time, and save it for your reference.
Please give your guide an additional 5-10 minutes before and after the scheduled time to allow for other pickups or traffic conditions.
Seasonal changes to trip timing may be made to accommodate daylight and/or optimum wildlife viewing.
Approximate pickup times for Jackson Hole include:
Sunrise Departures
6:30 AM – downtown Jackson locations
6:45 AM – greater Jackson Hole area locations
7:00 AM – Teton Village locations
Sunset Departures
3:00 PM – Teton Village locations
3:15 PM – greater Jackson Hole area locations
3:30 PM – downtown Jackson locations
Our guide picked us up and we saw more wildlife with him in a few hours than we had seen in 2 days on our own. He was very polite and professional. He shared a plethora of information on the area and the wildlife. Would definitely go on one of his trips again... and again!
Tucson, AZ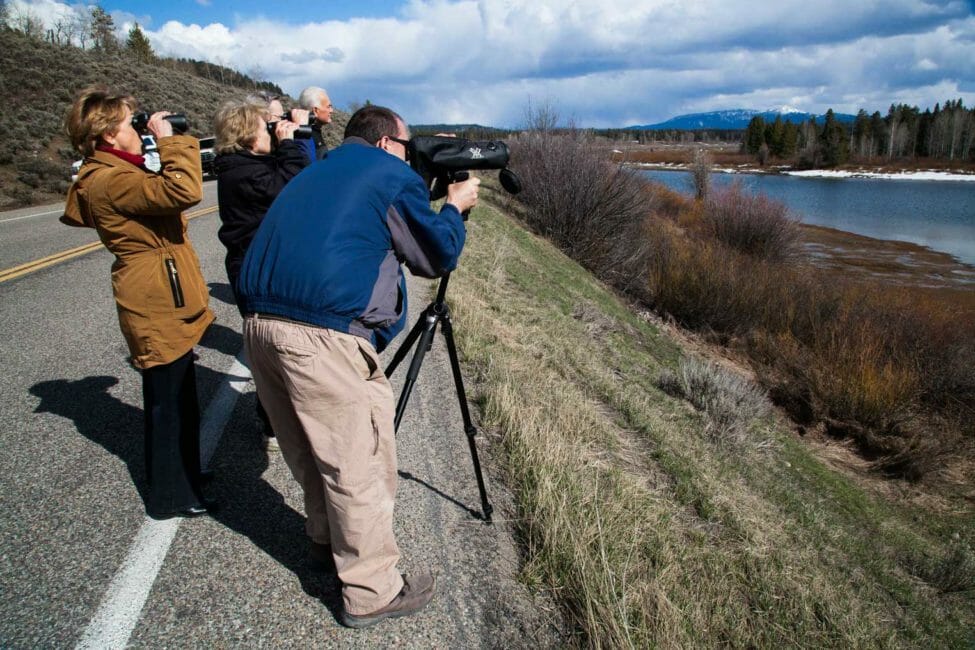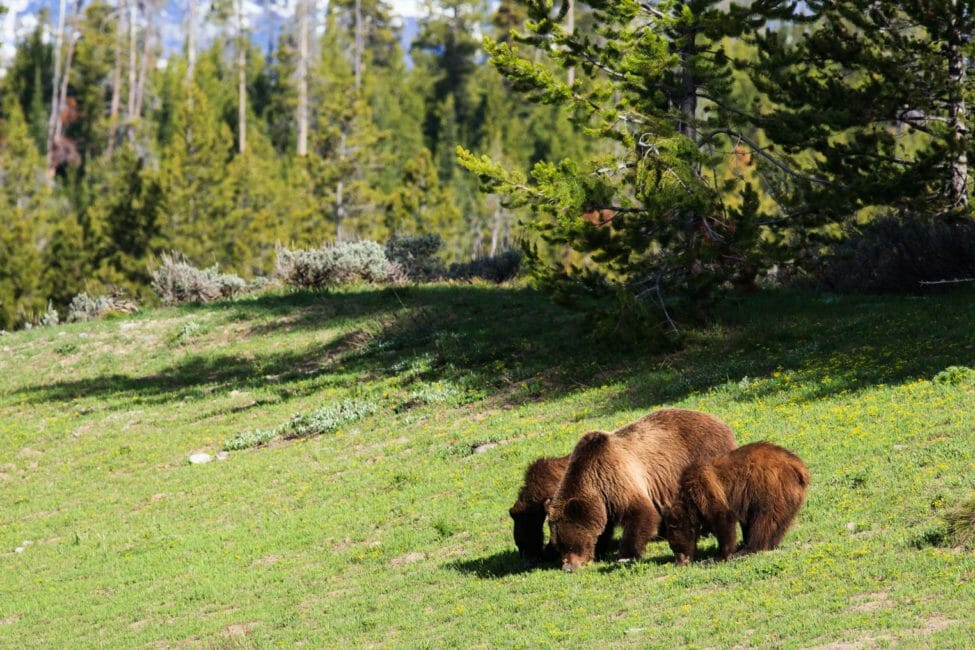 FAQs
What is your cancellation policy?
We have a 48-hour cancellation policy for all single day wildlife safaris.  Cancellations made before the cancellation policy goes into effect will receive a full refund.  Cancellations made within 48 hours of departure, and before the day of departure will receive a 50% refund.  Cancellations or no-shows on the day of departure will not be refunded. We strongly recommend travel insurance in order to protect you from unforeseen travel interruptions that prevent you from joining us.
What is the weather like during the summer?
Summer in Jackson Hole runs from early May to late October.  Average high temperatures in the valley during the summer season range from 61F to 81F (16C to 27C), and daily temperatures can fluctuate quite a lot.  The high elevation often creates cool mornings and evenings but hot afternoons. It is important to come prepared for a variety of conditions throughout the day as they can change quickly in the summertime.  
Average highs and lows by summer months:
May: Average High 64F/17C, Average Low 30F/-1C
June: Average High 76F/24C, Average Low 37F/2C
July: Average High 81F/27C, Average Low 40F/5C
August: Average High 80F/26C, Average Low 39F/3C
September: Average High 73F/22C, Average Low 31F/-1C
October: Average High 61F/16C, Average Low 23F/-5C
What do others say about this tour?
5 Stars
We had an incredible time on the evening half-day tour with our guide! He was super knowledgeable about the area and the wildlife, and didn't hesitate to answer any questions we had. We were led to various beautiful outlooks and saw moose, a bear, bison, various birds, muskrats, and more. (Binoculars were provided to help us see.) He was extremely personable and had so many cool stories to tell. We felt very comfortable and had a great time! We are so glad we made the drive to Grand Teton and got to experience this tour! Would highly recommend!
Emily H.
5 Stars
Amazing! Best thing we did in Jackson! We spent a half day in Grand Teton with Jackson Hole Wildlife Safaris. Our guide was an amazing guide, knowledgeable of locations to spot wildlife and informative on the animals we saw. Our children all really enjoyed the education she provided on geological formations, plants and animals in the Jackson Hole and Grand Teton area.
M T.
5 Stars
I would highly recommend the morning half day tour. They arrived on time, the vehicle was clean and the breakfast/snacks/drinks were generous. Our guide was FANTASTIC! He instantly wanted to know what we were interested in seeing and 15 minutes into our tour he delivered. To say he has a plethora of Wyoming and animal knowledge is an understatement. I would absolutely recommend him and Jackson Hole Wildlife Safaris!
Kari V.
5 Stars
We took the afternoon wildlife safari with Jackson Hole Wildlife Safaris. Our guide was very knowledgeable, patient, and he knows every hangout for wildlife, including bald eagle, osprey, badger, coyote, pronghorn, bison, mule deer, elk, moose, and bear (although today the bears were evasive). He had snacks for us, and when the rain shower came, he didn't let it interfere. We had such a delightful, perfectly paced afternoon. We hope to return.
Darlene W.
More Adventures
Keep Exploring