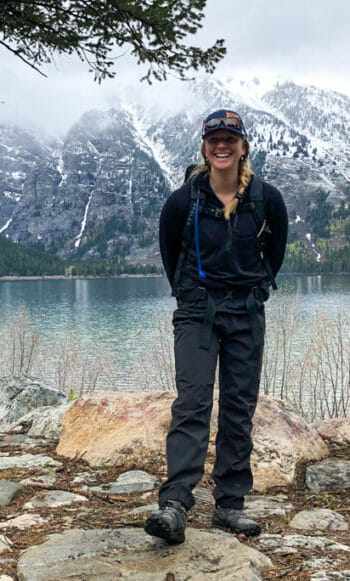 Jenny's first experience in the Greater Yellowstone Ecosystem was working with Grand Teton National Park as a bear management ranger, fresh out of university with a wildlife degree in hand.  She found a balance in educating the public and helping them appreciate the landscape and the wildlife they were experiencing.  The transition into professional guiding was an easy one as her passion for wildlife is most fulfilled when she can share it with others.  Jenny also heads up special projects at Gallery Wild, where the love of all things wild takes a visual form.  Jenny also partners on select international projects as a field researcher for big cats and other animals.  Her work has taken her around the world, but she'll tell you, there's no place like home.
Certifications
Wilderness First Responder & CPR

Level III Wildlife Track & Sign / CyberTracker

Swiftwater Rescue

B.S. Natural Resources / Animal Science | Cornell University
More Adventures
Jenny's Favorite Safari Tours
Bio
Jenny grew up in Ithaca, NY, a region of beautiful lakes and lush woods that fulfill any little kid's setting of fantasy adventures building bug homes, playing epic games of hide and seek and learning how to get lost… and found. Her passion for animals didn't start in one place, it just was. She would frequently turn the claw foot tub of her house into a pond, hauling buckets of water 200 yards from the pond and then adding any fish, turtles, frogs, salamanders, and any other critters that she could catch. Sometimes it turned into a snake home…and sometimes they got loose in the house. Needless to say, she was quite the sibling and child to have, but she always had a kind heart and the wellbeing of the critters in mind. These formative years as a dirty kid who was hooked on the outdoors taught her a lot about the basics of animal ecology through her trials and tribulations of playing with wild.
Jenny stayed in Ithaca, NY to attend Cornell University where she studied Natural Resources and Animal Science. Originally, she thought she would attend vet school, but after working in vet clinics in high school and college, she realized she needed something a little more wild. Being introduced to ecology and wildlife biology, the world of working outdoors with wildlife was a whole new idea. For the remainder of college, she combined her love of birds and teaching by working with the Cornell Lab of Ornithology developing curriculum for BirdSleuth, which makes it possible for teachers to connect kids to nature in any landscape.
Following college, she got her first job with National Park Service as a bear management ranger in Grand Teton National Park. Having never been west, she was immediately hooked on the stunning Teton mountain range and the abundance of wildlife in the Greater Yellowstone Ecosystem. Her job was to manage people and bears around each other, which sometimes was like herding cats, but similar enough to the chaos she managed as a rowing coach for high school boys. She loved the opportunity to educate and engage with the public in the National Park and help them appreciate the landscapes and wildlife they were experiencing.
Wanting to dive more into research, she was given the opportunity to do field work with Panthera's Teton Cougar Project, studying mountain lions in the mountains to the east of Grand Teton National Park. Little did she know this would start her down a path of working with cats for years to come. In the midst of her field work, she started working with Jackson Hole Wildlife Safaris as a guide. After meeting many guide companies in the National Park, Jackson Hole Wildlife Safaris was the first company she called. She has worked for Jackson Hole Wildlife Safaris on and off since 2013 when she wasn't in Mexico working with cougars and mexican gray wolves or working for the National Park Service in the Santa Monica Mountains outside Los Angeles studying urban mountain lions. Her passion for wildlife is only heightened by the opportunity to share it with people. When guests are engaged and having fun, she considers this a success!
Her official job title at Jackson Hole Wildlife Safaris is "Do'er of Things," which includes duties such as, Guide, Director of Special Projects, Sustainability Director, Expeditions Contributor and also Doer of Things at our partner business, Gallery Wild. She lives in Jackson Hole year-round and when she's not out watching wildlife or working with wildlife art and artists in the gallery, you can find her living the "Jackson Hole life" doing yoga, hiking, biking, swimming, climbing, boating, skiing, snowshoeing and tracking wildlife!