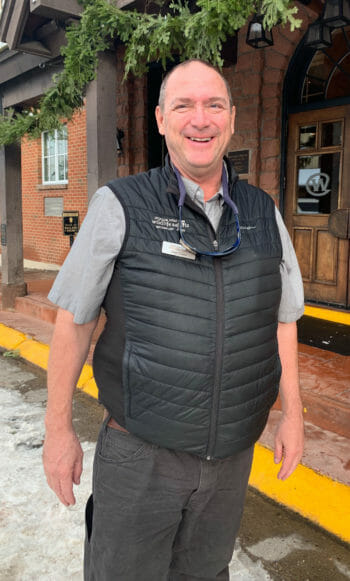 Dave is an educator by training, with a B.S. in Education from Indiana University.  He is well versed in the history of the region and loves to share this with his guests.  He is especially fascinated by Native American history, trapper and settler history and how each of these groups of people contributed to the formation of our local National Parks and the surrounding public lands.  Dave has a long resume of guiding in the area, dating back to the 1980's when he first arrived in Jackson to work as a river guide.  He's logged over 30 thousand river miles and 4500 tours into Yellowstone National Park and Grand Teton National Park in his guiding career so far and he still looks forward to every minute he gets to spend in this beautiful place.
Certifications
Level II Wildlife Track & Sign / CyberTracker

Outdoor Guide Certification | University of Wyoming

B.S. Education | Indiana University

Wilderness First Responder & CPR
We highly recommend the full-day private tour of Yellowstone. Dave Green, our guide, picked us up at 7am at our home in Teton Village. He had a catered breakfast ready for us in the van. Dave was very knowledgeable and provided great insights. Our day focused on the lower loop of Yellowstone. He took us to all the major sights and provided great background to help us understand what we were seeing. We had a wonderful picnic lunch, with linen tablecloth and napkins, in the park. Dave took extra time at the end of the trip to help us see wildlife in Grand Teton when we returned. Great day!
Maryann R (Flower Mound, TX)
Full Bio
Dave was born in Germany and grew up in Indiana.  He received a BS in Education from Indiana University and spent 6 years teaching middle school math and science in a remote Inupiaq village in the arctic.  He was a boy scout and eagle scout growing up, spending time camping outside. The first National Park he visited was Grand Canyon National Park where he completed his goal of a "Rim to Rim to Rim" hike.  Dave found Jackson Hole in the early 80's, when he came to hike the Teton Range. As a lover of history, he was able to volunteer in the 1986 Jackson Lake Archeological Dig. He was a river guide for 15 years in Jackson Hole but he's run rivers from Alaska to West Virginia, including the Grand Canyon in Arizona.  He's logged over 30,000 river miles and 4500 tours into Yellowstone and Grand Teton National Parks in his guiding career and still loves every minute of it. His specialty is history and he loves learning about the history of the area, the Native American history, National Park history, military history, trapper and settler history and how each of these groups played a part in creating the natural wonders we have here in our backyard today.
Dave finds happiness guiding in the Greater Yellowstone Ecosystem because he gets a chance to be outdoors connecting with all kinds of people from across the country.  Over the years, he has been fortunate enough to meet a WWII bomber pilot, a couple that was working mission control when the US astronauts landed on the moon, a Japanese-American woman, born on a train bound for an internment camp… these people all make up the fabric of the American experience and Dave loves to make these connections every time he heads to the National Parks.
In his time off, you'll find Dave headed out on a road trip, his favorite thing to do.  His best plans are having no plans, just to see where the road takes you. He has visited 49 states by car.  Hawaii still remains elusive. His favorite drive is the Beartooth Highway, voted by Dave as the best scenic drive in the US, and he has seen it all.
More Adventures
Dave's Favorite Safari Tours