Spring is revered as a time of receding snow lines, freshly sprouting vegetation and budding leaves turning the landscape vibrant green, gray winter clouds burning off to reveal deep blue skies, more sunshine and warming temperatures… It is an especially revitalizing time to visit places like Grand Teton and Yellowstone National Park.  The spring thaw might take longer than in other regions of the United States to reach Yellowstone, but typically by the end of April, winter's retreat will be undeniable. 
By May, not all entrances or roads in Yellowstone will be open.  The North Entrance from Gardiner, MT is open year round, and by mid-April the West Entrance from West Yellowstone, MT will be accessible.  By mid-May the South Entrance from Jackson, WY is usually open, along with most roads in the park except for Dunraven Pass, which might not open till late June.  Depending on what you are interested in seeing of Yellowstone, even this period of limited access may have a lot to offer you!  The month of May might be one of the few times in Yellowstone that you feel like the wildlife outnumbers the tourists in the park, (for road based tourism that is- go on a hike almost anytime of year and you might feel that way).  Herds of bison could still be congregated around Old Faithful, which is where some of these massive mammals spend their entire winter.  Flocks of trumpeter swans might be floating lazily along in waters warmed by all the geothermal activity, river otters sliding on their bellies through the snow near riverways, wolves hunting elk throughout the still-snowy Hayden and Lamar valleys as the ungulates begin to migrate into their spring foraging grounds and maybe even some groggy grizzly bears easing their way out of their hibernation dens.  By May, bison will also begin to give birth to 40lb, reddish-brown calves known as "red dogs" due to their coloration.  These red dogs are a delight to watch romping around amongst their 1,200-2,000lb adult herd mates.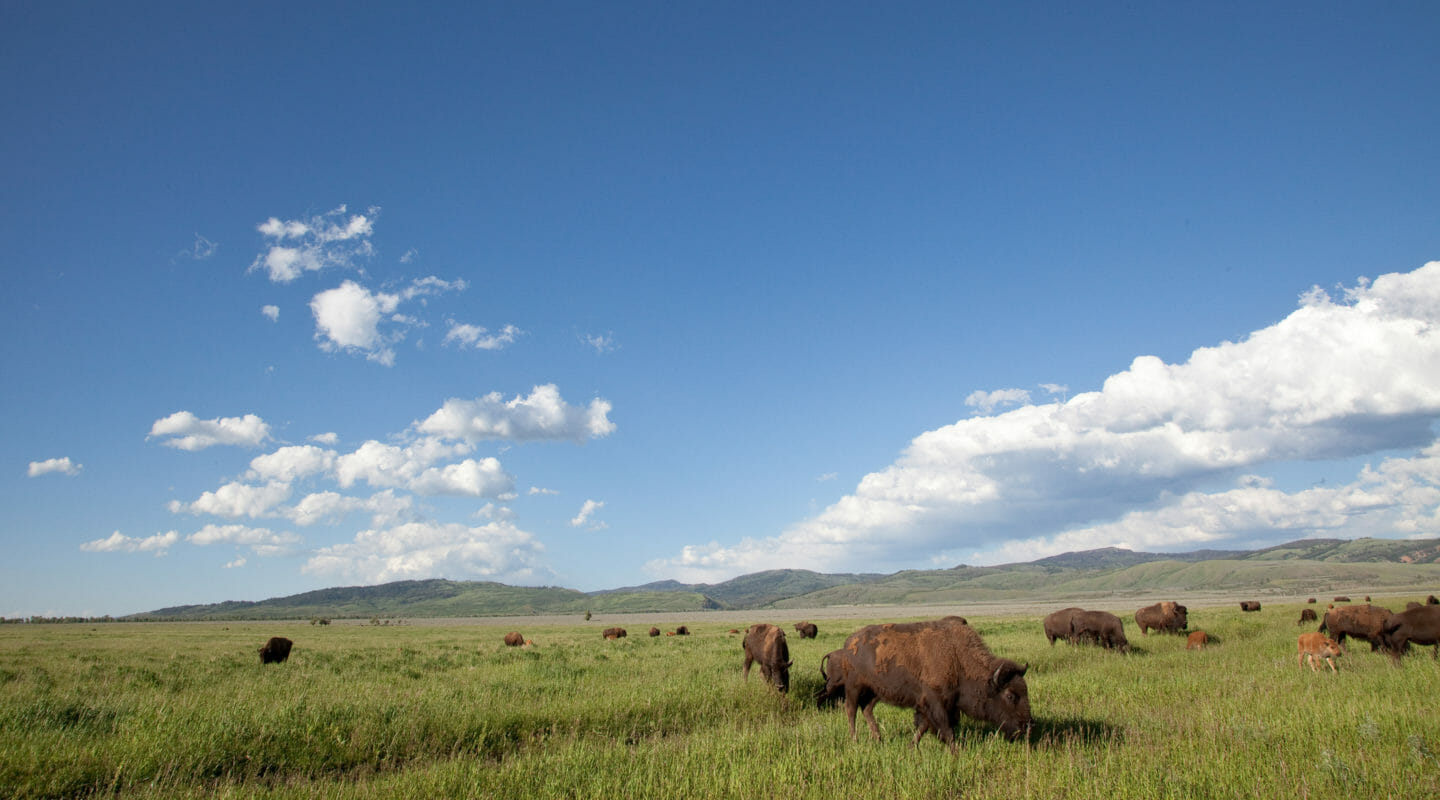 Even when the South Entrance is closed our experienced guides will establish a route through the West Entrance that will not neglect the geothermal and geological highlights of Yellowstone.  If you're interested in a more wildlife focused trip, consider a customized private tour or (even better) a 2 Day or a 3 Day Bear and Wolf Safari where multiple days can be dedicated to seeking out the iconic wildlife of Yellowstone National Park!
As more roads and entrances in Yellowstone open throughout June, visitation will increase but still remain quieter than July and August.  Regions of the park below 8,000ft in elevation will be mostly snow-free by this time, making more trails accessible for hiking and some lakes will be de-iced for fishing or boating!  Spring wildflowers should be reaching their peak bloom by June.  An array of yellows from arrowleaf balsamroot and wild parsley will carpet open valleys, near shady banks of rivers and lakes. Lupine will turn a soft shade of periwinkle or deep violet and then the light blushing pink of sticky geranium will be scattered across the landscape.  Spring certainly gives autumn a run for its money in the "most colorful" department.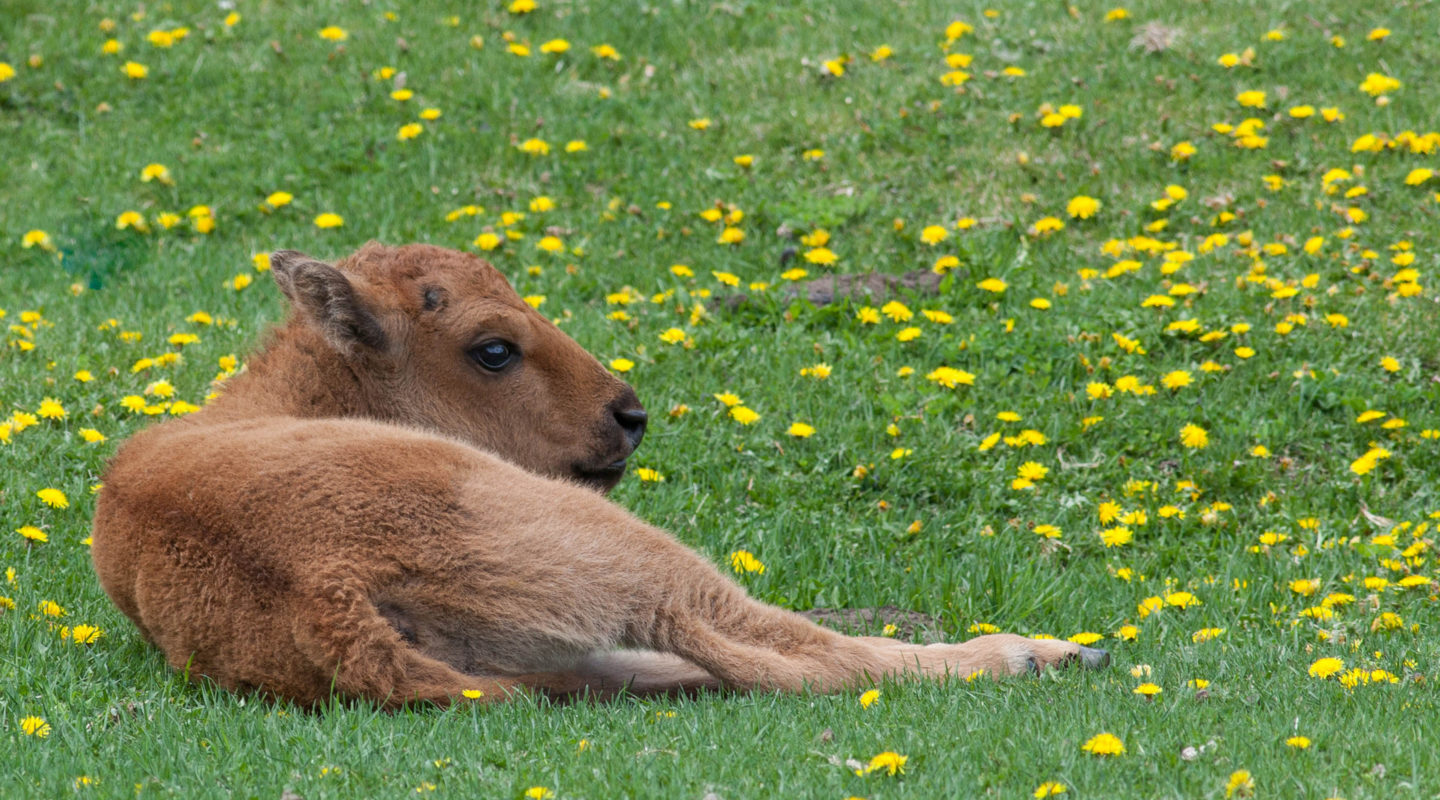 Aside from beautiful scenery, June is also a wonderful time to see more baby animals.  During this month elk, deer and pronghorn begin to give birth to their calves, wolf and fox pups start to emerge from their dens, and mother black and grizzly bears alike, with their cubs in tow, will be eagerly foraging for food to recover from hibernation.  As June comes to an end and summer begins, a lot of wildlife will disperse into higher elevations or shadier forest habitat and become much more challenging to find.  So if you want to see lots of animals, consider a spring visit!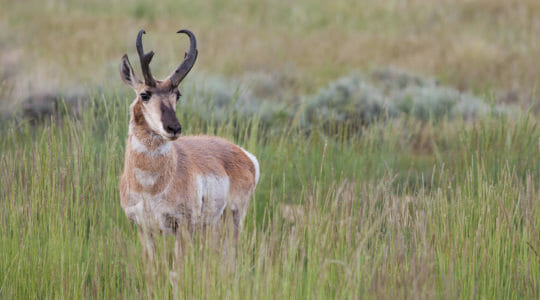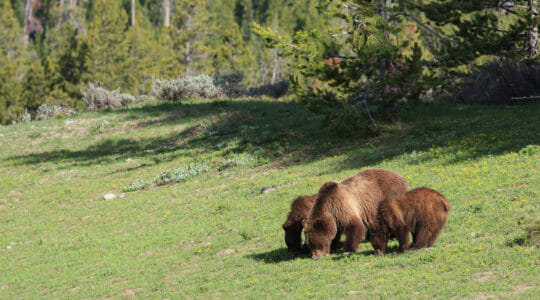 Weather in Yellowstone can be unpredictable any time of the year, however May-June can be especially dubious.  That early in the season, a weather forecast of rain could also mean snowfall in higher elevations, and a daily high of 70 degrees Fahrenheit might mean the morning starts 30-40 degrees colder.  This is all manageable, just make sure to prepare!  Bring a warm insulating layer, such as a fuzzy fleece or a puffy down jacket, and it's always a good idea to pack gloves and a hat just in case.  A waterproof jacket is also a great idea to have in case of a sudden rain or snow storm rolling through the park.  Since lots of snow could still be melting throughout May, resulting in muddy trails and puddles everywhere, waterproof boots can also be hugely beneficial. 
That is all the information you need to plan for your ultimate spring trip to Yellowstone!  Now you have an idea of why you might see in the park during that time of year, know what to pack for unexpected weather and how to plan for a wonderful excursion to the National Parks.  If you plan on traveling to Jackson Hole in spring of 2022, be sure to read about the airport closures and how to arrive here while the airport is temporarily closed.
Explore the National Park
Yellowstone Safari Tours