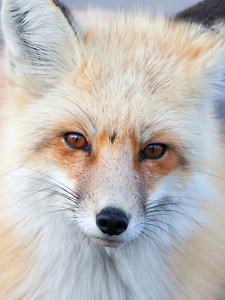 Jackson Hole Wildlife Safaris is a guide owned and operated tour company that strives to educate, entertain and connect our guests with this amazing place we call home. Our mission is to provide you with the highest quality wildlife tours and photo safaris available by combining our love for this area with a desire to share this passion with you. Founded in 2007 by veteran Jackson Hole guide and professional wildlife photographer Jason Williams,  Jackson Hole Wildlife Safaris has gained a reputation for providing guests with once in a lifetime experiences while giving them a deeper understanding of the geology, history and ecology of the Greater Yellowstone Ecosystem. This 10-15 million acre, nearly intact ecosystem, serves as the global standard of successful conservation from Yellowstone's humble beginnings in 1872 to the expansion of Grand Teton National Park in 1950. Our tour guides will lead your safari with years of experience and first hand knowledge that can only come from living and breathing Jackson Hole, Grand Teton and Yellowstone National Parks.

Our Staff
As a guide owned and operated company, we know how important our guides are to the quality of our safaris. We pride ourselves on hiring the most talented and experienced local guides in order to provide the best wildlife safaris and photo tours available. The first thing we look for in a guide is a strong passion for Jackson Hole, Grand Teton and Yellowstone National Parks along with a desire to share that passion with you. Passion is a large part of what makes a guide great but a depth of knowledge about the Greater Yellowstone Area is also crucial for us to provide expert interpretation during your safari. This requires our guides to have a deep understanding of the history, ecology, geology, geography and wildlife of both national parks and over 10 million acres known as the Greater Yellowstone Ecosystem. Though most of us have college degrees, no degree in the world can fully prepare someone to be a Jackson Hole Wildlife Safari guide. Developing a deep understanding and love for this area requires years of hiking remote trails, climbing peaks, floating rivers, discovering secret trout filled pools, skiing the backcountry and tracking wildlife deep into the forest. We believe that nothing is more valuable than first hand experience and observation when it comes to learning and teaching. Good guides tend to be energetic, curious, highly intelligent and continuously studious (It never ceases to amaze me that 20 year veteran guides buy more books than our guests!) Lastly, a good guide will intuitively calibrate their guiding style during your safari to focus more time on your areas of interest. Unlike a canned tour where the so called 'guide' just says and points out the same things day after day, our guides will engage you in a rolling discussion about what you are seeing, stories about the area and an insider's perspective on current local events. Read about our guides and staff below:
Jason Williams

Jason is the owner/operator of Jackson Hole Wildlife Safaris. He has been guiding float trips, snowmobile tours and wildlife safaris in the Greater Yellowstone Ecosystem for 16 years. His field of experience includes scuba diving, caving, rock climbing, backpacking, backcountry skiing, canoeing, sailing, snowmobiling and whitewater rafting. Jason has a B.S. Degree in Geography with a minor in Anthropology from Southern Illinois University in addition to being a professional wildlife photographer and freelance writer. Publications include the Washington Post, Denver Post, Frommers, Powder Magazine, the Teton Journal and the Jackson Hole Explorer magazine. See some of Jason's work at www.JasonWilliamsPhoto.com. Jason is a Wilderness First Responder, Dive Master, Leave No Trace Master Educator and holds a Level II Avalanche Certification.

Kyle Williams

Kyle is our lead guide and director of the exclusive Fours Seasons naturalist program. He has been guiding float trips, snowmobile tours and wildlife safaris in the Greater Yellowstone Ecosystem for 15 years. Before moving to Jackson Hole, Kyle built a career as an accomplished outdoor educator in both the St. Louis and Washington DC areas. Kyle's deep understanding of the Greater Yellowstone area comes from years of exploring, studying and teaching about the place he calls home. When he is not entertaining and educating his clients, he can probably be found fishing a secret trout filled stream, snowboarding in the Tetons or running Class IV rapids with his beautiful wife Tracey and newborn son Oliver. Kyle is currently a Wilderness First Responder through the Wilderness Medicine Institute.

Dave Green
We were lucky enough to find Dave after returning to Jackson Hole after a 6 year adventure teaching science and math in remote Inuit villages in Alaska. Dave is going on his 19th year guiding in the Greater Yellowstone area, including 13 years as a river guide on the Snake River through Grand Teton National Park. He has a bachelors in education from Indiana University, has volunteered with the Jackson Hole Historical Society and assisted with archaeological digs in the area. He is an avid outdoorsman with descents of dozens of western and Alaskan rivers under his belt. Dave's knowledge and experience in Jackson Hole combined with his training as a teacher make him a great resource to anyone traveling with him on safari. He is also a Wilderness First Responder through the Wilderness Medicine Institute.
Jody Tibbitts
It's hard to find a true Jackson Hole local but Jody certainly qualifies! Jody grew up in Jackson hole and has dedicated his life to share his knowledge and passion of the outdoors with his guests. Right out of high school he began working for Jackson Hole Whitewater as a river guide. He spent the next 15 years guiding Whitewater and scenic float trips on the snake River. He has done everything that you can do in Jackson hole from being a fishing guide to snowmobile guide. On his days off you'll find him on the river fishing with his family or in the backcountry looking for more wildlife. Jody has four children and a lovely wife that puts up with his nonstop humor. He loves guiding families and treats his clients as if they are his friends and family.
Josh Myers
Josh is an internationally published and award-winning photographer based in Teton Valley, Idaho. His work can been published in multiple magazines and news outlets throughout the US and England including National Geographic Adventure, Backpacker, Outdoor Photographer and the Sierra Club. He is also a regular contributor to regional newspapers and is the owner of Trekking Photography. His expertise ranges from wildlife photography and adventure travel to commercial portraiture and exceptional fine art landscapes . He has photographed a wide variety of subjects across the country and overseas including his documentation of his thru hikes of both the Appalachian Trail (2174 miles) and the Pacific Crest Trail (2663 miles) Josh is an excellent teacher and works with us as an interpretive wildlife guide, hiking guide and photography instructor. See more of Josh's work at www.TrekkingPhotography.com.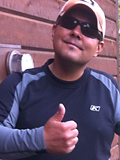 Joe 'lefty' Martinez
Joe has been guiding snowmobiles, snowcoaches and wildlife safaris in the Greater Yellowstone region for 15 years. His depth of experience in both Jackson Hole, Grand Teton and Yellowstone National Park in both summer and winter gives him a deep well of knowledge to draw on to educate his guests about the area. After growing up in Michigan, Joe joined the Marines before moving to Jackson Hole where he learned to snowboard and fell in love with life in the mountains. He went on to become an advanced backcountry snowmobile guide and is trained in Wilderness First Aid. He believes that who we are is based on life experience and that adventures in the Greater Yellowstone Ecosystem will enhance life for anyone willing to look.
Seth Ames
Seth is a professional wildlife guide and biologist with a depth of experience spanning decades on several continents. He has guided everything from bear tours in Canada to years leading wildlife tours into the Amazon rain forests. Seth has a degree in Zoology from Southern Illinois University which he has used throughout his career in varied research positions including studies involving lynx, wolverines, raptors, a variety of bird projects and even a project on mussels! Throughout his adventures Seth has developed a passion for photography and has sold his work internationally. Seth is also trained in Wilderness First Aid through the Wilderness Medicine Institute.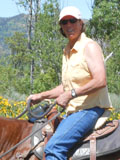 Julie Johnston
Julie is one of the most experienced guides in Jackson Hole! She has guided snowmobile tours, pack trips and wildlife safaris throughout the greater Yellowstone area for over 30 years. Julie's passion for wildlife and teaching about the area is made deeper by her expertise working with animals as a horse trainer and dog groomer. She is the owner and operator of Hawk's Rest Ranch where she boards and trains horses and assist with animal rescues in the area. Julie has a degree from the University of Kentucky and is trained in Wilderness First Aid through the Wilderness Medicine Institute.
Julia Welch

Julia has an undergraduate degree in Wildlife Science and a Master's Degree in Conservation Biology from Antioch University New England. An experienced environmental educator, field researcher, and wildlife rehabilitator, Julia has created extensive wildlife education curriculum, completed a multitude of ecological research projects throughout the United States and has worked with many animal species from salamanders and cranes, to beaver and black bear. Julia started her guiding career as a bear viewing guide in British Columbia, where she found guiding to be an excellent opportunity to engage people with the natural world around them. Julia is excited to live, work, and play in Jackson Hole, both learning and teaching about all the landscape has to offer. Julia is also trained in Wilderness First Aid through SOLO Schools.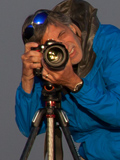 Dwight Vasel
Dwight is a 14 time Emmy Award winner with a decades long career in broadcast television with NBC. He was born in central Illinois and earned a degree in Radio and Television from Southern Illinois University. His lifelong passion for photography has taken him to the top of skyscrapers, to the bottom of the Grand Canyon and even onto the field with the Dallas Cowboys. Dwight is a popular digital photography instructor with Texas Christian University and leads sold out photography classes and workshops across the country. Dwight is also trained in Wilderness First Aid through the Wilderness Medicine Institute.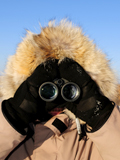 John "Moose" Henderson
Moose is a man wearing many hats. After completing his undergraduate degree in geology, he spent the first 27 years of his career as a self-employed microscopist and environmental consultant in Florida. He followed this with a 10-year stint as a professional wildlife photographer including two years photographing mammals and birds in Siberia. His images are handled by multiple stock agencies and he has over 11,000 published credits. During his work in Siberia, he decided that he wanted to do more for animal conservation so he return to school completing a masters in wildlife biology and will soon complete his PhD in moose ecology. His passion is moose conservation, moose photography and moose ecology. During his time off, he is either photographing moose, collecting moose scat to study moose winter diet or dreaming of moose. He is also trained in Wilderness First Aid through SOLO.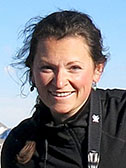 Shelby Huff
Shelby hails from the Pacific Northwest, but her passion for environmental education and fascination with bears has ping-ponged her across the West. She has worked as an Education Ranger with the Park Service, as a bear guide in Alaska and as an educator with the Great Bear Foundation. She received her B.A. in Anthropology and Spanish from Western Washington University. When she's not out looking for large carnivores, you can find her exploring the surrounding hills, on her bike, or on some sort of boat. She is a firm believer in Drew Hamilton's saying that, "success is being on a boat, watching bears." Shelby is a certified Wilderness First Responder through the Wilderness Medicine Institute.
Anna McDermott
Anna has had a passion for animals and traveling for as long as she can remember. After graduating from Smith College with a degree in biology, she sought to gain as much knowledge as possible from different wildlife fields. Anna spent a year at a wildlife rehabilitation sanctuary in McCall, ID where she cared for black bear cubs, birds of prey, fawns, and many other local wildlife species. She also has experience working at a zoo with Asian mammals including Sumatran tigers, and worked in conservation research for rhinos, elephants, and predators on a private nature reserve in South Africa. Her love of seeing the world has taken her to every continent thus far except South America and Antarctica. She recently returned from Indonesia where she was studying traditional Javanese music. Anna is trained in Wilderness First Aid through the Wilderness Medicine Institute.
Mike Canetta

Mike has been a naturalist and outdoor enthusiast since he first visited Grand Teton National Park as a five year old. Mike holds a B.S. from the Program in the Environment at the University of Michigan, as well as an M.S. in Environmental Studies from the University of Montana, where he conducted research on native trout restoration efforts in the northern Rockies. Mike spent five seasons as a park ranger in Grand Teton National Park and worked for The Cougar Fund for over two years. In his free time, Mike can be found fly fishing, hiking, backpacking, and skiing with his wife and Australian Cattle Dog throughout the Greater Yellowstone Ecosystem. Mike also enjoys nature photography and writing, and has had work published in Montana Naturalist and Camas, as well as Yellowstone National Park and Yellowstone Park Foundation publications. Mike is certified in Wilderness First Aid through Sierra Rescue.
Jenny Fitzgerald
Jenny earned her undergraduate degree at Cornell University with a major in Natural Resources and a minor in Animal Science. Intent on working in the field of wildlife conservation (and looking for a change of scenery!) she left her job at the Cornell Lab of Ornithology and headed west. We first met her here in her role as a Bear Management Ranger in Grand Teton National Park. Jenny enjoys most outdoor sports including: hiking, backpacking, climbing, rowing, rafting, snowboarding, and biking. She believes the best way to inspire and teach conservation is through enthusiastic educational experiences for people of all ages, and she truly enjoys exposing people to what she loves most: wildlife! Jenny is also a Wilderness First Responder through the Wilderness Medicine Institute. Jenny is currently leading a puma program in Mexico while she works towards an advanced degree. Learn more at Panthera.org
Tom VanZant
Tom is one of the most experienced guides in Jackson Hole having led tours in Yellowstone, Grand Teton National Parks, and surrounding wilderness areas for over 30 years. He has a deep appreciation for the greater Yellowstone ecosystem gained from those many years in the field. He is knowledgeable in the regions' flora and fauna as well as the natural and cultural history of the area. During the summer season Tom works for Yellowstone National Park as an interpretive Park Ranger and has been pursuing his career with the National Park Service. Tom was our first guide when we started in 2007 and we are happy to still have him (even if it is really part time these days).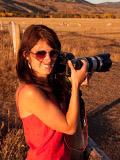 Carrie Wild
Carrie started working with Jackson Hole Wildlife Safaris as a reservationist in 2011. She was promoted to office manager and is now our executive assistant. Carrie is an award winning wildlife photographer, naturalist and professional wildlife artist. Carrie is the owner of Carrie Wild Fine Art and you can see her work at www.CarrieWildArt.com. Her work is represented by and on display at Mountain Trails Gallery in Jackson Wyoming and Park City Utah, A Banks Gallery in Bozeman Montana and the Wiford Gallery in Santa Fe, New Mexico.