The National Park Service has published their "Plan Like a Park Ranger" series.  Grand Teton National Park and Yellowstone National Park are set to experience record visitation this summer.  Understanding the do's and don'ts of the park and planning ahead will help make everyone's visit a memorable one.  The National Park is set aside for the enjoyment of everyone, but that doesn't mean that it is free from guidelines and regulations.  Learn how to experience the National Parks like a pro.
Plan Ahead
Ah, remember the whole family piling into the station wagon with no set plans except for the destination?  For most visitors this summer, that travel plan will remain a distant memory.  You'll need to plan your visit by the day, to set your lodging in advance.  Grand Teton National Park and Yellowstone National Park have lodging within the park, which you need to have a reservation for.  Most available rooms are already booked for the peak summer season.  You may be lucky enough to grab a cancellation, but don't bet on it.  Plan ahead to avoid being stranded.  Camping is available too and some of the campsites in the park have unbelievable views and access to basic facilities.  You'll need a reservation to camp as well!  Campsites used to be first come, first served but they've all moved to a reservation system.  Make sure to double check your dates and reserve your overnight accommodations well in advance.  Both Grand Teton National Park and Yellowstone National Park are big places, but you must camp in approved sites, so familiarize yourself with the locations and plan accordingly.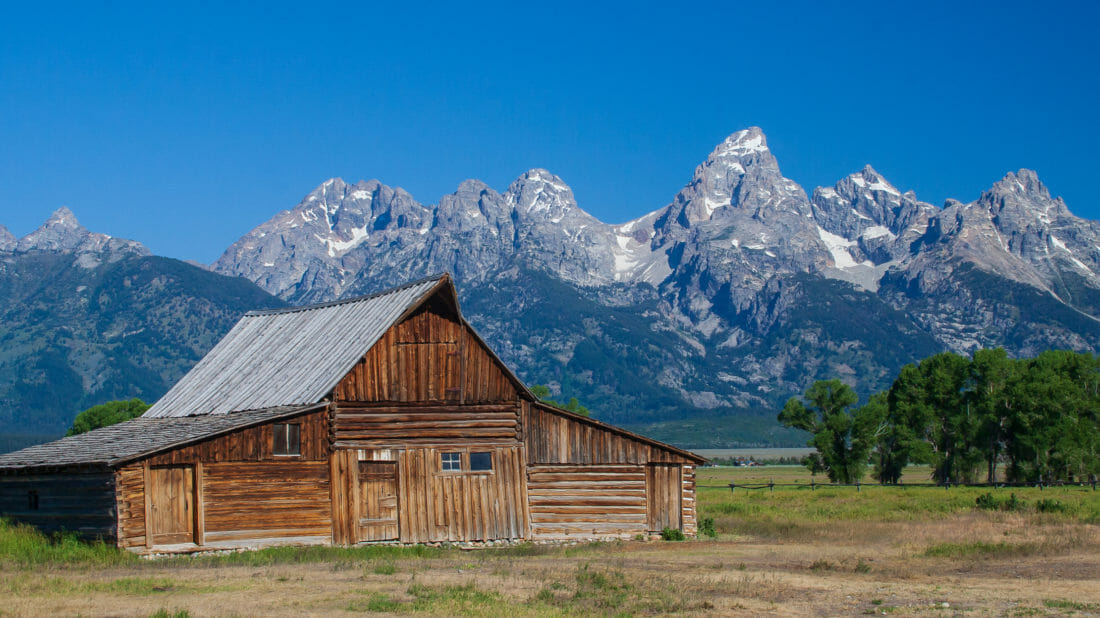 Leave No Trace
With so many visitors, it's imperative that everyone practices Leave No Trace principles while visiting the park.  These principles involve planning ahead and minimizing your impact on the landscape.  Make sure you travel on established trails and roads and camp in designated locations.  Dispose of all your waste properly, including trash and recyclables as well as your human waste.  Don't take natural souvenirs from the park, like rocks or flowers, instead, leave things as you find them.  Give wildlife space and respect that you are a visitor in their home.  The National Park has plenty of resources for you to plan ahead.  If you're traveling on a guided tour with us, read about our sustainability initiatives before you arrive.
Be Bear Aware
When you travel in the National Park, you're traveling in bear country!  We have grizzly bears and black bears that live here, so familiarize yourself with how to behave in bear country before you arrive.  Bears are not only in the backcountry.  They may wander through a campsite, through a parking lot or you may spot one from a busy trail.  No matter the location, it is important to keep a minimum of 100 yards between you and any bear that you see and remember to never approach wildlife.  Food, food residue and trash are all bear attractants so make sure you practice food storage appropriate for bear country, even if you're not camping.  Hikers should take bear spray with them and know how to use it.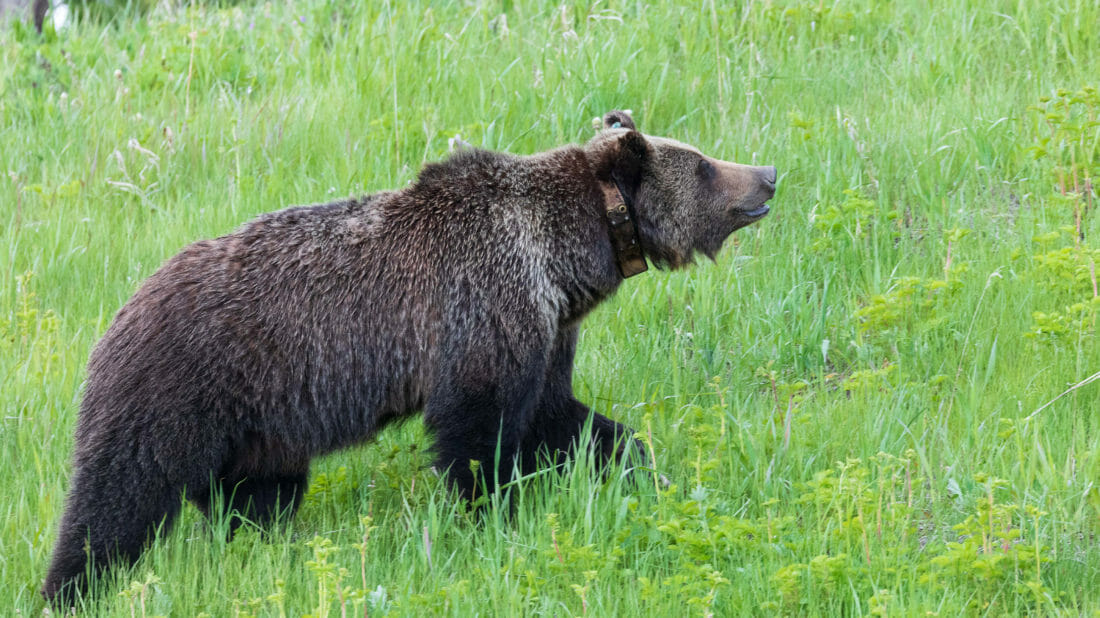 Pets and the Park
Your pet will not enjoy the National Park the same way you will.  Pets are prohibited from most trails, pathways, park facilities and swimming.  You may bring your pet into Grand Teton National Park or Yellowstone National Park, but it must remain on a leash at all times and must be kept within 30 ft of any roadway.  Service animals (working animals) do have separate privileges to allow their owner to move through the park, but emotional support animals do not.  If you must bring your animal, plan ahead and make sure that you are following the National Park guidelines on pets visiting the park.  If you can, leave your pet at home, or seek out alternative pet-friendly areas to spend most of your time.
Crowd Control
Most visitors are active in the park between 9am and 4pm.  Plan ahead in order to visit some areas of the park outside of peak hours.  Early risers are often rewarded with wildlife sightings and fewer people around.  If you're lucky, you may even enjoy an area of the National Park all to yourself.  During the peak visitation times, be patient with others and realize that everyone is trying to have the same experience that you are.  Consider taking a guided tour into Grand Teton National Park or Yellowstone National Park to reduce the number of vehicles on the road.  Tours head in early, doing their best to avoid crowds and minimize congestion.
Wildlife Safety and Etiquette
Wildlife is wild!  If you live here, you're used to living with wildlife.  For visitors coming to the area, it's incredibly important to understand how to behave around wildlife, while in the National Park, or the National Forest or on any of the other public or private lands that make up the Greater Yellowstone Ecosystem.  For more information on wildlife safety and etiquette, read our blog before you arrive.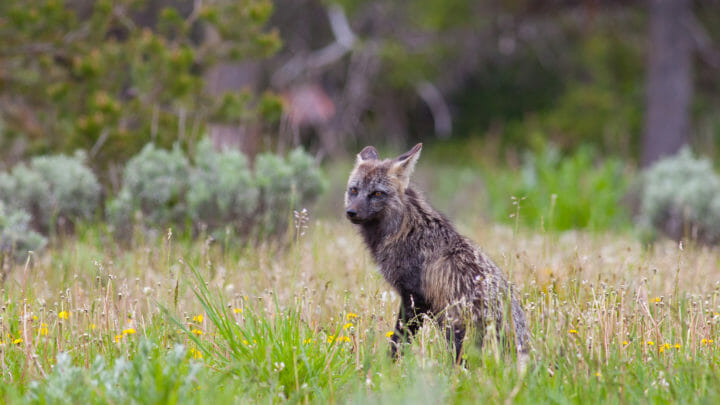 Go Slow
Give wildlife a brake!  Travel safely on park roads by obeying posted day/night speed limits, road closures and detours.  Give other vehicles space and watch for people making quick turns or braking quickly for unexpected wildlife crossings.
Put Your Campfire Out
Always use designated campfire rings for campfires in the National Park.  Pay close attention to fire restrictions and regulations and report any wildfires that you see.  Never leave campfires unattended.  Your campfire should be cold to the touch before you walk away from it.  Only you can prevent forest fires.
Take a Ranger With You
Before you travel to Grand Teton National Park, download the National Park Service app on your phone.  The app provides you access to interactive maps, roadside suggestions and amenities while you travel through the park.  If you plan on traveling through some of the more remote areas of the park, the app even lets you download content for offline use.
Explore More of Wyoming
Perhaps Grand Teton National Park is only one destination on your summer road trip.  There's plenty to see and do here.  Wyoming has two National Parks to explore, national monuments, national historic trails, a national recreation area and thousands of acres of National Forest lands and state parks.  From Jackson Hole, we recommend setting aside at least a week to explore Jackson Hole, Grand Teton National Park and Yellowstone National Park.  For ideas on what to see and what to do in the area, read these articles from the blog: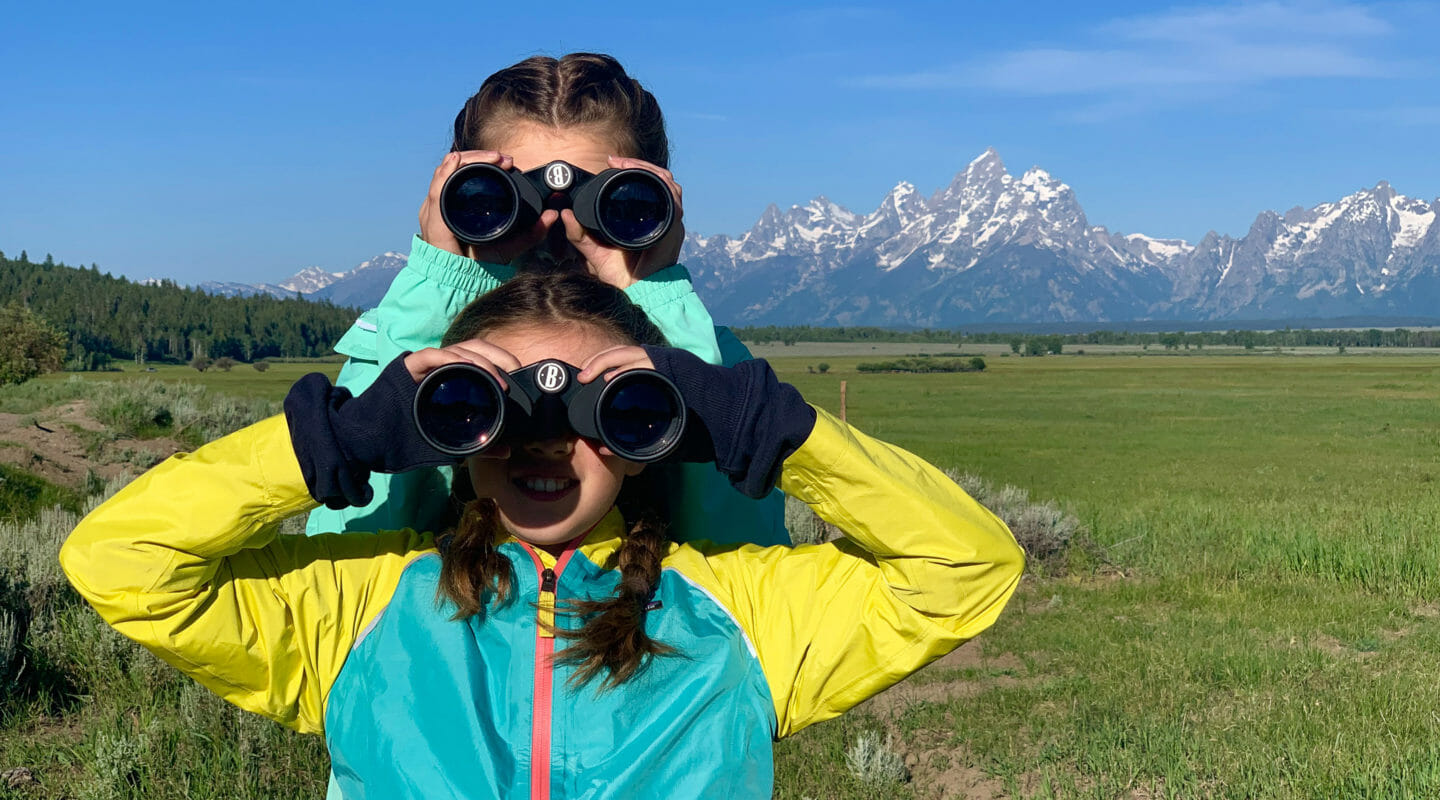 Current Pandemic Information
Stay up to date on current CDC guidelines for travel.  Make sure that you're following National Park guidelines because they may differ from local county or state guidelines.  The National Park Service has been updating their health guidelines frequently, so make sure you're aware of the current rules in place.  For additional travel resources in our area, Teton County Health Department has a dedicated pandemic page with up-to-date information.
Explore More
Featured Tours