Tour Yellowstone
Our best recommendation is to schedule a wildlife tour for the first day of your vacation.  This way, the knowledge you gain from a Yellowstone day tour, a day in the field with a professional naturalist guide, is a great foundation for a Yellowstone excursion on your own.  
Is Jackson Hole just one of your destinations?  Are you on a road trip through the western United States or even just Jackson Hole and the surrounding areas?  We recommend booking yourself a day tour to Yellowstone National Park with one of our experienced guides.
Summer Tours
Day Tours from Jackson Hole
During the summer months, Jackson Hole Wildlife Safaris offers tours to Yellowstone National Park daily from Jackson, WY.  Every tour is accompanied by a professional naturalist guide, well trained in the geology, ecology, and history as well as the flora and fauna of the Greater Yellowstone Ecosystem.  This lower loop tour covers all the park highlights of Yellowstone National Park, such as Old Faithful, the Fountain Paint Pots, the Grand Canyon of the Yellowstone, Hayden Valley, Mud Volcano, the Continental Divide, Yellowstone Lake and much more.  
Pickups are arranged from your hotel or place of lodging in Jackson Hole.  Guests are picked up first thing in the morning between 6:30am and 7:00am depending on your Jackson Hole hotel location.  You can expect to be on a Yellowstone National Park wildlife safari for 10-12 hours. Choose a private tour and enjoy a fully personalized experience with a guide and a vehicle to yourself for the day.
Absolutely Amazing
"We had THE BEST day touring Yellowstone! Our guide, Ash, was so knowledgeable on the area and was so good at spotting wildlife, I can't imagine seeing Yellowstone any other way! Highly recommended – it's worth every penny!"
SherJump, October 2019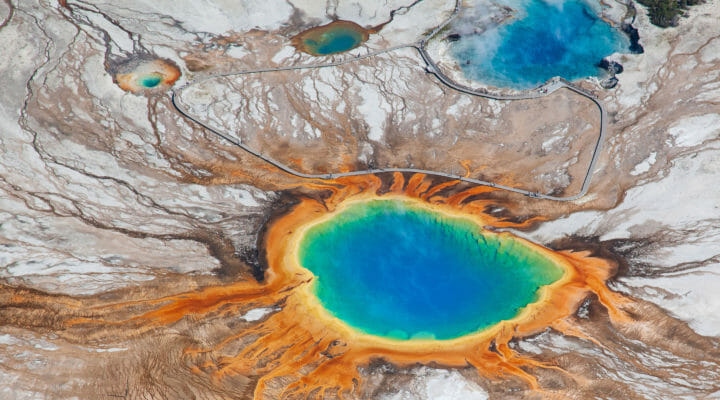 Multi-Day Yellowstone National Park Tours
Would you like more time to explore Yellowstone National Park?  With more time in the National Park with your guide, you will have a better opportunity to spot some of North America's Big 5, the large animals that make the Greater Yellowstone Ecosystem home.  Bears and wolves are sometimes the most elusive, so a few extra days to track and spot wildlife offers you a better opportunity to check these off your bucket list. Jackson Hole Wildlife Safaris offers a 2 Day/1 Night tour to Yellowstone or a 3 Day/2 Night tour to Yellowstone during the summer months.
2 Day Tours of Yellowstone National Park
This wildlife safari tour covers most of the same ground as our Yellowstone day tour does, but the additional time allows us to access the northern reaches of Yellowstone National Park, like Lamar Valley where we are more likely to spot wolves.  With extra time, your guide will also spend more time discussing wildlife safety and wildlife tracking. With a little luck, you'll see everything you were hoping for. This is one of the best tours in Yellowstone for photography opportunities.  Choose a private option and have the guide and the vehicle to yourself for the entire tour.
I Would Give This More Than 5 Stars If I Could
"This was really the best tour experience I've ever had. Our guide was Julie Johnston, and when she picked us up we said we wanted to pack in as many animals as we could over the next two days, and man did she oblige. She has a terrific eye for spotting things that you'd never see in a million years, and so she found three different moose, a grizzly, seven wolves, elk, mountain goats, a black bear, a bunch of different birds…  I'm probably forgetting some things. With her spotting scope she made it feel very up-close, and it was great to have a wolf look us in the eyes at what felt like arms-length.  We did also manage to visit all the scenery high points, from Old Faithful, (which obliged by going off as we arrived), the Grand Prismatic, and so on. But the animals were the high point, and I'm so glad we took this tour. 5+ stars."
NoTurnsOnRed, September 2019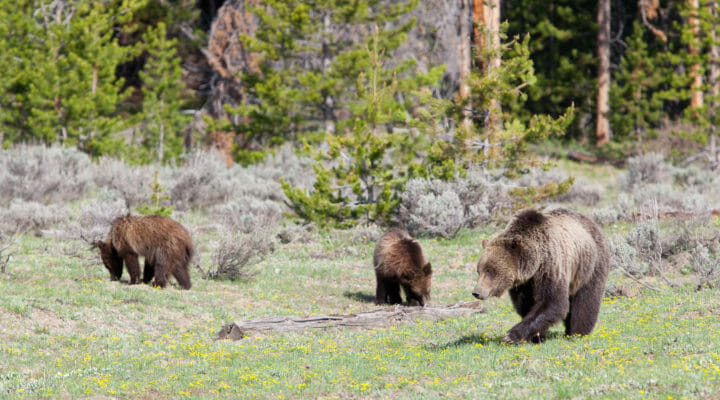 3 Day Tours of Yellowstone National Park
This wildlife safari tour hits all the highlights of the day tour that travels the Lower Loop of Yellowstone, but with two additional days in the field, you'll be able to spend more time learning about the flora and fauna of Yellowstone National Park while learning how to safely track and photograph the wildlife that call the Greater Yellowstone Ecosystem home.  This tour also has time for short guided hikes if the group wants to include that in their guided Yellowstone tour. Bears and wolves are the main goal of these three days in the National Park, but many other species will be seen along the way. This is one of the best wildlife safari tours for spotting wolves and bears in the wild. Choose a private option and have an incredibly personalized experience with a personal guide and vehicle for the duration of your wildlife safari tour.
Explore Yellowstone
Featured Tours
Winter Tours
Traveling in winter instead of summer?  Winter is the season of the wolf and offers the best opportunities to spot this magnificent creature in the wild.  Yellowstone National Park is closed to road-based traffic during the winter months and the only method of accessing the interior of the park is by over-snow vehicle.  We utilize the one stretch of road that remains open at the northern end of Yellowstone National Park that gives us access to the Lamar Valley where we will track and photograph wolves in their natural habitat on our winter tours in Yellowstone.  
3 Day Winter Tour of Yellowstone National Park  
From December to April, Jackson Hole Wildlife Safaris accesses Yellowstone National Park for a guided tour of Yellowstone through the north entrance and into the Lamar Valley.  These tours depart at regular intervals from Bozeman, MT and spend three days in the field tracking wolves and other wildlife. This is one of the best Yellowstone tours for tracking and photographing wolves in the wild. 
Incredible Adventure
"We spent three incredibly exciting days with our guide Jody in Grand Teton and Yellowstone National Parks in early October. Jody was an incredible guide, with so much knowledge and experience, he was a great traveling companion. How we experienced the park was his priority and he did everything to make us comfortable and see all we came to see. And we saw it all…the wildlife was spectacular as was the scenery. The food and accommodations were exceptional and the Suburban we travelled in was as comfortable as a living room couch; Jody's driving made us feel safe and secure and we were able to just focus on what we came to see without having to look at a map and navigate our own way through these huge parks. Jody and Jackson Hole Wildlife Safaris gave us the experience we will always remember and we highly recommend Jackson Hole Wildlife Safaris to experience these beautiful parks."
KarenK, October 2019