Overview
Join an experienced naturalist guide to track, study and photograph the abundant wintering wildlife and wolves found on the Northern Range of Yellowstone National Park. This popular winter wildlife safari tour will focus on finding and safely viewing Greater Yellowstone's wintering wildlife including the predators and big game of the region. Throughout the safari there is a chance to view and photograph wolves, coyote, fox, bald eagles, golden eagles, elk, bison, bighorn sheep, mule deer, pronghorn and mountain goats while learning about the geology, history and ecology of the Greater Yellowstone area. We will spend our time in prime wildlife habitat both outside and within Yellowstone National Park including places like Paradise Valley, Mammoth Hot Springs, the Blacktail Plateau, Little America and of course the famous Lamar Valley, often referred to as the Serengeti of North America. Our small group sizes and expert wildlife guides will insure personalized attention, great wildlife viewing and endless photo opportunities. (See a full itinerary and description below)
What's Included
Professional naturalist guide

Small group safari: 8 guests per vehicle, maximum

National Park entrance fees
Open Safari
Based on double occupancy. Single supplement: $200. The minimum age for open wildlife safaris is 8 years old. (Private safaris have no age minimum.)
Private Safari
Price per vehicle/double occupancy. Includes up to 4 passengers; $975 per additional passenger. Maximum 8 guests. Single supplement: $200.
Pick-up Times
All guests are picked up and returned to their place of lodging. We pick up at hotels and condos in Bozeman, MT and Livingston, MT.  Your exact pick up time will be determined by your hotel location. The Jackson Hole Wildlife Safaris office will notify you of your pickup time prior to your departure.
Please give your guide an additional 5-10 minutes before and after the scheduled time to allow for other pickups or traffic conditions.
Seasonal changes to trip timing may be made to accommodate daylight and/or optimum wildlife viewing.
Approximate pickup times include:
7:00 AM – Bozeman, MT
7:45 AM – Livingston, MT
There was never a dull moment as even the drive was filled with tremendous information and discussion. They were incredibly knowledgeable, friendly, and great company.
New York
Itinerary
Day 1
Yellowstone National Park
Your 3-Day Winter Wolves and Wildlife Safari of Northern Yellowstone Safari will begin when your guide meets you at your Bozeman area hotel. You will travel east over Bozeman pass to Livingston Montana and South through the scenic Paradise Valley to the North Entrance of Yellowstone National Park (Approx 1.5 hours). We will then spend the rest of the morning exploring the northernmost part of Yellowstone National Park including the Roosevelt Arch, Mammoth Hot Springs Terraces and the historic Albright Visitor Center with plenty of time to find and photograph the abundant wildlife of this part of the park.
After a quick lunch we will head deeper into Yellowstone to the Lamar Valley, often called the Serengeti of North America. This is the single best winter wildlife viewing area in Yellowstone and one of the best places in the world to see wolves in the wild! Here we will spend the afternoon searching for these apex predators with time to learn about and photograph other wildlife, thermal features and the magnificent scenery in this part of the park. We will return to Gardiner, MT just before sunset to get checked into our hotel.
Day 2
Yellowstone National Park
We will start the day early in order to get positioned for the best opportunities to see wildlife, and if we're lucky, hear the wolves of the Northern Range. The best wolf watching locations will depend on current events, pack dynamics, prey migrations and weather which will lead us to different strategies for finding the wolves on every trip. It is not uncommon to encounter wolves from Mammoth Hot Springs all the way to Lamar Valley. Places like Little America, Slough Creek and the Blacktail Plateau may provide even better opportunities than the Lamar Valley depending on the time of year and current wolf pack territories in the area. We will also have plenty of other wildlife encounters including birds of prey, other canines and the abundant hoofed animals that winter on the Northern Range. Winter is an outstanding time to view wildlife for several reasons including the ease of spotting animals on snow covered ground and the need for animals to move to lower elevations to find forage where there is less snow.
Day 3
Yellowstone National Park
We will enjoy another early morning of wolf watching and wildlife viewing on the Northern Range of Yellowstone. We will spend the better part of the day exploring the park in search of great wildlife encounters and scenery. After lunch in Cooke City we will spend most of our last afternoon in search of wildlife as we begin heading back toward Gardiner. We will return to Bozeman around 5pm and your guide will drop you at the hotel of your choice.
The exact routes and itineraries will depend on a number of factors – the most important being your areas of interest, current wildlife sightings and road conditions. One of the great things about our safaris and expeditions is our ability to customize each safari for you. Our guides are all highly experienced with thousands of hours in the field allowing them to make suggestions and calibrate the adventure to your experience level and desires. Every day in the field is different which makes our safaris more fun for both you and your guides. We hope that you'll join us on a wildlife safari and walk away with an education and appreciation of this remarkable place we are privileged to call home.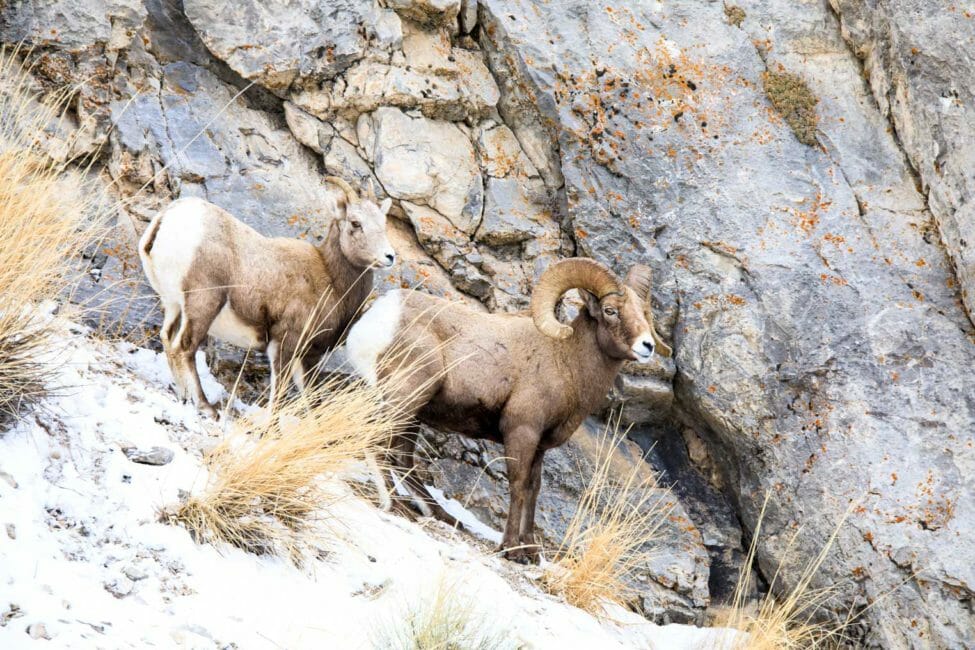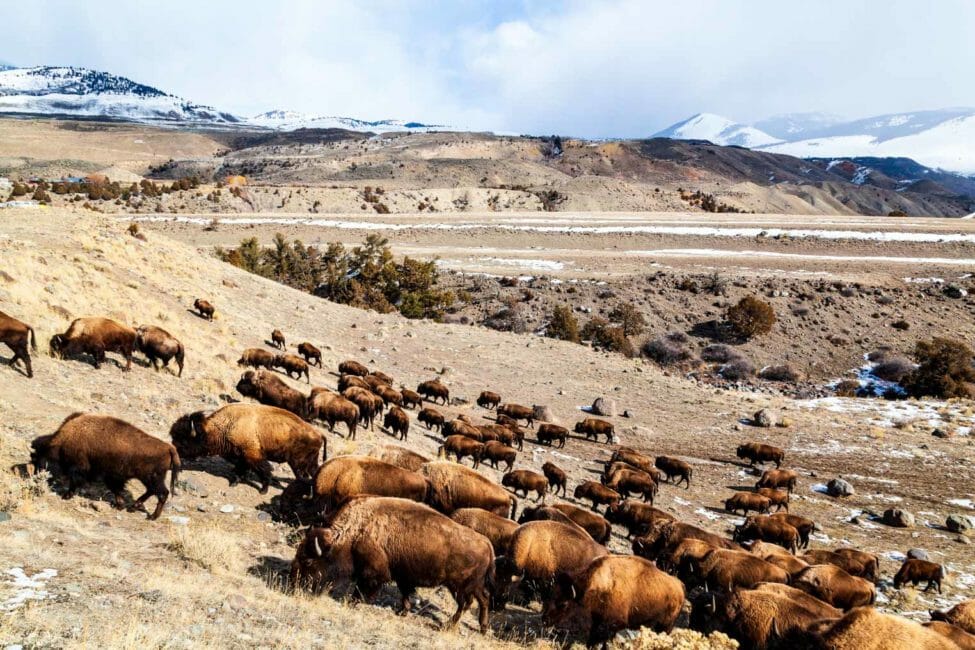 FAQs
What is your cancellation policy?
We have a 7-day cancellation policy for all 2-day and 3-day wildlife safaris.  Cancellations made before the cancellation policy goes into effect will receive a full refund.  Cancellations made within 7 days of departure, and before the day of departure will receive a 50% refund.  Cancellations or no-shows on the day of departure will not be refunded. We strongly recommend travel insurance in order to protect you from unforeseen travel interruptions that prevent you from joining us.
What is the weather like during the winter?
Winter in Jackson Hole ranges from early November to early April. Average high temperatures in the valley during the winter season range from 27F to 52F, (-3C to 11C), but daily temperatures can fluctuate far below freezing at times. The valley floor will typically see snow from October through April and in the high alpine elevations, it usually snows from September to June. The high elevation of Jackson Hole has been known to create wild temperature fluctuations from night to day, sometimes by 50F degrees or more. It is important to come prepared for winter conditions, as they can vary.
Average highs and lows by winter months:
November: Average High 39F/4C, Average Low 16F/-8C
December: Average High 28F/-2C, Average Low 6F/-14C
January: Average High 27F/-3C, Average Low 5F/-15C
February: Average High 32F/0C, Average Low 8F/-13C
March: Average High 41F/5C, Average Low 16F/-9C
April: Average High 52F/11C, Average Low 24F/-4C
Guides and Staff
Our Team
Local, experienced, and passionate guides and photographers.
More Adventures
Keep Exploring