As temperatures drop and snow blankets the magnificent Teton range, a quiet peace settles over the Jackson Hole Valley, letting us know another Wyoming winter has begun. In addition to the winter recreational activities such as cross-country skiing and snowshoeing picking up, a Grand Teton winter also ushers in photographers and wildlife enthusiasts who wish to experience the majestic nature of the winter landscape. 
For those who fall into the latter categories, Jackson Hole Wildlife Safaris offers an array of guided winter safaris that allow guests to witness the incredible adaptations the wildlife of the Greater Yellowstone Ecosystem (GYE) undergoes to survive a harsh winter climate.
The wildlife in Grand Teton National Park are abundant below pink alpenglow and jagged snow-capped peaks.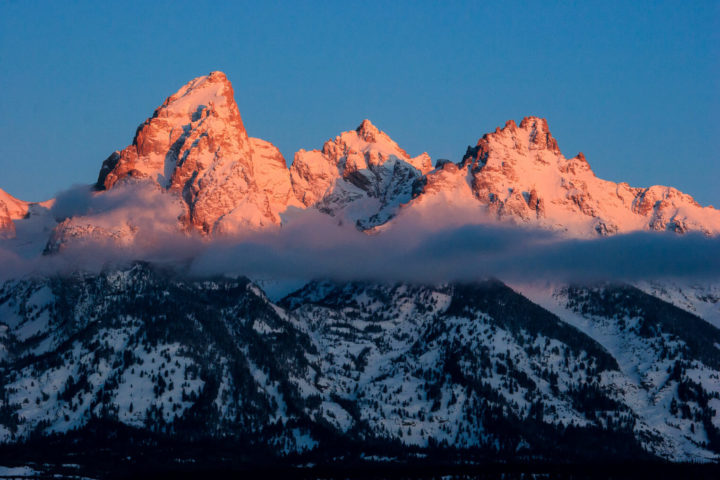 Overview of Winter Wildlife in the Greater Yellowstone Ecosystem
Like anywhere else that experiences a significant shift in climate throughout the year, the many species in Grand Teton National Park have adaptations that allow them to survive the harsh weather conditions the winter months bring. Some will hibernate like the grizzly and black bears, or migrate away from the valley such as the American pronghorn who travel more than 150  miles south of Jackson Hole overland, or the fishing eagle osprey who may fly as far as far as the Gulf of Mexico seeking warm fish-filled waters.
 Other species adapt in order to thrive in a winter they cannot hide or flee from. The four ungulate species who call Grand Teton National Park home; moose, mule deer, white-tailed deer and Rocky Mountain elk, all grow their own winter coats, long hollow guard hairs which insulate them from the frigid cold and snow. Many of these, especially elk, congregate in large numbers during winter months to avoid predation of hungry predators and take advantage of the best forage possible. Bison shuffle feet of snow away from the ground with their huge neck muscles to scrounge for grasses. Species like wolves, coyotes, foxes and hares grow extra fur between their toes to help them spread their weight across the snow and engage in fight or flight with maximum potential. Eagles become scavengers on winter-killed animals and amass around them in a swarm of activity. The land is silent, but filled with movement as every animal works to survive.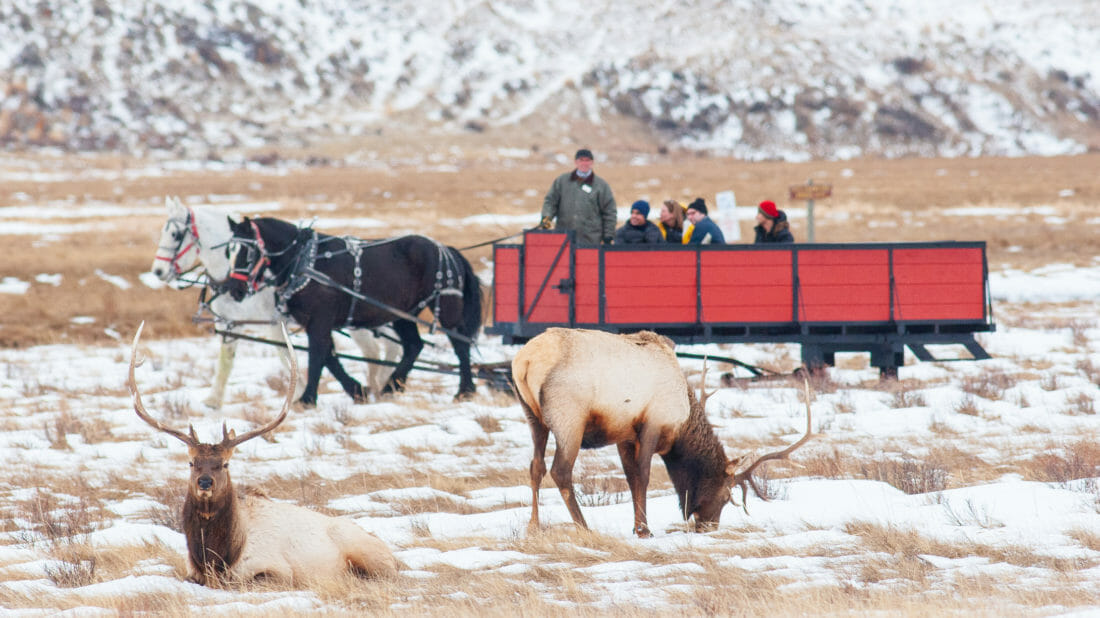 Visit Our National Elk Refuge
One incredible event that takes place each fall and spring is the migration of our Rocky Mountain elk. The Greater Yellowstone Ecosystem is home to around 50-80,000 elk in six to seven "herds", all of which migrate from their higher elevations to the nearest valley floors at the beginning of every winter seeking less snow and access to food. In Grand Teton National Park and the National Elk Refuge it is common to see upwards of 10,000 of these animals in the winter months, sitting in plain sight, timid of people, but slow to react in the deep cold. 
You can spot elk during most of our guided winter safaris, but if you're interested in learning more about elk and their migration patterns, our Best of Jackson Hole Wildlife Safari and our Half-Day Wildlife Safari Tour are great ways to do so, as we begin our day by exploring the National Elk Refuge. This incredible wildlife refuge is home to not only thousands of wintering elk but also hundreds of bison, 50-100 bighorn sheep, and an array of birdlife including the rare and beautiful trumpeter swans.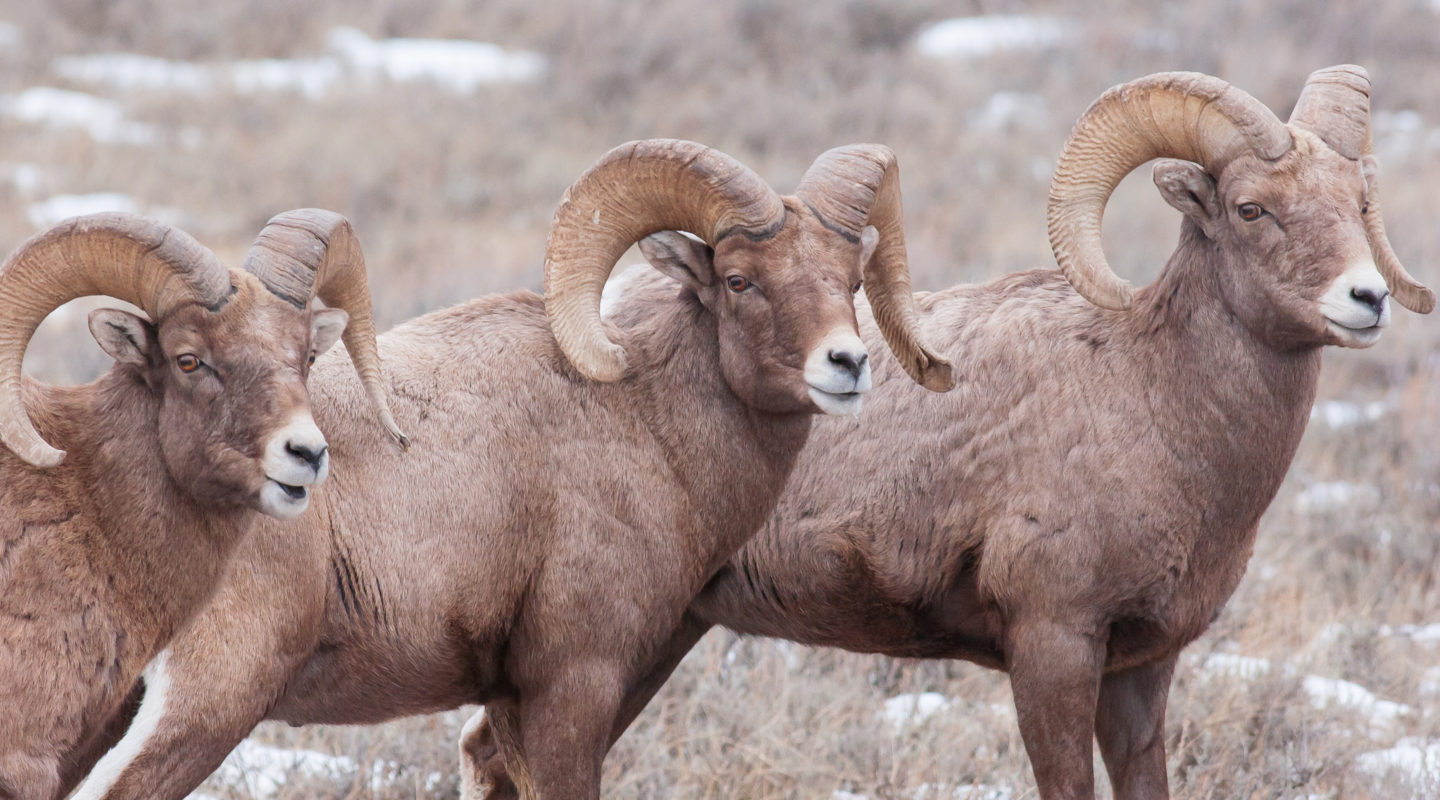 What to Expect on Your Winter Wildlife Safari
While we do provide a general overview of what to expect on each tour, the exact routes and itineraries we take will depend on a number of factors – the most important being your areas of interest, current wildlife sightings, and road conditions. Our guides are all highly experienced with thousands of hours in the field, allowing them to make suggestions and calibrate the adventure to your experience level and desires, which makes our expeditions well-loved by all who join them!
As for the weather, winter weather conditions typically begin in November and persist through April with average high temperatures in the valley during the winter season range from 27F to 52F, (-3C to 11C). It is pertinent to note though that daily temperatures can fluctuate far below freezing at times, so always be prepared for extreme conditions. 
The valley floor will typically see snow from October through April and in the high alpine elevations, it usually snows from September to June. You can look through a list of average highs and lows of winter months in the FAQ sections of each of our winter safaris.
Grand Teton Wildlife Tours
Explore the National Elk Refuge and Grand Teton National Park with a professional naturalist guide as you seek winter wildlife like mule, elk, deer, bighorn sheep, bison, and more.  Private tours are available.
Similar to the Best of Jackson Hole safari, the Half-Day Wildlife Safari will take you to the National Elk Refuge and around Grand Teton National Park as you search for moose, fox, coyotes, elk, and trumpeter swans. Private tours are available.
Join a professional photography guide for a private, photography-oriented wildlife photo tour of Jackson Hole and Grand Teton National Park. We will share our knowledge of photography techniques and equipment with you and have ample time for photographing your unique areas of interest. 
Just like the half-day photography safari, we will share knowledge of wildlife photography techniques and equipment and have even more time to travel around Jackson Hole and Grand Teton National Park to find wildlife to photograph that suits your areas of interest. 
Spot Winter Wildlife in Grand Teton National Park
Featured Tours