Planning a trip to Grand Teton National Park? Clicking the map below will help you get the most out of your photographic destinations. Read on below!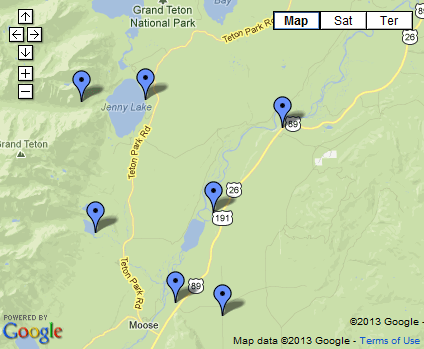 I've created a map from Google Maps showing the best places to stop and photograph Teton National Park so that you'll be sure to come away with dramatic photos of Grand Teton. While wildlife can be seen virtually anywhere in the park (even along the highway), there's no guarantee as to specifically where you can reach them. I've pointed out some of the more reliable locations, but in the end there's really no telling where they'll be for sure, or when.
The two most popular spots that people think of when they think of Grand Teton National Park are Oxbow Bend and the Snake River Overlook, both found along Highway 89 on the way to/from Yellowstone. Many people however, underestimate the beauty of the area and regret not setting aside an extra day or two (at least!) to see the park. Hitting each of the spots listed will ensure that you get the most out of your visit and will make you yearn for another Teton getaway!
Snake River Overlook
Best time of year: Year-round
A location made famous by Ansel Adams, it's a view that has something new to show its visitors no matter what time of year it is. A dramatic overlook gives you a view of the Snake River flowing along the Teton Mountains and will put the size of the mountains into perspective.
Schwabacher Landing
Best time of year: Summer, Fall
A popular spot for photographers, the still waters offer magnificent reflections of the Teton Mountains and the surrounding foliage. A short trail will lead farther in where moose and elk can be frequently spotted.
Mormon Row
Best time of year: Spring, Summer, Fall
Head out to the barns along the north side of Mormon Row for sunrise, and you'll most likely meet up with plenty of other photographers. Mormon Row is home to a number of historic residences, including the Moulton Barn which makes for a great subject set against the Teton Mountains.
Jenny Lake Overlook
Best time of year: Summer, Fall
The Jenny Lake Overlook gives you a direct shot to see up Cascade Canyon just beyond the lake. A short trail will bring you down a quick descent to the shore, or you can follow the Jenny Lake Trail for seven miles to complete a loop around Jenny Lake.
Cascade Canyon and Inspiration Point
Best time of year: Summer, Fall
Inspiration Point is a big destination on many visitors' list for good reason: make it to the top and you've got an excellent view overlooking Jenny Lake and Jackson Hole. If that's not enough for you, head farther up Cascade Canyon for some dramatic Teton scenery!
Oxbow Bend
Best time of year: Spring, Summer, Fall
Oxbow Bend is an iconic location not just for the birds and wildlife that frequent the area, but also for the spectacular display of colors the aspen trees show off every fall. Though accessible year-round, most of the draw comes in the summer and fall.
Blacktail Ponds Overlook
Best time of year: Summer, Fall
The marshy Blacktail Ponds are a great place to find moose early in the morning. The lush environment set against the Teton Mountains makes it an ideal location for anyone with a camera.
Signal Mountain
Best time of year: Summer, Fall
Signal Mountain is home to a plethora of wildlife and offers great views not just of the Teton Mountains, but of Jackson Hole as well. The summit is accessible via a hiking trail or a paved road, but is closed in the winters and spring, depending on snowfall.
Jackson Lake
Best time of year: Summer, Fall
Head out to the Signal Mountain Lodge where you can not only eat some delicious food while overlooking Jackson Lake and the Teton Mountains, but you can also rent a boat and get out on the lake to see views many people never will.
Lawrence Rockefeller Preserve
Best time of year: Summer, Fall
Tucked away on Moose-Wilson Road, the Lawrence Rockefeller Preserve offers visitors a true immersion into the nature of the Tetons. Take a quick hike up to Phelps Lake where you'll get a glimpse into Death Canyon and possibly see some wildlife!
Town of Kelly, WY
Best time of year: Year-round
No trip through Kelly, Wyoming would be complete without a short meal break at the Kelly on the Gros Ventre Cafe. Grab a bite to eat as you watch bison and elk herds wander through Antelope Flats with the majestic Teton Mountains looming in the background. Make sure to stop in during the winter season as well!
Taggart Lake
Best time of year: Year-round
A short hike out to Taggart Lake will offer a stunning view of the Teton Mountain peaks behind a relaxing glacial lake. The popular summer hiking trail also doubles as a great cross-country ski trail in the winter.
Mike Cavaroc is a wildlife and nature photographer based in Jackson Hole, Wyoming, specializing in predators and night photography. View more blog posts, still photography, and videography at his website: www.FreeRoamingPhotography.com.