"I would recommend this safari to anyone. Go early in your trip to get acquainted with the park, and you'll be very glad you did!" – Mary Ohio
If you want to experience the best of Jackson Hole in the winter then this is the wildlife photo tour for you! Your day will begin with a light breakfast before heading off into the National Elk Refuge and Grand Teton National Park in search of the area's abundant wintering wildlife. Thousands of mule deer, elk, moose, big horn sheep and bison migrate into the valley in search of food each year along with coyotes, fox, bald and golden eagles, swans, and even packs of wolves. This gathering of wintering wildlife makes winter one of the best times to view wildlife in Jackson Hole!
After a full morning in the field we will enjoy lunch together at a local eatery before heading to the National Museum of Wildlife Art where we can gain inspiration from one of the best collections of wildlife art in the world (note: Closed on Mondays. Your guide will give you some alternatives). After a walk through the museum we will take a horse drawn sleigh through the National Elk Refuge into the middle of the largest wild elk herd in North America.
Included  Hotel Pick-up, all transportation, an experienced guide, light breakfast,  drinks, souvenir water bottle, snacks, lunch, all admission fees and use of our high quality optics. *park entrance fees and guide gratuity not included. Sleigh ride included during their operating season – approx. Dec 15 – April 1
Duration: 8 hours.
Season: Nov 6 – April 30*
Pickup Times: Teton Village 7am, Jackson at 7:30am
Open Group $275.00 per person (Age limit of 8, no age limit on private trips)
Private: $1275 (includes up to 4 people – $165 per additional passenger)
Cancellation Policy: We have a 48 hour cancellation policy for all single day safaris and a 7 day cancellation policy for 2­-3 day safaris. For groups of 15 or more guests and for multi-­day safaris of 4 or more days our cancellation policy is 30 days. Cancellations made outside the stated cancellation period for your reservation will be fully refunded with no penalty. For cancellations made within our cancellation policy's stated times for your reservation we will retain a 50% deposit. Cancellations on the day of your reservation or no­-shows will be charged 100%. We strongly recommend travel insurance to protect you from incurring costs associated with unforeseen cancellations.
Other Winter Grand Teton/Jackson Hole Tours:
Begin your wildlife photo tour with a gourmet coffee, tea or hot chocolate from one of Jackson's local coffee houses. Then head out to explore the National Elk Refuge, home to thousands of wintering elk, hundreds of bison, bighorn sheep and an array of waterfowl. We will then head north along the western boundary of the refuge to Grand Teton National Park. Here we will travel along the southern park roads watching for wildlife and stopping frequently for photo-ops. You will see places like antelope flats, the small town of Kelly and have views of several mountain ranges that form the valley of Jackson Hole. Jackson Hole's wintering wildlife is abundant with opportunities to see bison, elk, deer, moose, fox, coyote, bald eagle, trumpeter swans, and if we're lucky, wolves. If time allows we might also choose to stop at the Jackson Hole Visitor Center or the new Moose visitor center in Grand Teton National Park. The route varies seasonally based on group interest, road closures and wildlife migration.
Includes: Hotel pick-up, all transportation, an experienced naturalist guide, small groups, a light breakfast (or organic snacks on sunset safaris), hot/cold drinks and customized souvenir water bottle, use of optics

Join a professional nature photographer and area guide for a private, photography oriented wildlife photo safari tour of Jackson Hole. We will share our knowledge of photography technique and equipment with ample time for photographing your unique areas of interest. This often includes finding and safely photographing wildlife, historic structures and area scenery. We will customize this pro photo safari tour  based on your experience level and areas of interest. If you want to be a better photographer, this is the safari for you. (This safari is available on a limited basis depending on photographer availability)
Winter Yellowstone Tour (From Bozeman, MT):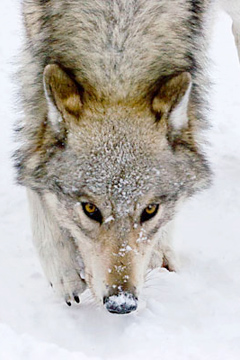 Join an experienced local wildlife guide to track, study and photograph the abundant wintering wildlife and wolves found on the Northern Range of Yellowstone National Park. This popular winter wildlife safari tour will focus on finding and safely viewing Greater Yellowstone's wintering wildlife including both predators and big game. Throughout the safari there is a chance to view and photograph wolves, coyote, fox, bald eagles, golden eagles, elk, bison, bighorn sheep, mule deer, pronghorn and mountain goats while learning about the geology, history and ecology of the Greater Yellowstone area. We will spend our time in prime wildlife habitat both outside and within Yellowstone National Park including places like Paradise Valley, Mammoth Hot Springs, the Blacktail Plateau, Little America and of course the famous Lamar Valley, often referred to as the Serengeti of North America. Our small group sizes and expert local guides will insure personalized attention, great wildlife viewing and endless photo opportunities.  (See a full itinerary and description below)
Includes: Hotel pick-up and return to Bozeman Montana, all transportation, an experienced local naturalist guide, 2 nights lodging in Gardiner Montana, breakfasts, lunches, 2 dinners, snacks, a souvenir water bottle and use of our spotting scopes and binoculars throughout the trip. (*park entrance fee and guide gratuity not included)