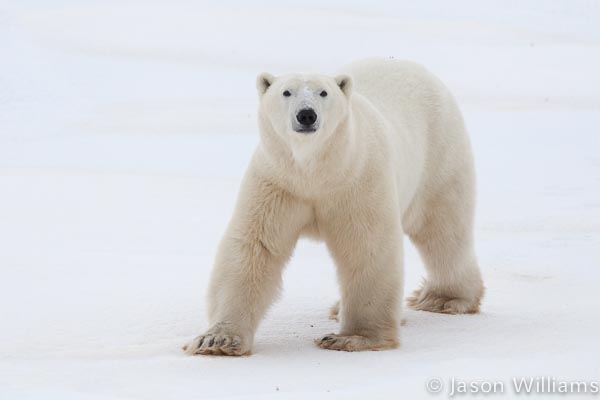 In the fall of 2012 we organized an expedition to study and photograph polar bears in Churchill, Manitoba located in northern Canada. Churchill is often called the polar bear capital of the world due to the large congregation of polar bears that gather each fall along the coast of the Hudson Bay. These bears find there way here because of the fresh water flowing from the Seal and Churchill Rivers. This fresh water doesn't immediately mix with the salt water of the bay and usually freezes first along the coast allowing the bears to move out onto the water in search of seals sooner than at other coastal areas that lack the fast freezing fresh water.
Our team consisted of an amazingly talented group of people that included professional wildlife photographers, naturalists, painters, bronze artists and wildlife guides. Included in this group was Mike Cavaroc (widely published wildlife photographer and owner of Free Roaming Photography), Seth Heeter (wildlife guide, photographer and editor of the The Working Sightseer), Rip Caswell (world famous bronze artist and owner of Caswell Gallery and Firebird Bronze), Alison Brown (professional bronze artist and owner of Campus Sculptures), Carrie Wild (professional wildlife painter and owner of Carrie Wild Fine Art) and me, Jason Williams (professional wildlife photographer, guide and founder of Jackson Hole Wildlife Safaris). Though all of us had extensive experience with big game and North American carnivores, none of us had any experience working with polar bears.
As a team we had several goals during the trip. Our primary reason for organizing this expedition was as a scouting mission for Jackson Hole Wildlife Safaris. We were beginning to research other places to bring our clients to have amazing experiences with wildlife and the polar bears of Churchill ended up at the top of our list. Our second goal was to study these awesome bears and learn about the state of polar bears first hand through direct experience observing them in their natural habitat as well as through interviews with local biologists, guides and government agents. The third goal we all shared was the opportunity to collect resource material for our individual projects including photographs, video and source material for further study and reference material for the creation of fine art.
We had identified Churchill as the best place to organize a scouting trip into polar bear country for several reasons, the most important being that the sub-population of polar bears around Churchill is one of the largest and densest of the 19 identified sub-populations around the world. Somewhere around 2/3 of all polar bears in the world live in Canada so this significant polar population coupled with relatively easy access made this our first choice.
There are only two reasonable ways to get to Churchill in the fall. The most convenient is by taking a charter flight from Winnipeg directly to Churchill. The cheapest (and longest) is by train from Winnipeg or any community to the north along the rail. We chose the train for our scouting mission to shave off a few dollars and also for the romance of taking a train into the remote northern sub-arctic wilderness. The train ride takes roughly 40 hours and is certainly interesting as it travels through remote native villages and roadless wilderness. I think the highlight of the train ride for me was the opportunity to enjoy breakfast and dinner in the dining car as we traveled through this otherwise hostile and inaccessible landscape. The downfall was definitely the 40 hours on a train!
Rip Caswell and I were enjoying a cup of coffee in the dining car on the last morning of our trip north when we noticed the unmistakeable tracks of a polar bear paralleling the railroad tracks. The bear that made these tracks was obviously big and was heading in the same direction as us, to the coast of the Hudson Bay. It didn't take long before word of the tracks had been passed from car to car and people that were still sleeping (including the rest of our crew) were jumping out of beds and seats to take a look. We were psyched to see our first polar bear sign!
We arrived in Churchill and met our host at the train station. Bill Kalnan, long time resident and wildlife guide, was our primary contact as he is the owner of the remote bed and breakfast, Up The Creek B&B. We had found Bill's place on the internet and after talking with him decided that for our purposes he was a perfect fit. We found out pretty quickly that he is also a busy entrepreneur with only a couple months to make as much money as possible from the polar bear tourists so after a quick hello he handed us the keys to a van and said to meet him at his place that night. Though we were frustrated at first to lose our guide who we were supposed to have for our first day in Churchill, we quickly realized our luck. Our crew are all do-it-yourself types and armed with a map and advice from bill we headed into the field straight off a 40 hour train ride.
I knew pretty quick that Churchill was my kind of place. Here is a guy we've never met, who doesn't accept credit cards and who hands us the keys to his shuttle van for us to use for the day since he had double booked himself! Part of any great trip is having true adventures, unplanned obstacles and detouring from your plan to experience the unknown and here we were with a crude map and an old van to get our first taste of Churchill.
The only thing that we didn't have was experience with polar bears. We had heard that polar bears are extremely aggressive, that regularly eat people and that they are everywhere! Our first couple days in Churchill made us look and feel like the visitors to Jackson Hole and Yellowstone, many of whom won't get out of the car because for fear of encountering a grizzly bear. As we patrolled the few roads radiating out from town we quickly spotted bear tracks winding in and out of the small trees and scattered vegetation along the windswept coast. In this kind of environment it doesn't take long for tracks to get covered up by blowing rain and snow so we knew they were fresh – and BIG!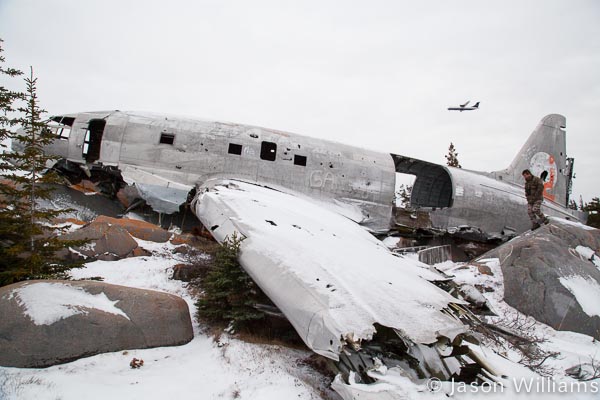 We strained our eyes, scouted with binoculars and found the crashed airplane known as Miss Piggy where we had been told there was a sow with cubs. We all started to wonder if we would see a polar bear as we all knew how hard it could be to find grizzlies and maybe polar bears here were the same. As doubt crept in and the exhaustion from 40 hours on a train began to take it's toll we spotted something walking down the beach about a mile away. Through the fog of blowing seawater spraying off the crashing waves of the bay appeared the unmistakeable silhouette of a small polar bear. Walking purposefully along the coat the bear was definitely too far out for us to get any photographs. Despite the distance we were all scrambling for our cameras much like our guests at their first bear siting on our safaris back home.
We were all immediately impressed by the grace of this bear's movement across such a rugged shoreline. We were also hungry and finally realizing that despite our excitement this bear was just too far away to make good images and we had a lot of ground to cover so we decided to head into town to grab lunch and then regroup for the afternoon. The exhaustion from travel had worn off in an instant. Our first polar bear in Churchill and within the first couple hours! We were all confident at that point that this was going to be a wildlife filled trip with the bears taking center stage.
To Be continued……………