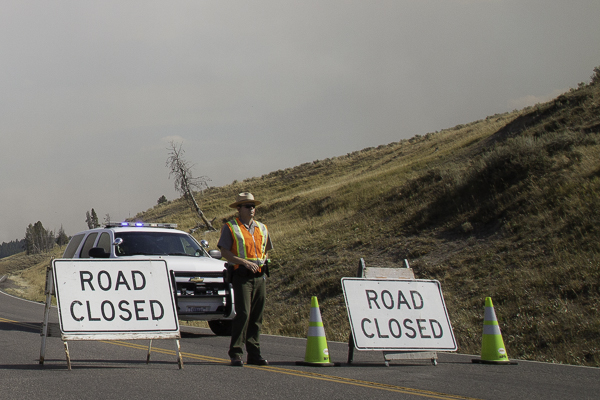 The government is shutdown, the parks across the country are closed and you are in Jackson Hole left wondering what to do. Luckily, unlike some destinations, Jackson Hole is surrounded by millions of acres of wild public lands that happen to have state highways running through them – and the state of Wyoming is open for business. Jackson businesses and the Chamber of Commerce came together to open Yellowstone on time this year and we will do our best to keep your vacation on track!
In addition to being a gateway to Grand Teton and Yellowstone, Jackson is also home to a vibrant art scene, great restaurants and world class shopping. While most visitors skip these great places when the parks are open, now is the time to explore the lesser visited, but equally beautiful, parts of Jackson Hole and the surrounding mountain valleys. Below are some local's tips, tricks and drives that will keep your vacation here great!
1. Scenic drives: Here are three great options that are classic local outings often overlooked by visitors. Enjoy spectacular scenery, wildlife viewing opportunities and fall colors despite the government shutdown!
Jackson to Dubois – This drive will take you north through Grand Teton on US 89/191 with opportunities to see moose, elk, bears, wolves and bison on your way to the high desert town of Dubois. The views are magnificent and wildlife viewing opportunities endless. Especially watch for the grizzlies that have been seen frequently between the base of the pass up to Togwotee Lodge.
Download Jackson to Dubois Route Map
Red Top Meadows Loop Drive – This drive takes you from Jackson to Wilson Wyoming and then south on Flat Creek Road to Red Top Meadows, a small community tucked away in the far south-west corner of Jackson Hole. From there the road turns to dirt but is passable with a 2WD car (This should remain open but it does cross Forest Service Land – if it is closed return the way you came. The views are even better going north!) You will meet state highway 89 and turn left (north) to return to Jackson on the highway paralleling the Snake River. There are great views, fall colors and plenty of wildlife along this entire drive so keep your eyes open. If you happen to be out there in the evening make sure to stop periodically and listen for elk bugling.
Red Top Meadows Loop Drive map
Around the Block Loop Drive – This has long been a favorite loop drive for locals, especially in the fall when the leaves are at their peak. The route will take you from Jackson west over Teton Pass on state highway 22. You will descend into Teton Valley and enter Victor Idaho where you will turn west onto 31 at the light in town. This will take you over Pine Creek Pass and down into Swan Valley where you rejoin the Snake River miles downstream from where you crossed it in Wilson. 31 will end at a T-junction with Idaho highway 26 where you will turn left (south-east). Highway 26 will take you around Palisade Lake to Alpine Wyoming where you will turn north onto 89 to get you back to Jackson. This drive has great scenery, fall colors and opportunities for wildlife the entire way.
2. Wildlife: There's no doubt that Grand Teton and Yellowstone National Parks offer some of the best wildlife viewing in town but…….they are not the only game in town and not all roads in Grand Teton are closed. See the map below for great wildlife viewing options during the shutdown. Technically you are not allowed to stop along the roadways inside the park during the shutdown but you can probably get away with a quick photo-op if the opportunity arises. Head north out of Jackson along the Elk Refuge keeping your eyes open for mule deer, elk and bald eagles. As you approach the Gros Ventre River keep your eyes open for moose in the river bottom. If you turn right at the junction the road will follow the river to the small town of Kelly. This section is great for moose, pronghorn, mule deer, coyote bison and eagles. Go past Kelly and make a right turn towards slide lake. This road leads out of the park to the east onto the Bridger-Teton National Forest which will take you to a great viewpoint of the Gros Ventre Slide that took place in 1925. Another great place to find wildlife is the section of road from highway 22 north on 390 (Moose-Wilson Road). Drive slow and pay attention, especially on the south end of the road. There are a lot of moose and deer that call this area home.
3. Fine Art: Jackson Hole has become one of the premier art destination in the world for western and wildlife art. A must do here any time of the year is a visit to the National Museum of Wildlife Art which has one of the world's most complete collections of wildlife art in the world. In addition to the museum, Jackson is home to a number of premier galleries that are open daily and welcome everyone. Many of the artists in the museum collection are represented in town with current works available for purchase. If you are interested in learning more about western and wildlife art join us on one of our Jackson Hole Fine Art Tours where you join a professional wildlife artist on a private tour that includes a visit to the museum and several private galleries.
4. Jackson Hole Historical Society Museum is a great place to learn about the early days of Jackson Hole
5. Restaurants Jackson is home to dozens of great eateries in all price ranges. Take advantage of the off season specials and lack of crowds!