Winter naturalists at the National Elk Refuge will wrap up their month–long line–up of birding programs next week, moving full steam ahead with a variety of programs in February that focus on winter adaptations and animal characteristics. All programs are free of charge.
On Saturday, January 31, staff will again offer a "Birding for Beginners" program at 9:30 am. The mini–seminar includes a 20–minute presentation at the visitor center on birding basics and a field session on the refuge to practice identification skills. Participants should be appropriately dressed for the outdoor outing, which will last up to 1½ hours. Naturalists will have binoculars and field guides to share, but guests are encouraged to bring their own supplies if available. Reservations are recommended. Eight participants enjoyed the first "Birding for Beginners" program, offered on January 8. The program is free of charge.
Two more naturalist–led outings will take place on the refuge in February:
Tuesday, February 3: Staff will lead a full moon walk in the Miller Butte area from 6:00 – 8:00 pm. Conversations will focus on the night sky, the effects of light on wildlife, and ecological consequences of human development. Parking will be limited, so carpooling is recommended. Reservations are required and can be made by calling (307) 201–5400. Participants are asked to bring a flashlight or headlamp. Refreshments and warm beverages will be provided at the end of the program.
Saturday, February 14: Naturalists will offer their second free refuge trip from 10:00 am to 12:00 pm. Participants on this excursion will move to various locations on the refuge and discuss how animals adapt to Jackson Hole winters. The program will begin in the visitor center theater, where a temporary exhibit features a variety of photographs portray animals that either migrate, hibernate, or adapt in response to nature's coldest season. The exhibit will be up from February 3 –28.
Refuge staff will also celebrate two holidays in wildlife style this month, with programs planned for Valentine's Day and Mardi Gras:
Friday, February 13 – Saturday, February 14: Winter seasonal staff will offer a program "Romance on the Refuge" in the visitor center at 1:00, 1:30, 2:00, and 2:30 pm. During the short program, visitors will learn about the astonishing courtship flight of the bald eagle, listen to bull elk bugling, and watch the strut of a greater sage–grouse. Guests will also receive a handout featuring seven refuge animals that mate for life.
Sunday, February 15 – Tuesday, February 17: Mardi Gras and masks go together like peanut butter and jelly; it's hard to think about one without the other. Celebrate Mardi Gras in style by listening to Cajun music while making your very own animal mask, inspired by wildlife found on the National Elk Refuge.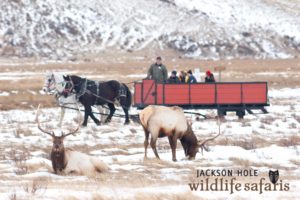 For more information on February programs at the National Elk Refuge (Click here), call (307) 201.5400. The Jackson Hole & Greater Yellowstone Visitor Center is located at 532 N. Cache Street in Jackson.