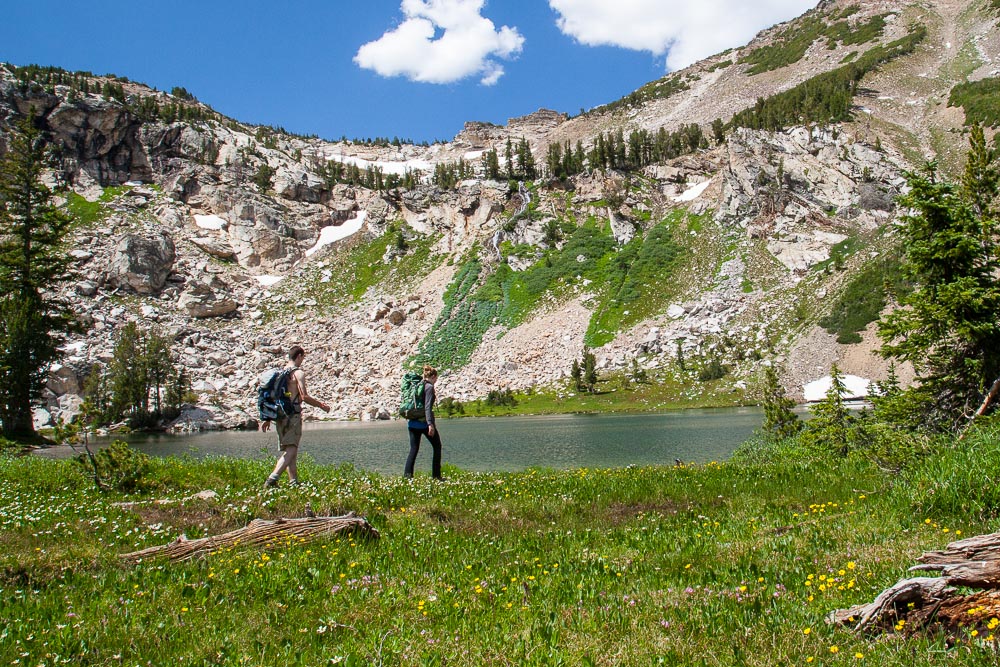 Jackson Hole was recognized as an outdoor paradise by the native Americans that first explored the area thousands of years before the first white mountain men stumbled upon the valley. These lucky first inhabitants were here to hunt, fish, trap and ride the rugged terrain on horseback to take advantage of the abundance of natural resources. It didn't take long before word got out and tourism in Jackson Hole was born. Urbanites from the eastern cities made their way to this remote corner of northwest Wyoming to enjoy the impressive vistas and bounty of fish and game in the name of sport. These travelers needed guides to the area and the first trappers stepped in to fill the niche. Over time dude ranches were built to house and feed the guests in addition to roads, trails and passes through the mountains. With time newer outdoor pursuits were being realized including rafting, climbing and skiing. Today Jackson Hole is home to two of the world's most famous national parks, world class skiing, hiking, fishing, climbing, horseback riding, snowmobiling and wildlife viewing all in a place that has been carefully protected to still provide guests today with the abundance experienced by the earliest explorers. This has made Jackson Hole one of the global leaders in sustainable tourism.
 The easiest way to organize activities for the sake of vacation planning to Jackson Hole is by summer or winter. The spring and fall get divided into these categories depending on the specific activities and seasonality of the valley. Summer season is defined by the classic outdoor activities like fishing, hunting, horseback riding, wildlife viewing and rafting. Most of these will fall in both spring and fall but we still lump them into summer. The "summer" season typically starts on May 1 and lasts through October. The winter season in Jackson Hole is set by the opening and closing dates of Jackson Hole Mountain Resort, typically Thanksgiving to the first week in April. It is during this time that you can find the classic winter activities at their best like skiing, snowshoeing, snowmobiling, dog sledding and sleigh rides onto the National Elk Refuge.
 Some activities can be enjoyed all year including photography and wildlife tours that are offered year-round; however, it is important to note that some park roads and local businesses are closed for the off seasons including most of Yellowstone National Park. It is best to check on the seasonal closure dates and ask specific questions about what is available if you are coming at any time except the middle of summer.
 With all that in mind here is a list of our favorite 'must do' activities and our favorite vendors. These suggestions are not advertisements and those included didn't pay to be mentioned. These suggestions are from our personal knowledge of the companies and their staff. As mentioned above, things can change quickly from company to company so those listed could always go downhill and those not included are not necessarily bad. It is our philosophy when choosing an activity the company and especially the guides can make or break a trip. Always check each company's guide page and see who they hire. The best companies will have the best guides! We also tend to lean towards local family owned companies as they will have lower annual turnover and the most knowledgeable local staff.
 Summer Activities in Jackson Hole 
Fishing:
Reel Deal Anglers This company was founded and is operated by our friend and experienced Jackson Hole guide, Rhett Bain. They have brought a new level of service and professionalism to guided fishing in Jackson Hole. "With Reel Deal Anglers JH, explore the best fly fishing in the Jackson Hole and Pinedale Wyoming area. We are a small family owned company that focuses on quality not quantity. Our team of professional guides will show you the best public and private waters to fish in Western Wyoming. We subscribe to sustainable fishing practices so our waters are never over fished and the trout will be here for generations to come. Our access is some of the most desired fishing waters found anywhere in the world. If you are looking for pristine, quiet and beautiful places to fish without the crowds, then come see what we're all about."
 Teton TroutFitters We have worked with these guys over the years and our clients have had a great experience. We recommend requesting our friend Mike McCloud who is a master fly fisherman and extremely experienced Jackson Hole guide.
 Hiking:
Jackson Hole and Grand Teton National Park offers some of the best hiking in the region. Well maintained trails will take you off the beaten path to hidden lakes, waterfalls and lesser visited places to enjoy alone with your friends and family. The rangers at any visitor center are great assets to use when planning hikes in the area. They will have ideas, maps and current trail conditions plus weather updates. Remember that this is bear country so make sure to learn how to travel safely in bear country by making noise (especially in places with dense vegetation), hike in a group, and always carry bear spray. A lot of visitors to the area are nervous about hiking because of the bears but if you follow the basics of being 'bear aware' the chances of even seeing a bear are extremely low. Another option is a guided hike or a ranger lead hike offered free throughout the parks daily.
 Jackson Hole Llamas Llama trekking is a great way to explore the area on foot. Jackson Hole Llamas offers both single and multi-day hikes using llamas to carry gear while accessing remote parts of the Greater Yellowstone Ecosystem. If you want to get into the backcountry for a night or two this is a great option for part of your vacation.
Horseback Riding:
 Bob Barlow Outfitting If you want to ride with a real Wyoming cowboy then Bob is the man to call. His small owner operated outfit located just south of Jackson is well run and provides guests with a great horseback experience. One of the best deals going is Bob's overnight adventures to his remote camp in the Wyoming Range. Learn about the area and camp in style with one of the best guides in Jackson Hole!
 Spring Creek Ranch Located just outside of town, the Spring Creek stables is a great place to take the family for a short trail ride with great views and solid horses. Check out their 'Paddle and Saddle' package with Jackson Hole Whitewater for an action packed day on the trail and river.
 Triangle X Ranch This is one of Jackson Hole's oldest and most classic businesses not to mention one of the largest and well known horse packing outfits in the United States! Owned and operated by the Turner family, they offer extended stay western experiences and multi-day backcountry horseback trips into some of the wildest country in North America.
Mountain Biking: Jackson Hole is quickly becoming a mountain biking destination! The trail network here is outstanding with everything from beginner trails to advanced downhill courses the climb and descend through stunning mountain terrain. In addition to the hundreds of miles of great free riding from a number of area trailheads, you can also enjoy brand new lift served biking at all three local ski areas.
 There are several places to rent bikes in the area and to hire guides if you would like someone to show you around.
Fitzgerald's Bicycles: These guys know the game and have a great rental fleet. They also have a full service shop and retail shop if you're in need of anything.
Hoback Sports: This is one of the larger locally owned bike shops in Jackson. They have a knowledgable staff, good bikes and they offer both rentals and guided bike tours.
Wilson Backcountry Sports: This is my favorite bike shop but is one of the smallest of the best shops. They are located right at the base of Teton Pass which is riding distance from a great trail network. They have maps, rentals and a full service shop and retail shop.
National Park Tours and Wildlife Safaris:
Jackson Hole Wildlife Safaris This guide owned and operated tour company strives to educate, entertain and connect guests with this amazing place we call home. Their mission is to provide you with the highest quality wildlife tours and photo safaris by combining their love for this area with a desire to share this passion with you. They have gained a reputation for providing guests with once in a lifetime experiences and helping them gain a deeper understanding of the geology, history and ecology of the Greater Yellowstone Ecosystem. Jackson Hole Wildlife Safaris is owned and operated by Jason Williams, the owner of Guide's Guide publishing and author of this vacation planning guide!
Rafting:
Rafting in Jackson Hole is offered on several stretches of the Snake River from the Jackson Lake dam in Grand Teton National Park to Palisades Lake south of Jackson Hole. Most of the river is relatively calm and is scenic float trips are offered on several stretches ranging in length from 10 to 13 miles. These trips typically last about 3-4 hours round trip with about 1.25 to 3 hours on the water. All of the commercial whitewater trips in Jackson Hole float an 8.5 mile long section of the river south of town through the Snake River Canyon.
Jackson Hole Whitewater Hands down the best whitewater company in Jackson Hole! These guys are family owned and operated, have specially designed rafts made to the guide's specifications and most importantly they have the most experienced guides on the river. A whitewater trip down the Snake River is a must do while enjoying the area in the summer.
Teton Expeditions "For over 46 years Teton Expeditions has shared our knowledge of the river with the visitors of Jackson Hole. Our commitment to quality and customer satisfaction is unsurpassed. Please join us for an adventure that you will remember for a lifetime." They operate a 13 mile scenic float down the 'Wilson to South Park' section of the Snake River which is home the highest concentration of Bald Eagle nests in Jackson Hole. A great option is their safari-river combo trip with an early morning in Grand Teton National Park in search of big game and then an afternoon float to see the southern half of Jackson Hole by boat.
Rodeo:
Jackson Hole Rodeo The Jackson Hole Rodeo is regularly held at the Teton County Fairgrounds on Wednesday and Saturday evenings from Memorial Day through Labor Day. Special Friday engagements are also scheduled for the summer of 2013. "Rodeo has been a part of Jackson Hole since the first settlers arrived and no vacation to Jackson would be complete without experiencing why! Come on down to the rodeo grounds and take part in over 100 years of true cowboy culture! See you at the rodeo!"
Scenic Flights:
Teton Aviation: "Soar the Tetons on one of our scenic glider rides and experience this beautiful mountain range from a birds-eye view. Enjoy a leisurely soar and let the magic of motorless flight in one of the world's most awe-inspiring scenic areas provide you with the adventure of a lifetime. Or, for groups up to three people, enjoy a powered tour of area mountain ranges in a Cessna. We are dedicated to providing the safest, most comfortable and enjoyable flights possible." We use these guys for photographic flights and they run a great operation! Plan on having lunch at the Warbird's Cafe at the airport and spend a few minutes looking at their display of combat aircraft.