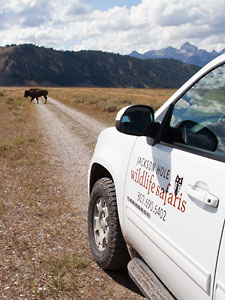 Our safaris explore the Greater Yellowtone ecosystem including Jackson Hole, the National Elk Refuge, Grand Teton and Yellowstone National Parks. Our experienced guides will teach you how to find and safely view local wildlife while sharing their knowledge of the area's geology, natural history and ecology. With our small groups, experienced guides and abundant wildlife you are guaranteed to have an amazing experience on a Jackson Hole Wildlife Safari. We hope you decide join us during your visit in and around Jackson Hole.

All of our safaris include an experienced local guide, all transportation including hotel pick-up, snacks and drinks served in a souvenir water bottle or coffee mug that you get to keep. All of our morning departures include a light breakfast and our full day trips include a gourmet picnic lunch served by your guide with homemade cookies for dessert (summer) or lunch at a local Jackson Hole eatery (winter).

Our safaris listed below and on the menu bar above are organized by season with our summer season being May-October and our winter season being November-April. There is also a multi-day safari category that includes both summer and winter extended safaris. The links below will take you to the complete list of safaris for that category or choose from the drop down menus above.
*All of our wildlife photo safari tours are available on a private basis allowing you to customize your trip (multi-day packages in both parks can also be arranged). Private trips allow you to choose who to share your safari experience with and gives you more control over where you go and what you see. We will work with you to create your custom safari. There are no age restrictions on private tours.