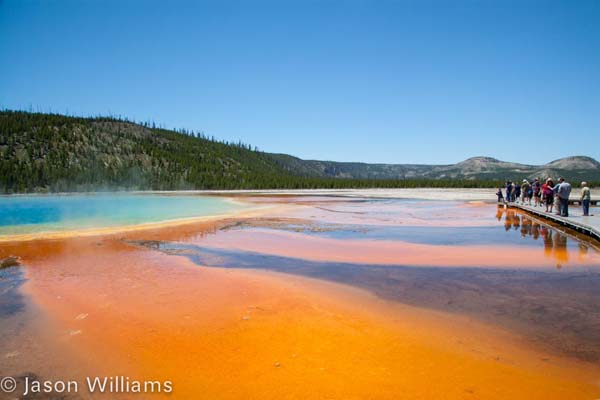 Yellowstone National Park Facts:
Yellowstone is the world's first national park created on March 1, 1872 when President Ulysses S. Grant signed the Yellowstone Park Act into law.
Geography:
Yellowstone is larger than Rhode Island and Delaware combined! It encompasses 3,472 sq. miles (8,987 sq. km) or 2,221,766 acres (899,139 hectares) and is 63 air miles (102km) north to south and 54 air miles (87 km) east to west. Yellowstone is part of 3 states with 96% in Wyoming, 3% in Montana, and 1% in Idaho. The highest point in the park is Eagle Peak (11,358 ft) in the Absoroka Range along the east boundary. The lowest point is Reece Creek (5,282 ft) on the north end of the park.
Yellowstone is home to several large high altitude lakes with the largest being Yellowstone Lake. Yellowstone Lake covers 131.7 square miles, has 141 miles of shoreline, is 20 miles north to south and 14 miles east to west and has an average depth of 140 ft. The deepest known spot is 410 feet deep!
Annual Precipitation varies dramatically depending on where you are in the park. In an average year the north side receives 10 inches (26cm) and the south side receives 80 inches (205 cm).
Temperature also varies considerably depending on where you are in the park and on season. Average daily temperatures in Mammoth range from 9 degrees F to 80 degrees F in July. A record high of 99 degrees F was recorded during the summer of 2002 at Mammoth and a low of -66 degrees F recorded at the West Entrance in 1933!)
Geology:
Yellowstone National Park is an active volcano and considered to be one of the largest volcanos on earth with a caldera rim that is 45×30 miles! There are over 10,000 thermal features including hot springs, fumaroles, mud pots, paint pots and over 300 active geysers.
There are between 1,000-3,000 earthquakes every year due to the volcano.
There are over 290 waterfalls with the tallest near the road being the Lower Falls (308 ft) at the top of the Grand Canyon of the Yellowstone River.
Flora and Fauna
Yellowstone hosts 67 species of Mammals including 7 species of native ungulates and 2 species of bears.
There are at least 322 species of birds out of which 148 species nest inside the park.
There are 16 species of fish with 5 being non-native invasive species.
There are also 6 known species if reptiles and 4 species of amphibians.
Yellowstone is home to 1150 species of native vascular plants and 250 invasive species of plants. This includes 7 conifers like the lodgepole pine which account for around 80% of the forest.
There are also 186 species of lichen and over 400 known thermophiles (heat loving organisms that live in or near the park's thermal features)
Park Resources
The park counts 26 tribes as having an association with what is now Yellowstone. There are around 1900 archeological sites within the park.
There are more than 24 locations within the park on the National Register of Historic Places, 1 National Historic Trail and more than 900 historic buildings including the famous Old Faithful Inn and Lake Lodge.
There are 9 visitor centers, museums and contact stations, 9 hotels with over 2,000 rooms or cabins and 12 campgrounds (including both NPS and concession operated locations) with over 2150 individual sites. Despite all this rooms and campsites are often booked months and years in advance!
There are also 52 picnic areas, 13 self guided trails and 1 marina
There are 5 official park entrances including the north, south, east, west and north-east entrances. There are two other entrances on the north west corner between West Yellowstone and Bozeman Montana.
Inside the park there are 466 miles of of road (310 miles paved), 15 miles of boardwalks, over 1,000 miles of backcountry trails (leading to over 300 backcountry campsites) and 92 trailheads.
Written By Founder/CEO of Jackson Hole Wildlife Safaris Jason Williams *Source – National Park Service Resource Guide to Yellowstone National Park