For wildlife enthusiasts and nature-lovers alike, wildlife adventures are a perfect way to explore the intricacies and marvels of the Greater Yellowstone Ecosystem. Located at the southern entrance of both Grand Teton National Park and Yellowstone National Park is Jackson Hole, WY. Home to the National Elk Refuge, surrounded by mountains, rivers, and streams, Jackson Hole makes for an ideal observation place of wildlife of all shapes and sizes. From bison and elk to moose and bighorn sheep to grizzly bears, black bears, and gray wolves, wildlife activity is never in short supply!
Read on to learn more about the wildlife of Jackson Hole and how our team at Jackson Hole Wildlife Safaris can guide you on your exploration of the sometimes elusive, but always fascinating, flora and fauna here in our area.   
Wildlife Activity During the Summer and Winter Seasons
From summer to winter, the ecosystem is bustling with wildlife activity, but what wildlife you are likely to encounter depends on the season you visit.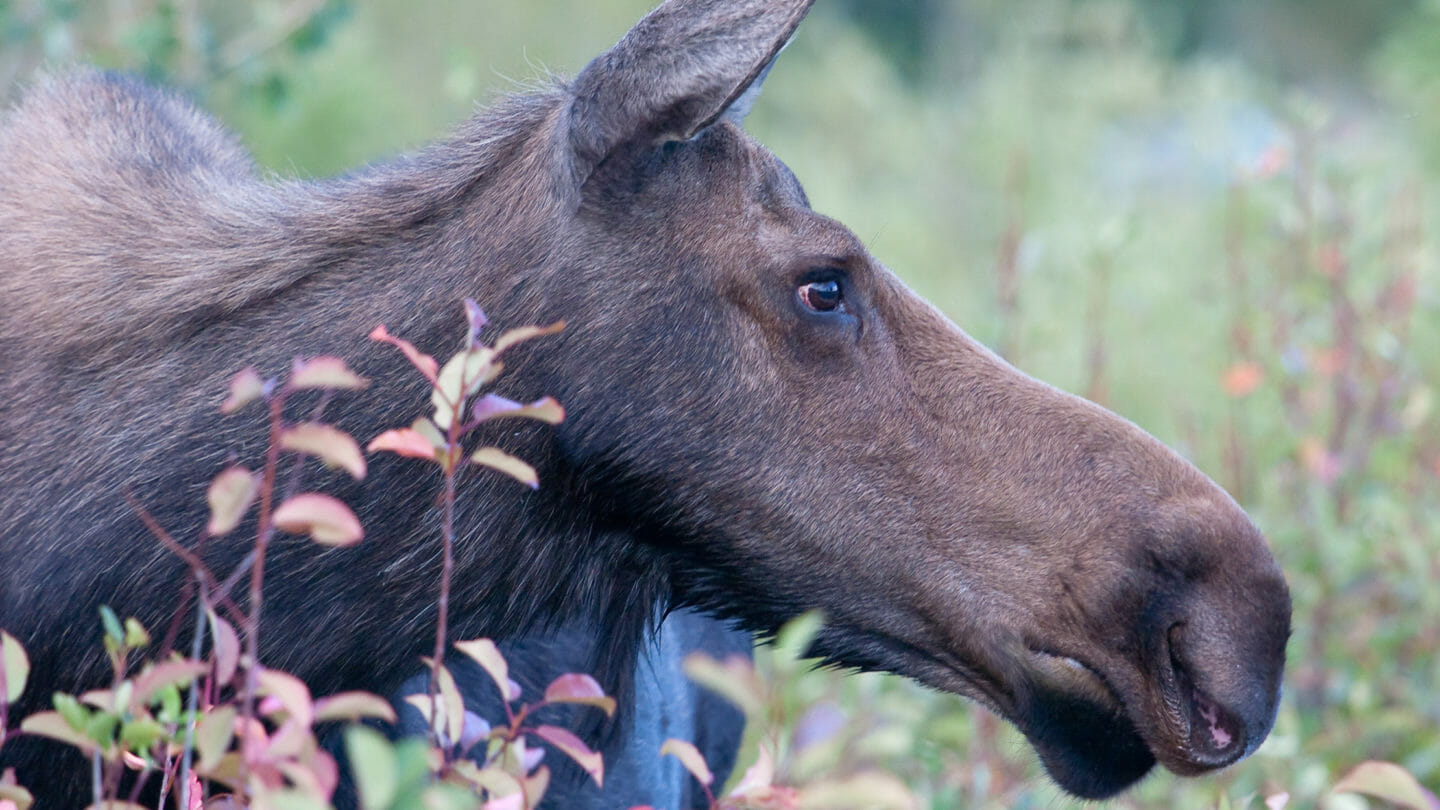 Summer: Bear, Large Mammals, and Birdlife
Summer comes as a glorious reprieve from frigid temperatures and fierce blizzards of winter.  While wildlife is still busting during the coldest months of the year, by May the warming temperatures trigger the colorful arrival of flowers, as well as the birth of the first new wildlife young of the season.   Baby animals are not the only exciting attractant of spring, emerging from their hibernation dens after their winter hiatus are the iconic black and grizzly bears of Grand Teton National Park. Until June, these bears can often be spotted around the valley floor, until the heat of summer drives them into higher elevations.  While looking out over, the valley other large mammals that might be spotted roaming Grand Teton throughout the summer include moose, elk, pronghorn, bison and deer.  If shifting your sight skyward you might also catch a glimpse of the majestic bald eagle, or other migratory avian wonders like the White Pelican, Sandhill Crane and the very vocal Osprey. 
Our summer season at Jackson Hole Wildlife Safaris runs from May to October.  A grand variety of wildlife can be found throughout their natural habitats during this span of time, though where and what can be found changes from month to month.  Fortunately our experienced, knowledgeable guides have the vital understanding of the most prospective regions of the park to seek out these animals throughout the summer.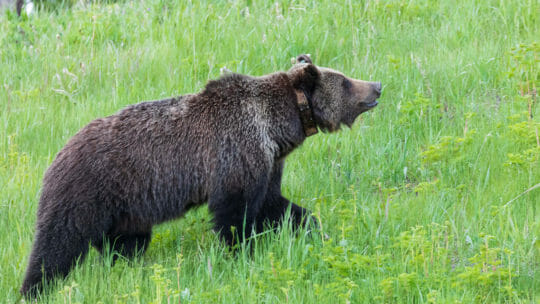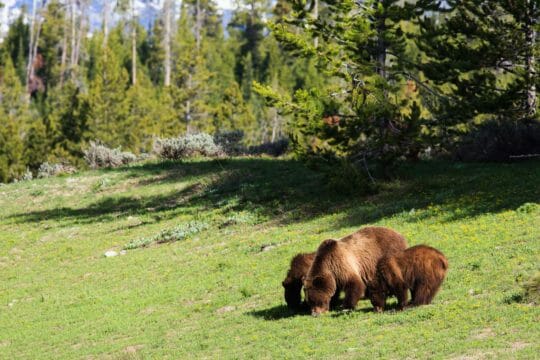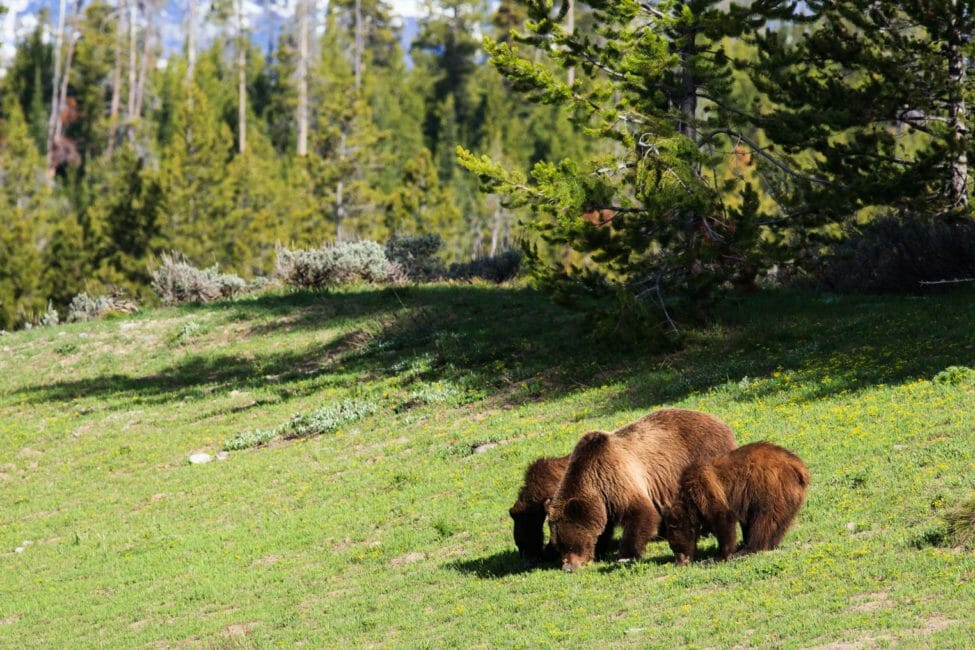 Winter: Wolves and Large Mammals
Winter may be quiet, but it's an exciting time in Jackson Hole for watching wildlife.  Within the National Elk Refuge, thousands of elk will congregate in search of more prospective foraging.  Deer, moose and bighorn sheep will also move en masse into lower elevations to increase their chances of surviving one of the most trying times of the year.  With such a plethora of prey species gathering around the valley floor of Jackson Hole, one of the most renowned apex predators of the Greater Yellowstone Ecosystem- the gray wolf.  Dawn is prime time to seek out this carnivore traversing the tundra-like terrain.  Wolves are not the only hungry animals that might be on the prowl come winter.  Coyotes, fox, eagles and ermine might be seen hunting or scavenging for their next prospective meal.  
Our winter tours run from November to April, with the options of half day, full day and even multi-day tours. Winter can be one of the ultimate gatherings of wildlife in the valley- with a number of animals congregating in one place, the opportunities for wildlife watching are endless.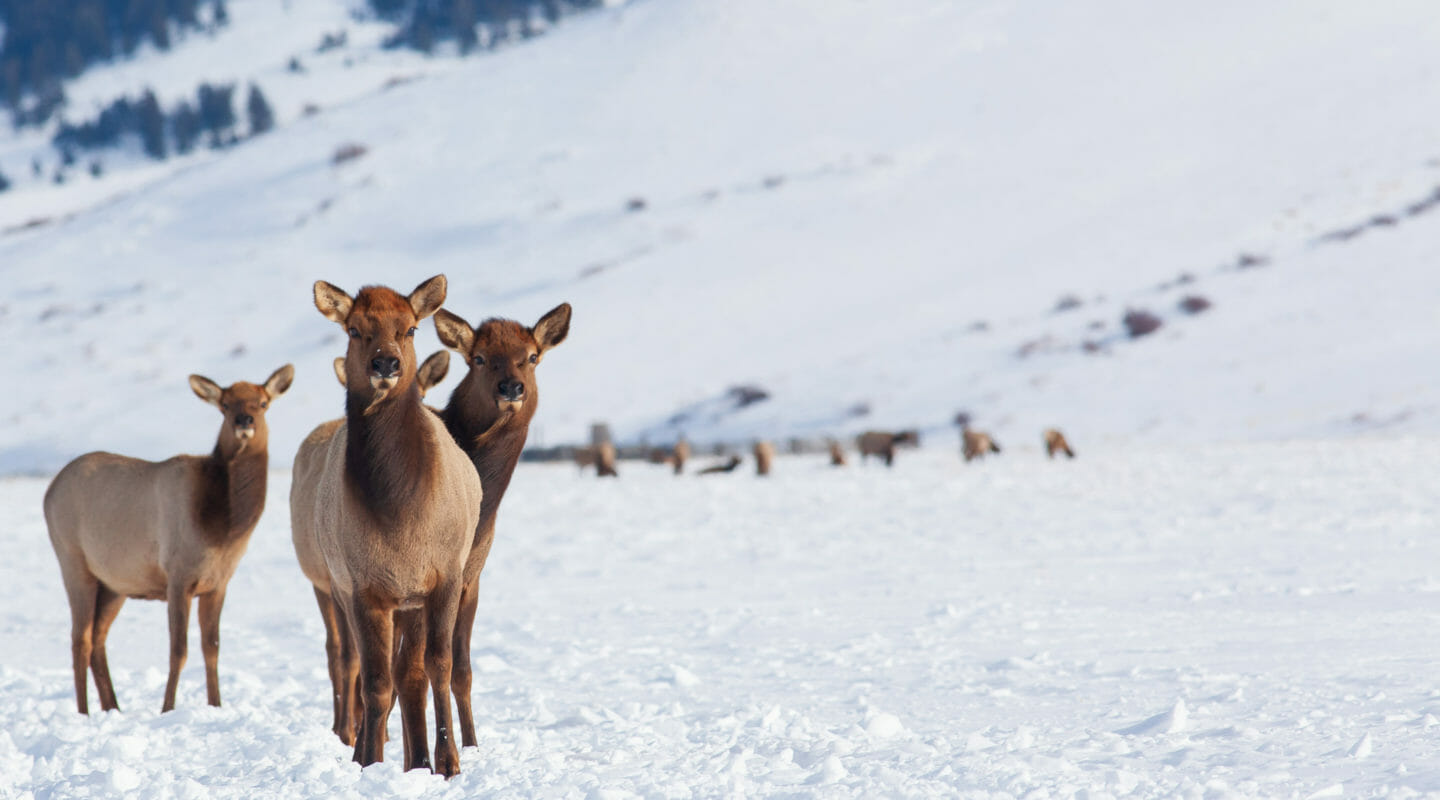 Animal Migrations through Jackson Hole
Many of the species in the region migrate to lower elevations in the winter, where there is less snow and more moderate climates. This can be a short distance, or in the case of the pronghorn up to 150 miles one way from Grand Teton National Park to the Upper Green River Basin. Elk migrate from higher elevations down to the valley floor and other animals, like the grizzly bears, head into hibernation. For some, it's a change in activity and diet, like the moose that tends to travel less to conserve energy and rely more on the woody vegetation while the aquatic vegetation is under the ice. If you visit in the spring, you can witness herds of elk and pronghorn as they make their way back to their summer ranges.
Sustainability
Jackson Hole Wildlife Safaris is the first tour company in Jackson Hole to earn a third-party audited sustainability certification. We are proud to join other leading sustainable organizations like the Jackson Hole Airport, Jackson Hole Chamber of Commerce, and Jackson Lake Lodge in earning the BEST Sustainability Certification. 
Our wildlife tours are all eco-minded and work to coexist with the Greater Yellowstone Ecosystem. By booking your tour early in your vacation, our expert naturalist guides can teach you how and where to track and spot animals safely and respectfully during the rest of your stay in the Jackson Hole area.
Ready to see all the incredible wildlife of Grand Teton and Yellowstone National Park? Jackson Hole Wildlife Safaris provides the best opportunities to see wildlife in the wild.  Explore our tours today to plan your next National Park adventure.
Whether it be summer or winter, we offer four hour morning and evening tours, as well as an eight hour trip (which will include lunch) in Grand Teton, with the addition of the National Elk Refuge exclusively in winter.  Summer is the only time of year Jackson Hole Wildlife Safaris conducts day tours through Yellowstone National Park, but you could opt for a snowshoe tour during the winter months, or multi-day excursions that focus on finding the more elusive wolves and bears (when they aren't hibernating).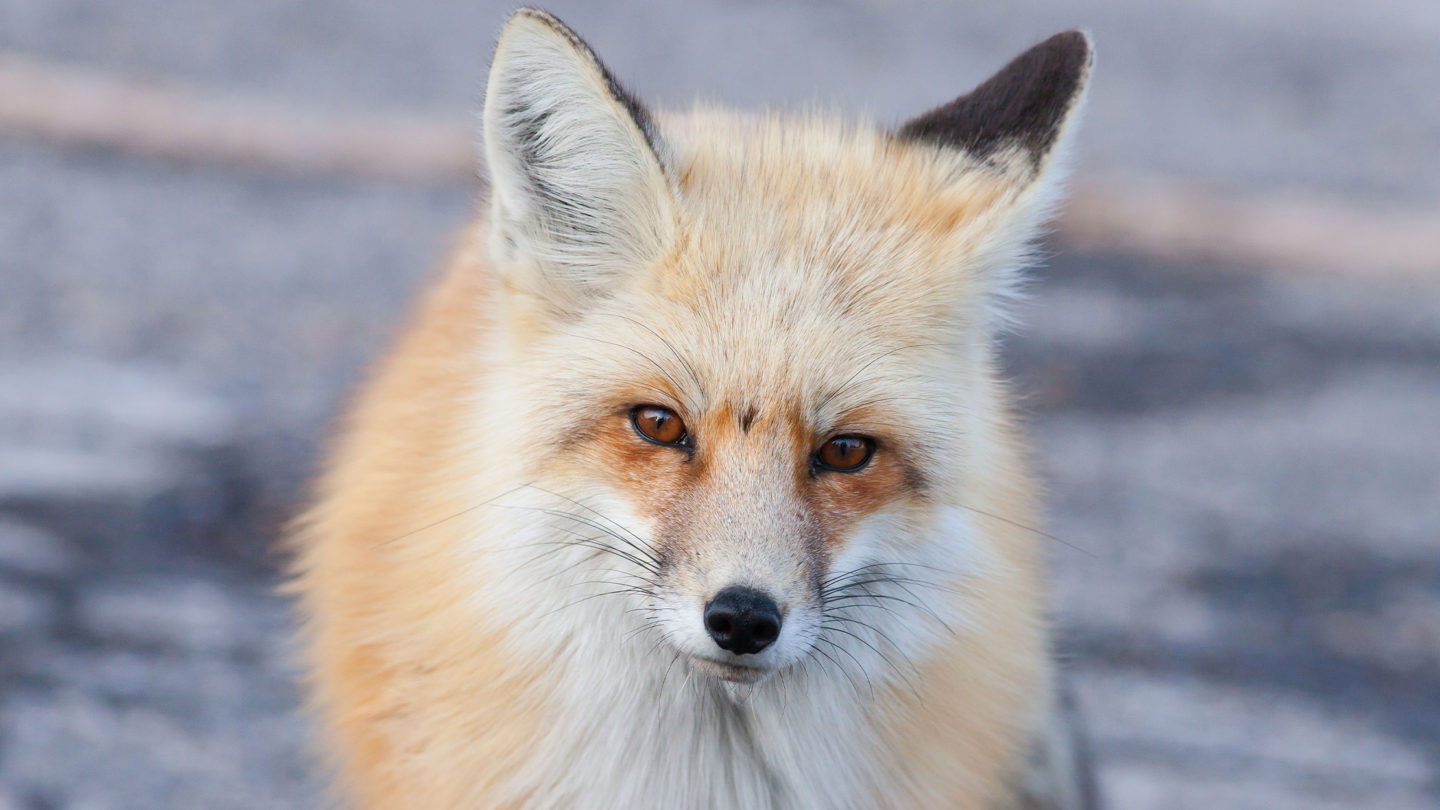 Explore the National Parks
Jackson Hole Wildlife Safaris