Why Visit Grand Teton?
When people think of national parks in Wyoming, most immediately go to Yellowstone, with its geothermal, beautiful scenery, and wildlife. After all, who wouldn't want to go into the caldera of a super volcano when it isn't exploding? However, just south of Yellowstone and north of Jackson is another "grand" national park – Grand Teton. While smaller than Yellowstone (310,000 acres compared to 2.4 million), touring Grand Teton National Park has much to see and experience. From the titular mountain range to the wildlife and the glacially-fed lakes, it is improbable you will find an ugly part of this stunning park.
Grand Teton was initially created in 1929 and only included the mountains and six glacially-fed lakes. It responded to the creeping urbanization into the valley, which ranchers, townsfolk, and "dudes" looked at with hesitancy. The sight of these buildings quickly growing in Jackson Hole inspired John D. Rockefeller Jr. to start the Snake River Land Company. Together, they bought 35,000 acres for about $1.4 million. Annoyed that congress was sitting on this issue and not taking it seriously, Rockefeller wrote a letter to President Franklin D. Roosevelt, threatening to sell the land. In response, President Roosevelt created the Jackson Hole National Monument in 1943. Seven years later, congress would merge the initial Grand Teton National Park, the National Monument, and Rockefeller's donations into the park we know and love today.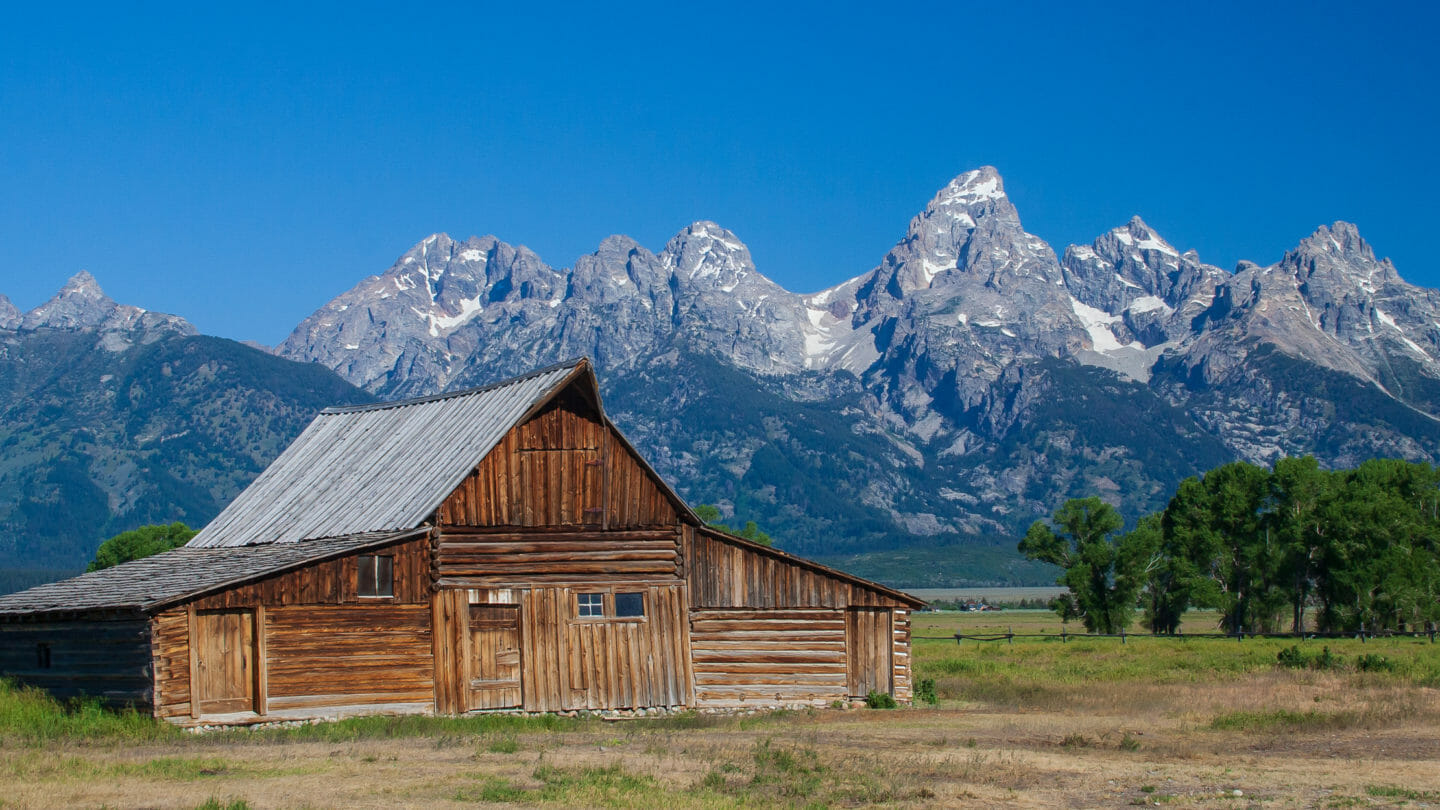 Conservation of our wildlands and wildlife is a significant concern for most Jacksonians. One of the first ventures is older than Grand Teton itself, but now does poke into the park – and you can see both on tour! In the winter of 1908-1909, there was a mass die-off of elk – roughly 10,000 individuals passed due to unseasonably harsh conditions, competition with cattle, and the homesteads blocking winter habitat. After seeing the death, through first-hand experience and photographs by the like of Stephen Leek, the people of Jackson Hole got together and wrote a petition to put land aside for wintering elk. In 1912, the National Elk Refuge began as a winter game preserve at 1,000 acres. Now it's 27,400 acres that the elk get to enjoy during the snowy season.
Another example of our conservationist spirit appears in a group of like-minds meeting up in a cabin to discuss the future treatment of wildlands. Now, this specific wording could refer to two different moments: one in 1923 at Maud Noble's cabin and the other between 1945 and 1964 at Murie Ranch. However, seeing as how the meeting at Maud Noble's cabin to the creation of Grand Teton National Park, and we've already gone through that tale in its basics, let's talk about the Muries. In 1945, brothers Olaus and Adolph Murie purchased the ranch with their wives, Margaret (Mardy) and Louise. All four members were passionate about the wilderness and wildlife and regularly met with like minds, including Howard Zahniser. Zahniser and Olaus Murie had their time as directors of the Wilderness Society. Howard's initial draft of the Wilderness Act was written in 1956. Eight years and sixty-six drafts later, it would finally be signed into law by President Lyndon B. Johnson in 1964. All documents were written as he stayed in one of the cabins at Murie Ranch, right at the base of the Teton mountain range. It defined wilderness as a place "…u untrammeled by man, where man himself is a visitor and does not remain" and created the National Wilderness Protection System. The system initially protected 9.1 million acres of federal land, now covering roughly 112 million acres of wildland across the country.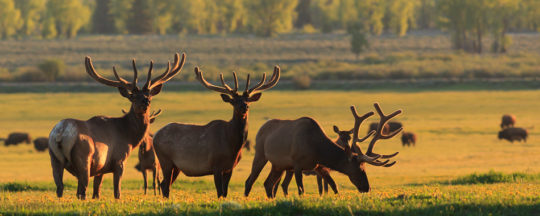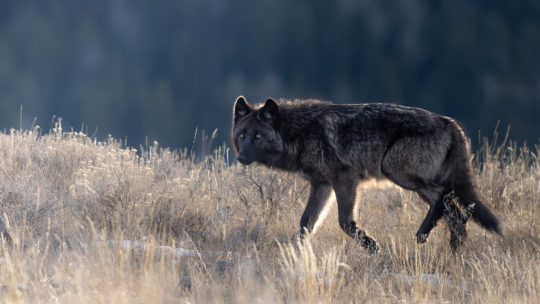 You can see almost all these locations on a Grand Teton tour with Jackson Hole Wildlife Safaris! But we wouldn't be a wildlife safari company if we didn't show you some of our wild critters! However, depending on what you want to see, you might want to plan with the seasons. In winter, elk are a guarantee as they come down onto the National Elk Refuge in November/December and stick around until the snowmelt (roughly April timeframe, depending on the year). You can see anywhere between 5,000-8,000 elk right by the road! Another animal you might see on the back of the refuge is bighorn sheep, who come down to winter at lower elevations. There's a chance to see some bison at the treeline, foxes pouncing through the snow, wolves on a hunt, bald eagles, ravens, and coyotes waiting for scraps. During our warmer summer months, the animals shift a little bit.
For one thing, the guaranteed critter for this time of year is the Pronghorn Antelope, which migrates to Jackson Hole for the summer and then high-tail it out of here when the snows start. There's also a great chance to see some bison hanging out at Elk Ranch Flats with some red dogs in tow. Other possible animals include black and grizzly bears, awake from their winter nap and preparing for the next, golden eagles, elk, coyotes, and foxes.
We at Jackson Hole Wildlife Safaris want to ensure you have the best tour for you and your family, so we have an array to choose from! Do you want to have the rest of the day to explore for yourselves, or do you want to sleep in? Then select one of our four-hour half-day tours! They come in two flavors: sunrise or sunset. Do you want to see Grand Teton National Park as much as possible? Then we have an eight-hour full tour day for you! If you're more photographically inclined, we have half-day and full-day experiences for you, where your guide will take you to the spots to get the perfect shot. We also have that covered if you like to track or want to learn! We have a Grand Teton Track and Sign Adventure tour during the summer months for you!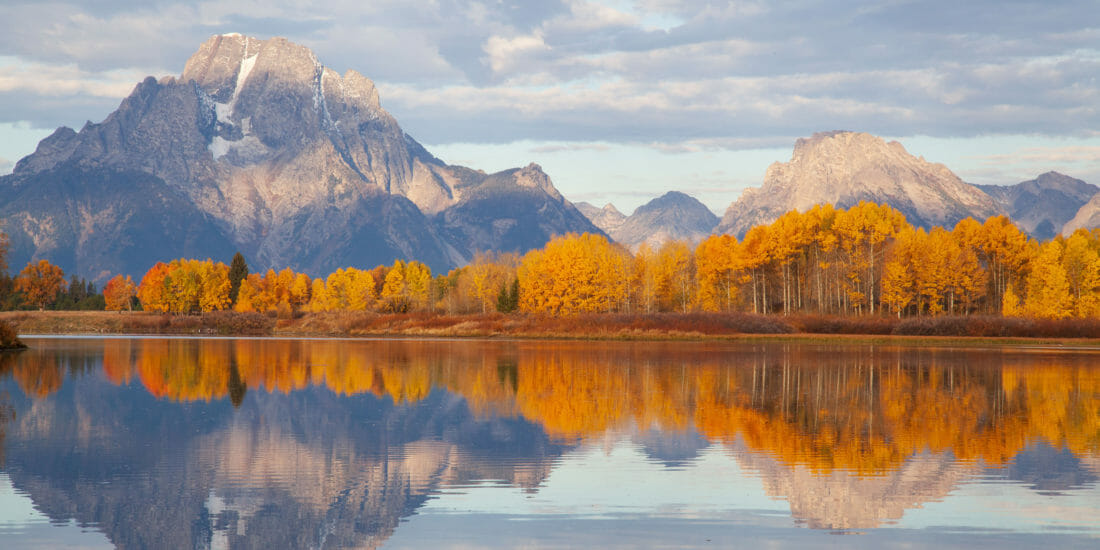 Why should you bother with a tour of Grand Teton when you can explore it on your own?
There's nothing to say you can't – or that you can't continue to investigate after we've shown you around – but there are some benefits for those who choose this route. We know where the animals have been recent, so we can bring you to these areas to see some incredible wildlife. For another, we're all talkers, and we love to teach guests about the valley, the animals we see, and various trivia about different places in the park. Lastly, and most importantly, you don't have to drive! An experienced guide will be behind the wheel, bringing you to where you want or need to go – whether for the wildlife or specific points of interest. We will adjust our tours so that the experience matches what you want to see and learn!
So, wherever you're coming from, whenever you're coming, Grand Teton National Park is a sight to see and worth spending some time in. This is 310,000 acres of some of the most beautiful land in the country, with a group of people living right below it who care. The wildlife is out and about, the mountains are jagged and beautiful, and the sagebrush tints the wind with its scent, and we would love to tell you all about them.
Explore the National Park
Grand Teton Tours