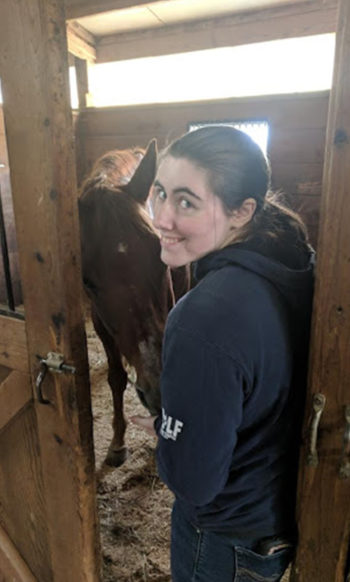 As a guide, Kayla wants to make sure folks have fun while learning about the parks and the wildlife within them.  She is the most enthusiastic when the clients in her van are laughing and trading stories with her. She enjoys using facts in conversation to change how people look at wildlife, or the parks. Whether it's the fact that the unassuming, yet beautiful pronghorn can run 60 miles per hour, or that the Teton mountains are young and old at the same time, she believes that acknowledging that things aren't always as they seem to be is the beginning of looking into a topic with more depth. While that depth might not be fully reached during a tour, she hopes that she has activated those "brain muscles" for a little while.  
Certifications
Level II Wildlife Track & Sign / CyberTracker

Wilderness First Aid & CPR

B.A. Environmental Studies & Creative Writing | Susquehanna University
More Adventures
Kayla's Favorite Safari Tours
Full Bio
When Kayla was nine, her mother brought her to Jackson Hole. She spent a good bit of time in town, exploring Grand Teton and Yellowstone National Parks. She remembers taking pictures at Oxbow Bend, walking on logs at Lewis Falls, and attempting to navigate the crowds at Old Faithful. The rest of their trip was spent at Kelly's Red Rock Ranch, where she spent time back-country trail riding and earning the "Junior Wrangler" award at the end of the week by mixing already present horse knowledge through riding English, and newfound tips from the wranglers she worked with. Altogether, spending so much time in Jackson Hole, little nine-year-old Kayla exclaimed, "I wanna live here!" And now, roughly 15 years later, she finds that she does, in fact, live here.
If you were to ask Kayla where she was from, she would say "New York", and if you were to proceed with a "which part", she would respond with "depends on when you ask". Succinctly, as she puts it, "I've lived everywhere between the Bronx and above a barn, and I think you can tell which I prefer". Most of her childhood was spent between the Bronx and northern Westchester County, the latter of which was where she was introduced to the Wolf Conservation Center and their ambassador wolves at a young age.  At four years old, she met one of them as a puppy and at eleven she handled two more who were two months old. When not interacting with wolves, she was playing with her dogs outside, snuggling with the cats inside, or riding horses both in and out of competition. To say she was surrounded by animals from a tender age would be an understatement – she had two German Shepherds sniffing her the moment she came home as a three-day-old infant.
Between her love of animals, and the fire within lit by the wolf center for carnivore conservation, you would have thought that going into an environmental field would have been a no-brainer. Well, it was for everyone but her, who went to college for a creative writing degree, and figured it out with a slight delay between freshman and sophomore year.  It was during the third year and the second summer interning for the wolf center that it hit her that – "yes, this is what I want to do with my life!"
So, armed with an environmental studies and creative writing dual degree, she graduated from Susquehanna University during the global pandemic in 2020. For the following two summers, she would work with the AmeriCorps Trail Building team with the New York-New Jersey Trail Conference before the chance to come west struck her. While job hunting, she found an application for another AmeriCorps position in Jackson with Teton Science School. The interview was in November, and she was packing her bags and heading west in February of 2022. While teaching kids and working with nonprofits here in the valley, she found that old spark of her nine-year-old self that wanted to stay here.  Luckily, she found her way to Jackson Hole Wildlife Safaris in the end.
You'll find Kayla in the field, entertaining guests with facts and thought-provoking discussions.  You'll also find her on the blog, with guest content and guide insights on conservation, wildlife, and the National Parks.