Info About the Great American Eclipse of 2017
On August 21, 2017, at around 10:16 am, Jackson Hole will start to go dark. By 11:35am it will be really dark and what some are calling "The Great American Eclipse of 2017" will cast an epic shadow over Jackson Hole that will last over 2 minutes (2:15 to be exact). This period, known as the totality, is the period when the moon will totally block the sun and is a rather unusual event. This is the first total eclipse of the sun visible from all 48 contiguous United States since 1979 and the first visible from coast to coast in the US since 1918. The total solar eclipse will be visible along a narrow path from Salem, Oregon to Charleston, South Carolina and just happens to bisect the valley of Jackson Hole making this one of the best places in the country to view the event due to our relatively high elevation and stable summer weather.
Given Jackson Hole's position along the eclipse path and the fact that it is occurring in the middle of our busiest summer month means that we will be in for one crazy day. Land managers, local municipalities, law enforcement and private businesses are doing their best to prepare for this exceptional event where we expect tens of thousands of visitors to come to Northwest Wyoming to witness this once in a lifetime event. Most of the hotels and lodging throughout Jackson Hole have been full for over a year and those that are open are not cheap meaning that a large number of people will try to drive in from as far as Salt Lake City and maybe beyond. Preparing for this event in advance is a must! Here are some resources that will help you safely enjoy this awesome event and find a good vantage point along the eclipse path.
Eclipse Can be Viewed from Coast-to-Coast
First, it is important to remember that the eclipse can be viewed from coast to coast! As long as you are within the narrow viewing path you can experience the maximum eclipse anywhere along that line. Driving to Jackson Hole may not be worth it! At the very least have a back-up plan in case you encounter really bad traffic on your way. Here is a Nasa Map showing the total path within the lower 48. Click on the map for a full size version!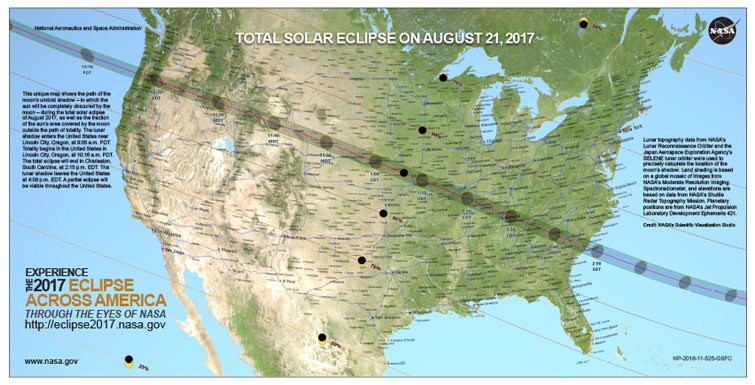 Events at Jackson Hole During the Eclipse
If you are planning on coming to Jackson Hole for the eclipse please remember that this is our busiest tourism season of the entire year. Add to that a lot of regional visitation for the eclipse and it is guaranteed to be an extremely busy and challenging day for everyone. Remember that this is quite an event. Be prepared to slow down, enjoy the experience (including all the other people excited to see the same thing) and try to have a plan for where you will watch the eclipse.
There are some great events being offered throughout Jackson Hole that will offer additional resources to make your eclipse experience special and worry free! Here are a few that you might want to check out!
1. We will be offering guests private Grand Teton and Yellowstone Safaris for eclipse day that will include viewing glasses and filters for our spotting scopes as no extra charge. We will start our day with a wildlife drive before deciding on a good place in Grand Teton or Yellowstone to view the eclipse. Then depending on the conditions, traffic and your interests we will continue on our safari and try to enjoy as much of either park as possible. We will provide a field breakfast and lunch allowing us to stay in the field and avoid the busy restaurants and cafes during the day. Call our office at 307.690.6402 for more information.
2. Another great option is the private eclipse viewing event being offered at the top of the Bridger Gondola by Four Seasons Resort Jackson Hole.
This exclusive eclipse experience will begin with a safe and comfortable ride up to an elevation of 9,095 feet (2,772 metres) on Jackson Hole Mountain Resort's Bridger Gondola. Guests will have the option of indoor seating in the Rendezvous Lodge known as Piste Bistro or outdoor seating on a paved patio area overlooking the gorgeous Jackson Hole valley and its adjacent mountains. Food and drinks will be catered by the chefs of Four SeasonsResort Jackson Hole and will include various culinary actions stations and an open bar of Mimosas, Bloody Marys and more.Teton Skies will provide each guest an exceptional viewing experience using state-of-the-art hydrogen-alpha solar telescopes. Astrophysicist Ryan Hennessy will lead a discussion of the science behind each stage of the eclipse. For more information or to reserve your space visit the Four Seasons website at http://press.fourseasons.com/jacksonhole/hotel-news/2016/solar-eclipse-viewing-party/
3. Ride the tram to the top of Rendezvous Peak at Jackson Hole Mountain Resort. If you want to see the eclipse from the most accessible mountain in Jackson Hole then this is a great option. They are offering pre-scheduled tram rides with 60 passengers per departure and a complementary pair of viewing glasses per passenger. https://www.jacksonhole.com/x/ECLIPSE-2017.html
4. Wyoming Stargazing will be offering a free event at the R-Park along the Snake River. For details on the event and for some great resources about the eclipse check out their website at http://www.wyomingstargazing.org/2017-solar-eclipse/
5. You might also consider visiting another great location in Wyoming to view the eclipse. Here is a great resource for the entire state of Wyoming produced by the Office of Tourism. http://www.travelwyoming.com/view-eclipse
Additional Resources:
Here are some additional resources to help you plan your eclipse day. Whether you decide to attend an event or do it yourself, a little planning will go a long way to make sure you stay safe and have a great time viewing this awesome event.
Nasa.gov – https://eclipse2017.nasa.gov/the-eclipse – This is a great resource for all things eclipse. From history and safety to the science behind an eclipse and even posters you can download!
Jackson Hole Chamber of Commerce – https://www.jacksonholechamber.com/events-calendar/total-solar-eclipse/ – More details on ideas both within and near Jackson Hole.
Official website for the Town of Jackson and Teton County – https://www.tetoneclipse.com/#home-section – Providing up to date details on eclipse details and logistics for Jackson Hole.
Jackson Hole Total Eclipse Guide by local author Aaron Linsdau – On sale at several local bookstores including the Wort Hotel. You can also order online at https://www.amazon.com/dp/B01MUDJ6X5