Overview
Join a multi-day expedition into the National Parks for winter wildlife viewing, unforgettable photography, tremendous scenery and to experience the solitude of winter. Yellowstone National Park transforms into a pristine winter wonderland with less traffic, less noise and great wildlife. Our professional naturalist guides will lead you on a once-in-a-lifetime experience to explore the wild of Jackson Hole and the surrounding National Parks in the winter.
What's Included
Professional Naturalist Guide

Small Group Safari : 6 Guests Max

Activity Fees / Entrance Fees
Open Safari
Please contact our office to discuss options and details. Call (307) 690-6402 to make reservations.
Private Safari
Private wildlife safaris may be arranged. Please contact our office to discuss options and details. Call (307) 690-6402 to make reservations.
Pick-up Times
The meeting location for this expedition is Gallery Wild, located at 80 West Broadway, Jackson WY. Please be sure to arrange flights and check in to your hotel with plenty of time to arrive at the meeting location by 5:30 PM. You'll have an opportunity to meet your guide, get an overview of the week, and ask questions about your expedition.
On alternate weeks, the meeting location is at Element Hotel, located at 25 E Mendenhall Street, Bozeman, MT.  Please be sure to arrange flights and check into to your hotel with plenty of time to arrive at the meeting location by 5:30 PM.  You'll have an opportunity to meet your guide, get an overview of the week, and ask questions about your expedition.
This is the best way to see Yellowstone and the Teton National Parks. Our guide was hilarious! His knowledge of the parks was impressive. He took us places that were just breath-taking. Along the way, he shared a lot of information on how the parks were created both geologically and historically. You come away with a great appreciation of these two parks, plus a camera full of some beautiful pictures.
B. Hale, Arkansas
Itinerary
Arrive in Jackson Hole, the southern gateway to Grand Teton and Yellowstone National Parks. If you arrive by air into Jackson Hole, you'll be landing in the only commercial airport in the United States located entirely within a National Park. The Teton Range forms an impressive backdrop to the west, while the Jackson Hole valley stretches out to the north, east and south. The town of Jackson is located south of the airport and it is in downtown Jackson that our evening meet and greet will be located, directly across the street from your lodging. You'll meet at Gallery Wild in the early evening for a guide introduction and expedition orientation. For dinner, you're free to explore the town of Jackson on your own. The town of Jackson has a wide variety of dining options, from street tacos to fine dining, you may choose your fancy. Overnight accommodations are at a local hotel.
Highlights
Gallery Wild: Owned and operated by a local fine art power team, Carrie Wild, and her husband Jason Williams, Gallery Wild's works and philosophy are inspired by and directly impacted by thousands of hours in the field observing, studying and falling in love with all things wild. From the smallest bird to the biggest polar bear, Gallery Wild artists produce work inspired by actual subjects roaming the wild. Their mission is to inspire collectors and impassion others to help protect wildlife and wild places for future generations.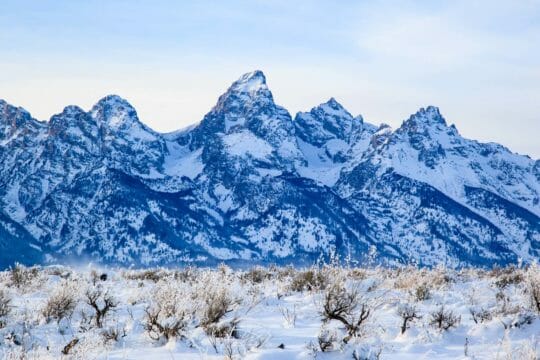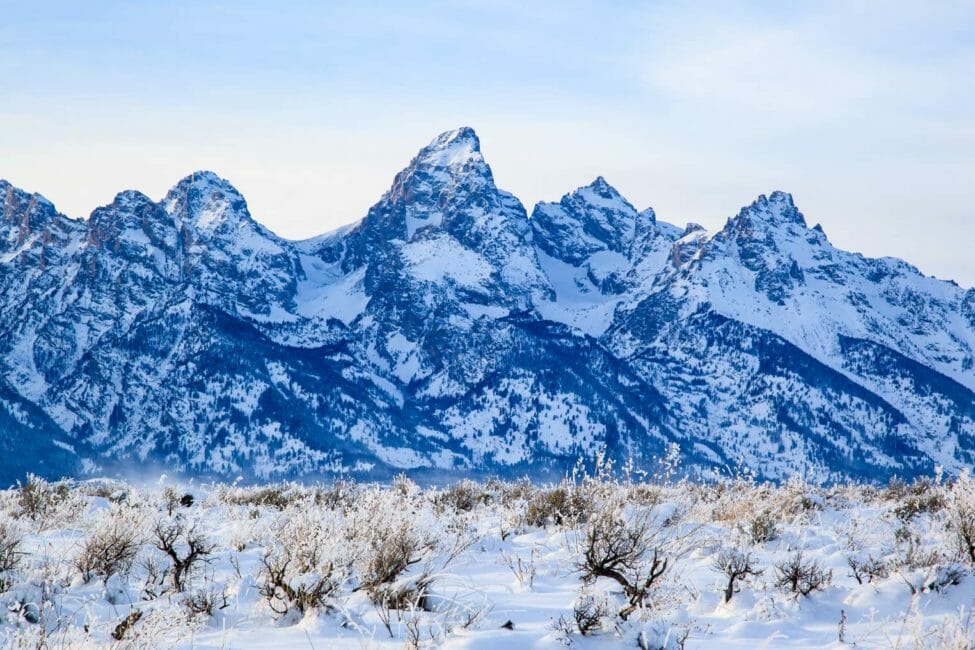 Day 2
National Elk Refuge / Grand Teton National Park
You'll head out this morning to the National Elk Refuge and Grand Teton National Park in search of wintering wildlife. Big game such as mule deer, elk, moose, big horn sheep, wolves and bison migrate into the valley during the winter in search of food. Coyote, fox, bald eagles, golden eagles and swans can also be seen wintering here. We will head to the National Museum of Wildlife Art for lunch, followed by a museum tour. For the afternoon, we will head into the interior of the National Elk Refuge by horse-drawn sleigh. Overnight accommodations are back at your local hotel.
Highlights
National Museum of Wildlife Art: The National Museum of Wildlife Art first opened in 1987 on the town square in Jackson. Jackson won out as the location for the museum because of the unique intersection of tourism, mountain setting and abundant wildlife. Within five years, the museum had outgrown its original space and moved to its present location, overlooking the National Elk Refuge. There are over 5,000 catalogued items in the museum's permanent collection, which includes paintings, sculptures, and paper works ranging from early Native American Tribes to contemporary masters. Temporary exhibits and educational forums round out the museum's offerings.
National Elk Refuge: The refuge was established to provide winter habitat for the local elk population. Elk migrate to higher elevations during the summer months where lush meadow flora is available and cover can be found among the high alpine forests. During the winter, heavy snows push the elk into the valley where food may be scarce.
We will explore more of the area surrounding the town of Jackson.  Based on what we saw yesterday, we will continue our exploration of the area before heading out to West Yellowstone, where we will spend the night.  
Day 4
Yellowstone National Park
Today we will enter Yellowstone National Park to head to Old Faithful.  The roads into Yellowstone are not accessible by car during the winter months, so the only way to access the interior of the park is to arrive by over-snow vehicle.  Once our snowcoach tour is done, we will head back to our hotel in West Yellowstone for the evening.
Highlights
Continental Divide: The North American Continental Divide runs right through Yellowstone National Park. A continental divide is peak of a continent, pushing water to one shore or the other. The mountain ranges offer few clues of the continental divide; water flow is the key. At Isa Lake, between West Thumb and Old Faithful, this exceptional body of water drains into both the Atlantic Ocean and the Pacific Ocean. The west arm of Isa Lake feeds Firehole River, which runs on to the Missouri and eventually the mighty Mississippi, depositing in the Gulf of Mexico. The east arm of Isa Lake drains to Shoshone Lake and the Lewis River, which feeds the Snake River which empties into the Columbia River and runs out to the Pacific Ocean.
Artists' Paintpots: The Artists' Paintpots features mudpots, one of five dominant thermal features in Yellowstone National Park. Mudpots are formed when surface water collects with no way to percolate through the soil, usually due to the presence of clay. Hot thermal water below the clay forces steam up through the ground, heating the surface water. Hydrogen sulfide (that rotten egg smell) is a favorite of some microorganisms that use the gas for energy. The gas is converted to sulfuric acid, which is acidic enough to break down the surrounding rocks into a viscous clay substance. Gasses bubble up through the liquid clay, sometimes audibly. When iron compounds are present, it can color the mud pink or even red. These colored mudpots are often referred to as paintpots.
West Thumb Geyser Basin

: The

West Thumb Geyser Basin

is the largest geyser basin on the shores of Yellowstone Lake. It was once a developed area but the park service dismantled the development in the 1980's in order to preserve the resource. Fishing Cone is a prominent hot spring found at West Thumb. It was first documented in 1870 and gained favor because of the ability to catch a fish in the lake and "cook" it in the hot spring, still on the line. It was originally referred to as "Fish Pot" and "Hot Spring Cone" but went through several name transformations such as "Fisherman's Kettle", "Fish Cone", "Fishpot Spring", "Crater Island" and "Chowder Pot" before guidebooks commonly referred to it as "Fishing Cone". In the early 1900's it was common practice to dress in a cook's hat and apron and have your photos taken at Fishing Cone, cooking your fish. The practice is now prohibited because of the unsanitary nature of the meal and because of the danger of an eruption from the hot spring.

Old Faithful: In 1870, the men of the Washburn-Langford-Doane Expedition observed regular eruptions from a geyser in the Upper Geyser Basin. They dubbed the geyser "Old Faithful" because of the clockwork-like eruptions, timed almost to the minute. Early mathematical models were created to predict the geyser eruptions, but seismic activity during the 20th century has rendered these models obsolete. Today, Old Faithful will erupt every 65-90 minutes, depending on the length of the prior eruption. The precise nature of the eruptions is due in part to the absence of other thermal features connected to Old Faithful.
Day 5
Yellowstone National Park
We will head north to explore the Lamar Valley in search of wolves and other winter wildlife in Yellowstone. The Lamar Valley is referred to as the Serengeti of North America because such a variety of species are found here. While we are on the search for wolves, we may come across bison, mule deer, elk, coyote or moose. We will overnight in Gardiner, MT.
Highlights
Wolves: By 1926, wolves had been largely hunted to extinction within the Yellowstone National Park boundaries. Without an apex predator, like the wolf, the elk population boomed. Wolves were reintroduced to the park in 1995, in the Lamar Valley, amid much controversy, and have flourished since then. The reintroduction sparked scientific evaluation of the true complexities of a healthy ecosystem. The heated conversation continues today over the economic complexities of wildlife management and sustainable tourism.
Lamar Valley: Stretching across the northern reaches of Yellowstone National Park, the Lamar Valley follows the Lamar River, which gets its current name from Lucius Quintus Cincinnatus Lamar II, politician, diplomat and US Secretary of the Interior from 1885 – 1888. It was originally referred to as the Secluded Valley by trapper Osborne Russell, in his works, Journal of a Trapper (1921), who wrote about the Lamar Valley from his 1834 visit.
Day 6
Yellowstone National Park
We will revisit the Lamar Valley today in search of wintering wildlife.  We will overnight back in Gardiner, MT.
Highlights
Mammoth Hot Springs: Travertine terraces, plateaued stacked surfaces, are formed from very hot thermal water rising up through limestone, dissolving it and depositing the calcium carbonate at the surface when the carbon dioxide is released into the air. Mammoth Hot Springs is a visual construction of these geologic forces at work. The structures form quickly, sometimes over a period of hours, so it is possible to watch geology in action!
Bison: Yellowstone National Park is the only place in the United States that has been home to bison since prehistoric times. The herd that populates the national park is exceptional due to the lack of interbreeding with cattle. The bison in this herd are free to roam freely throughout the park, enjoying several thousand square miles of range. There are two primary herds found in the park and together their numbers are estimated at roughly 4,500 head. These numbers are impressive considering that poaching brought the animals nearly to extinction at the turn of the 20th century, with numbers estimated to be merely two dozen in 1902.
Day 7
Yellowstone National Park
We will head back into the Lamar Valley in search of wolves and other wintering wildlife.  We will overnight in Bozeman, MT tonight, with a farewell dinner enjoyed together at a great Bozeman restaurant.  Departures may be arranged for any time the next day.
Depart Bozeman, Montana. If your flights allow for a free morning in Bozeman, you may enjoy taking in the sights of this small mountain town.
FAQs
What is your cancellation policy?
Due to the complex nature of our multi-day expeditions, our cancellation policy is 90 days on all domestic and international expeditions.  Cancellations made before the cancellation policy goes into effect will receive a full refund. Cancellations made within 90 days of departure will not be refunded. We strongly recommend travel insurance in order to protect you from unforeseen travel interruptions that prevent you from joining us.
What is the weather like during the winter?
Winter in Jackson Hole ranges from early November to early April. Average high temperatures in the valley during the winter season range from 27F to 52F, (-3C to 11C), but daily temperatures can fluctuate far below freezing at times. The valley floor will typically see snow from October through April and in the high alpine elevations, it usually snows from September to June. The high elevation of Jackson Hole has been known to create wild temperature fluctuations from night to day, sometimes by 50F degrees or more. It is important to come prepared for winter conditions, as they can vary.
Average highs and lows by winter months:
November: Average High 39F/4C, Average Low 16F/-8C
December: Average High 28F/-2C, Average Low 6F/-14C
January: Average High 27F/-3C, Average Low 5F/-15C
February: Average High 32F/0C, Average Low 8F/-13C
March: Average High 41F/5C, Average Low 16F/-9C
April: Average High 52F/11C, Average Low 24F/-4C
Is this a set itinerary?
The exact routes and itineraries will depend on a number of factors – the most important being your areas of interest, current wildlife sightings and road conditions. One of the great things about our safaris and expeditions is our ability to customize each safari for you. Our guides are all highly experienced with thousands of hours in the field allowing them to make suggestions and calibrate the adventure to your experience level and desires. Every day in the field is different which makes our safaris more fun for both you and your guides. We hope that you'll join us on an expedition and walk away with an education and appreciation of this remarkable place we are privileged to call home.
Is this tour sustainable?
Jackson Hole Wildlife Safaris combines a love of adventure with a passion for wildlife and wild spaces to create a premium, once in a lifetime experience exploring the natural world. It is our belief that active stewardship is the only way to ensure the same experience for future generations. This is why Jackson Hole Wildlife Safaris is committed to a culture of sustainability and is dedicated to purchasing products, establishing partnerships and educating the public in a way that values the protection and conservation of our most valuable resources.  Each part of this tour has been carefully crafted with sustainability in mind.
Guides and Staff
Our Team
Local, experienced, and passionate guides and photographers.
More Adventures
Keep Exploring