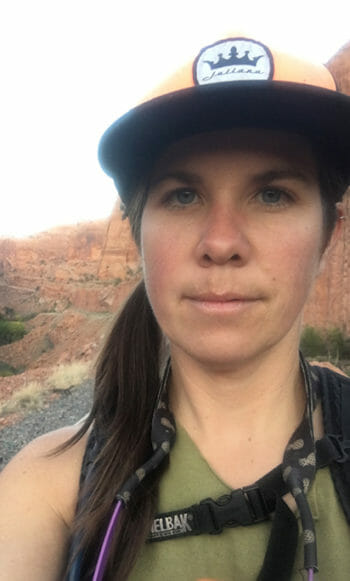 Sarah holds dual Bachelor's Degrees in environmental science and fine art from the University of Oregon.  She has been involved with projects such as Teton Cougar Project and the Panthera Puma Project, studying mountain lions in the Greater Yellowstone Ecosystem.  She is a rocky mountain native, born and raised in Utah's Wasatch mountain range.  She grew up fascinated by the geology and botany found around her, and learned to find solace in the mountains.  She now makes Jackson Hole her home and enjoys exploring the landscape by ski, boat and on foot.
Sarah's guiding background is diverse and includes both terrestrial and aquatic experience.  She has a background as a river guide, guiding on rapids as well as flat water.  She has guided oar-rigs, paddle boats and even stand-up paddle board guests as well.  She has expanded her guiding repertoire to road-based tours and you can now find her in the field, with a spotting scope and a pair of binoculars, looking for elusive wildlife.
Certifications
B.S. Environmental Science | University of Oregon

B.A. Fine Art | University of Oregon

Level II Wildlife Track & Sign / CyberTracker

Certified Tracking Evaluator / CyberTracker

Level II Avalanche Certification

Swiftwater Rescue

Level I Avalanche Certification

Wilderness First Responder & CPR
More Adventures
Sarah's Favorite Safari Tours
Bio
A Utah native, Sarah grew up in the shadow of the Wasatch mountains, where she learned how to climb rocks, stare at layers of sandstone, identify plants and enjoy the solace of the world of mountains. She completed a degree in environmental science through the University of Oregon to further understand how to protect the wild places she loves.  Drawn to Wyoming in 2008 by skiing and mountaineering, she has been involved with the Teton Cougar Project and Panthera Puma Project's mountain lion studies and has since resided here in the Greater Yellowstone Ecosystem where she explores the landscape on skis, boats and foot.
Recently, she has also been chasing the water cycle from winter's powdery peaks of the Tetons to the summer melt in the rivers of Wyoming, Idaho, Utah, Colorado and Arizona. Sarah has guided everything from whitewater to scenic paddles and stand up paddle boarding on the river.  When not on tours with Jackson Hole Wildlife Safaris she enjoys riding a bike, growing her own food, cooking delicious foods and capturing photos of the moose, elk, deer, foxes, too many squirrels to count, pine marten, and mountain lions that live in her back yard.