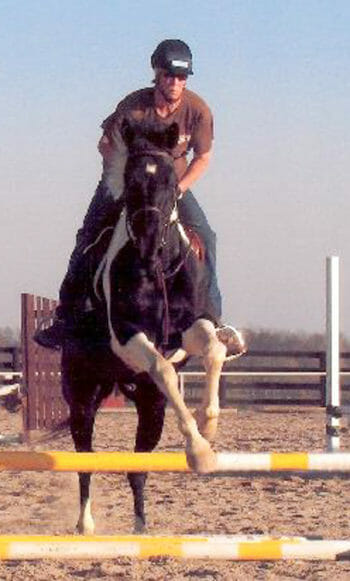 Julie's grandfather grew up in Wyoming and instilled a love of the west in her at a young age.  She doesn't remember a summer in her childhood that didn't include a road trip through the Grand Tetons and Yellowstone National Park.  Her family raised thoroughbred horses in Iowa and Kentucky.  She graduated from the University of Kentucky with a degree in Advertising and took a promising position with UPS but missed the west.  Julie ran the rodeo circuit for a while and dreamed of making the national finals but a freak accident took the life of her horse and she called it quits and moved to the mountains.  She settled first in Dubois, running the horse corrals  at the Double Bar J Ranch.  She then moved to Jackson Hole and broke and trained polo horses for several summers.  She found odd jobs to carry her through the winter, like housekeeping at the Sojourner (now the Snake River Lodge and Spa), worked fast food at McDonald's, hand peeled the railing at Spring Creek Ranch, acted for the Bar T-5 Wild West show and worked at the Million Dollar Cowboy Bar in downtown Jackson.
It was in Jackson that Julie met the love of her life, Tommy.  They got into the outfitting business together and ran wagon trips from Ashton, ID to Flagg Ranch, just north of Grand Teton National Park.  Together with another partner, they also ran pack trips into the Thorofare, Parting of the Waters, Hawk's Rest, and Atlantic & Pacific Creek areas in Yellowstone National Park.  They also ran a 6-day trip up to Turquoise Lake, specifically for artists.
Tommy started guiding snowmobile trips in 1987 and Julie joined him in 1989.  She was the first female to take guided snowmobile trips into the South Gate of Yellowstone National Park.  In 2018, shoulder issues put an end to her snowmobile guiding for good.  In the late 1980's Julie and Tommy started several different businesses in Jackson Hole.  They owned and operated the Spaghetti Depot, Patty's Parlour, an antique store, Cowboy Cleaning, a Baskin Robbins, and the first espresso cart in Jackson Hole.  (They were a little ahead of their time and the espresso cart didn't do so well.)  Julie decided to go to dog-grooming school and open a mobile dog-grooming business.  Her dad helped her convert an old motorhome and business took off!  She sold her other businesses and worked full time as a dog groomer and snowmobile guide.
During her guiding years, she made friends with a few fellow guides, Jason Williams and his brother Kyle.  Tommy and Jason hatched the idea for a summer guiding company and Jason started Jackson Hole Wildlife Safaris in 2007.  Julie was there from the beginning, answering phones, running errands and even guiding at times.  As the company grew, her days in the field grew as well.  Her passion is leading the multi-day safaris.  She loves getting to know the guests and engaging them in long conversations about the history of the area and the wildlife.  She has built up an impressive knowledge of Jackson Hole, Grand Teton National Park and Yellowstone National Park over the years.
Julie owns Hawk's Rest Ranch where she boards and trains horses and assists with animal rescues in the area.  She guides full time and is grateful every day for the people and places that make Jackson Hole home.
Certifications
Level II Wildlife Track & Sign / CyberTracker

Wilderness First Responder & CPR
Customs also like these safari tours
Julie's Favorite Safari Tours