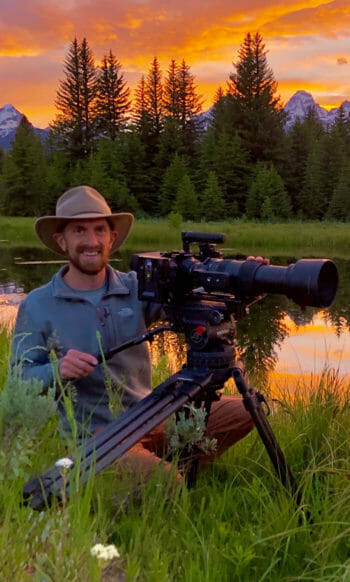 Brandon has a passion for connecting people to wild places.  As a guide in the Greater Yellowstone Ecosystem, Brandon draws on his professional training in wildlife biology and environmental science research to paint a picture for guests of our role as humans in our local ecosystem.  He paints the most vivid picture through film and photography though.  Brandon is an accomplished filmmaker and professional wildlife photographer, capturing images in Yellowstone National Park, and even working with National Geographic in the field.  In his professional life, Brandon pairs his interpretive ability with a visual representation that highlights the importance of conservation in our wild places.
Certifications
Certified Interpretive Guide / National Association for Interpretation

Level III Wildlife Track & Sign / CyberTracker

Wilderness First Aid & CPR

B.S. Wildlife Biology | North Carolina State University

B.S. Fisheries Biology | North Carolina State University

Minor: Environmental Science | North Carolina State University
More Adventures
Brandon's Favorite Safari Tours
Bio
Brandon has been following his passions for wildlife, nature, and culture since he was 6 years old. Growing up on the east coast, he always envisioned exploring the western United States and wild places around the globe in pursuit of his lifelong dream of changing the world. After graduating with degrees in Wildlife Biology, Fisheries Biology, and Environmental Sciences from NC State University, he moved out to the Greater Yellowstone Ecosystem (GYE) in 2010. His dream of changing the world and connecting people with nature led him to transition from research to guiding in 2012.
From guiding in the GYE to Australia, conducting wolf research in Yellowstone, fisheries projects in Puerto Rico, Australian desert ecology surveys, wild koala and wolf capturing, to swimming with and filming the blue whale in Sri Lanka, he has a foundation to make him an unforgettable guide. His passion for connecting people to nature is shown in his guiding, but also his filmmaking. Brandon's passion and self-taught filmmaking has brought him such experiences as capturing the blue whale, shooting for National Geographic, and countless wildlife memories in the GYE. Even on his days off he can probably be found outside doing the same things as guiding, just with his camera instead of guests.
On his tours, Brandon hopes guests learn, become inspired, and find greater connection with the natural world. His favorite part of his job is watching someone's reaction to seeing or experiencing something for the first time. There is a special connection we can all have to nature and Brandon looks to create and/or amplify it. He seeks to make memories with his guests that will inspire them to be a part of protecting the natural world.