Overview
​The destination for our snow leopard wildlife safari is the Ladakh Region, thought to have the highest density of snow leopards in the world. Sightings are rare, so we have partnered with local trackers and guides to increase our chances of sighting the elusive cat in the wild.  Our partnership with local guides helps strengthen the local economy and thus helps protect the endangered species in this fragile ecosystem. Ecotourism has been effective across India in protecting wildlife and habitats by engaging local communities and providing residents with a sustainable source of income.
Snow leopards are some of the most elusive big cats remaining in the world. (Estimates put the total population at 3500 to 7000 left in the wild.) They live in the high altitude mountain ranges of Central Asia. Due to the rugged terrain, most of the herbivores found in a typical snow leopard habitat are ungulates, (sure-footed sheep and goats, able to traverse the rugged mountainous terrain). Yak, ibex, Tibetan wolf and red fox can also be spotted in this region. Trackers use the movements of these animals through the region to track the elusive snow leopard.
Pair your snow leopard expedition with our Tigers of Madhya Pradesh expedition for an extended wildlife safari in India.  Jason Williams and Carrie Wild will lead both expeditions.
Expedition Dates
February 23, – March 6, 2021
What's Included
Professional Naturalist Guide

Small Group Safari : 6 Guests Max

Activity Fees / Entrance Fees
Open Safari
Based on double occupancy. Single supplement: $2466. The minimum age for this wildlife expedition is 12 years old.
Snow Leopards and Tigers
Based on double occupancy. Single supplement: $3,706. The minimum age for this wildlife expedition is 12 years old.
Pick-up Times
The meeting location for this expedition is the Indira Gandhi International Airport.  Please be sure to arrange flights with plenty of time to arrive by the start date.  You'll have an opportunity to meet your guide, get an overview of the tour, and ask questions about your expedition.
As a professional photographer for over 20 years, my trips with Jackson Hole Wildlife Safaris, and especially the snow leopard trip to India, have always been exceptional and among the best trips that I have been on. They are always well organized, have great accommodations, and have the world's best guides. Every attempt is made to meet the wishes of the participants, including finding elusive wild animals. I would recommend Jackson Hole Wildlife Safari to anyone interested in a safe, well organized adventure.
Jim, Wisconsin
Itinerary
Arrive in Delhi, the capital of India. Our tour leader will welcome you at the airport arrival lounge at the Indira Gandhi International Airport. We will transfer to your hotel and rest for an early start the next morning.
Overnight accommodations are at the Pride Plaza Hotel (or similar).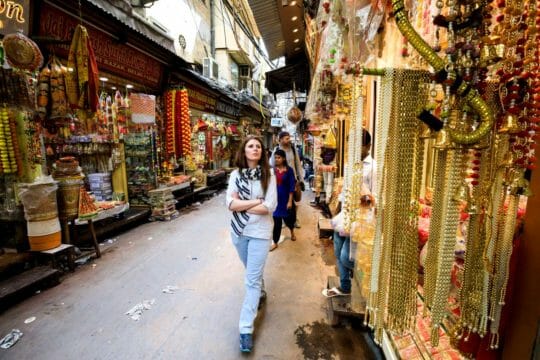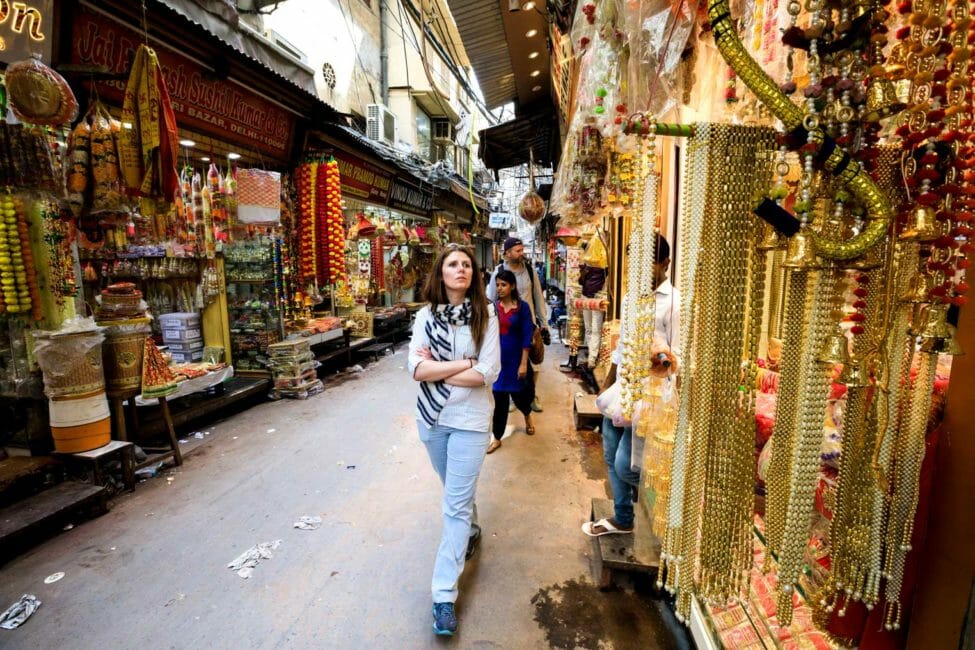 You'll rise for an early breakfast, then transfer to the Delhi Airport for a regional flight to Leh.  We will transfer to our hotel and spend the rest of the day acclimatizing to the high altitude. The region of Ladakh is located in the Indian Himalaya region and is home to the greatest concentration of snow leopards in the wild. The city of Leh is situated in a scenic part of India, surrounded by two of the world's biggest mountain ranges and home to numerous monasteries. The day will be spent walking to gradually get used to the altitude before embarking on the next few days of strenuous trekking in the Husing Valley.
Overnight accommodations will be at the Grand Dragon Hotel (or similar).
This day is a day at leisure for proper acclimatization. It is very important to move slower, drink lots of water / tea, and not to put much stress on the body. We want to be in proper shape when exploring the Himalayas. Take it easy today with short walks to Sankar Gompa, Shanti Stupa and Leh Palace. There will be an opportunity to visit Leh Palace in the evening to photograph Shanti Stupa at sunset. Overnight accommodations will be at the Grand Dragon Hotel (or similar).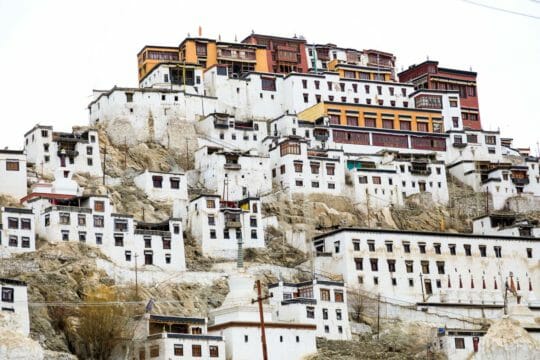 Today's journey takes you west, by vehicle, (2-3 hours) on the road to Kargil and Srinagar, generally following the Indus River. You will pass through the small town of Nimmu, one of the most important in Ladakh, where the Zanskar River meets the Indus River. After a little over an hour you head north, into snow leopard country, on a road marked to Likir, one of Ladakh's famous Buddhist monasteries. The landscape here is bigger, more expansive and open. You will turn off onto a dirt road, winding up a narrow valley, following a stream called the Ulley Chhu. Smaller valleys intersect and the guides are on the lookout, scanning the hillsides and the skyline for any silhouette. This is excellent ibex country and there are few more evocative sights than a magnificently horned male ibex standing vigil on some impossibly narrow outcropping, a few thousand feet over a plunging cliff. Ulley village, west of Leh, is an area that is only recently being developed for snow leopard watching and has quickly gained a reputation not just for the high numbers of snow leopards but as one of the best areas to see ibex, urial, wolf, red fox, bearded and Himalayan griffon vultures and golden eagles.
Overnight accommodations for the next few nights will be at Snow Leopard Lodge which is located in the village of Ulley in West Ladakh, north of the Indus River, at the head of the valley of the Ulley Chhu and situated at an altitude of about 13,000ft (3900m). Ulley itself is a hamlet of just about seven houses located among the high summer pastures of yak and dzo.
Highlights: Snow Leopard Lodge
The Snow Leopard Lodge is the only dedicated wildlife lodge in Ladakh. It began originally as a homestay owned by one of Ladakh's top snow leopard trackers, Tchewang Norbu, under the auspices of a program initiated by the Snow Leopard Conservancy designed to use tourism as a conservation tool for the preservation of snow leopards and their ecosystem by putting tourism revenue directly into local community. The homestay was rebuilt as a six room lodge with three bathrooms, a dining room and sitting rooms looking out over the valley and surrounding hillsides.
The idea was to create a comfortable home base with heat, good food and little luxuries like real coffee, comfortable beds, toilets and washing facilities from where wildlife enthusiasts can search for snow leopards and other high altitude wildlife in relative comfort without having to deal with the exhausting issues of camping in the intense cold at high altitude.
The lodge is simple but attractively furnished with a/v equipment that allows you to enjoy wildlife and regular movies plus board games to make the long winter evenings convivial and fun. Most importantly you are hosted by an expert naturalist lodge manager who lifts the entire experience to a different level, answering your natural history questions while simultaneously interacting with guests to ensure that every individual guest is well cared for.
The lodge commands excellent views down the valley and the high mountains surrounding it. You are certain to see ibex from here and, if you are lucky, other wildlife including wolf, red fox and perhaps even a snow leopard. The advantage of Ulley is that it is relatively free of tourism and the chaos that has enveloped the first snow leopard destination – Rumbak. From Ulley, there is unfettered access to three valleys, all welcoming for possible wildlife sighting.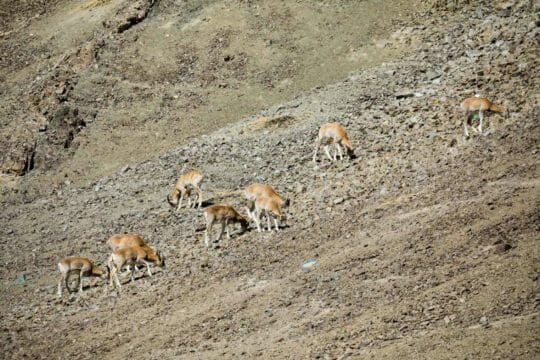 Each day will be spent exploring the region in search of snow leopards and other wildlife. At Ulley, tracking snow leopards is done mainly by car with variable amounts of walking which you can adjust to your own requirements. The trackers and spotters are exceptional. You will be amazed at the sheer dedication and commitment they bring to their craft and the effort made to ensure that guests leave happy. The trackers interact closely with the local people and use their network of local intelligence to narrow down the likely sites for snow leopard movement.
During the winter months, the ibex move down to lower altitudes where there is food. They are followed by snow leopards and other predators like the Tibetan wolf. Tracking the seasonal movements of these ungulates gives you the best opportunity to spot snow leopards in the wild.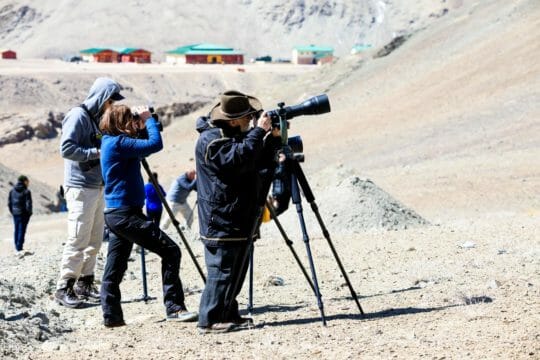 We will head east by vehicle (2-3 hours) back to the city of Leh. Upon arrival in Leh, we will check into the hotel for an evening of rest.
Overnight accommodations will be at the Grand Dragon Hotel (or similar).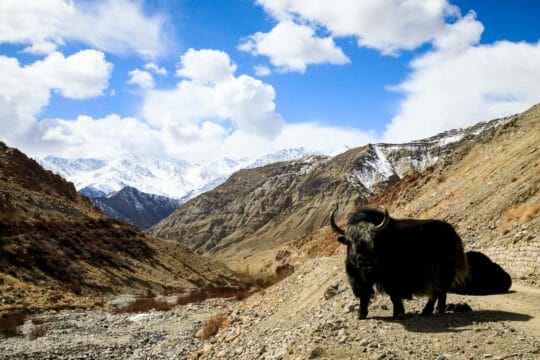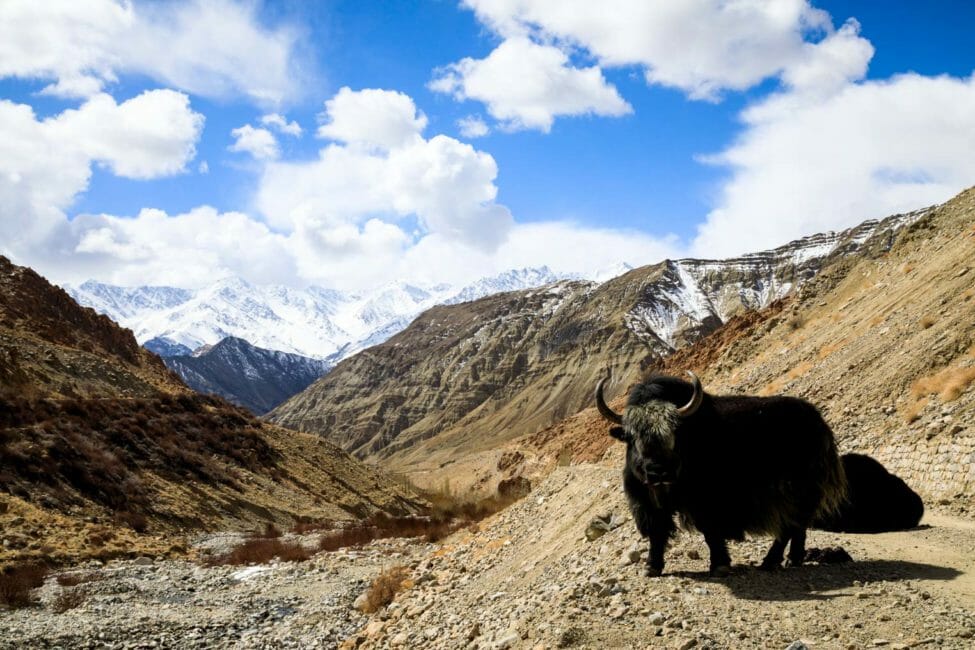 Rise for an early morning breakfast and then transfer to the Leh Airport for a regional flight to Delhi.  The afternoon will be open to explore Delhi on your own.
Overnight at the Radisson Blu Plaza (or similar).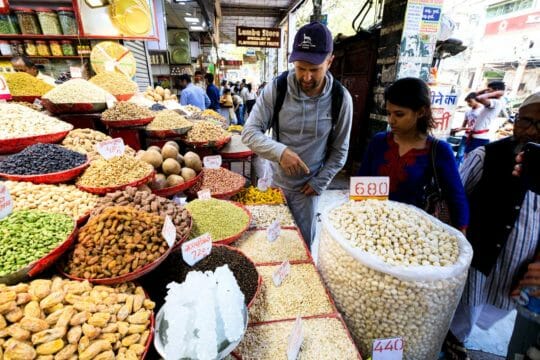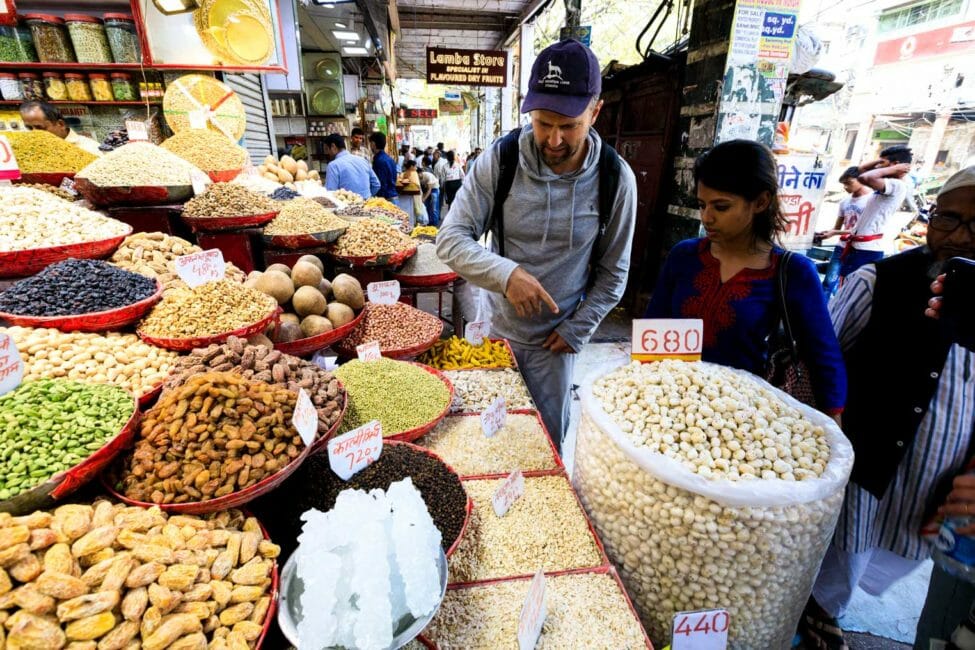 Transfers will be provided from your hotel to the Delhi International Airport.
FAQs
What is your cancellation policy?
​Due to the complex nature of our multi-day expeditions, our cancellation policy is 90 days on all domestic and international expeditions.  Cancellations made before the cancellation policy goes into effect will receive a full refund. Cancellations made within 90 days of departure will not be refunded. We strongly recommend travel insurance in order to protect you from unforeseen travel interruptions that prevent you from joining us.
Is this a set itinerary?
Our travel dates and hotel accommodations are set.  Our daily movements and schedule will be largely dictated by the wildlife itself!  We have partnered with local guides and naturalists to offer the best opportunities to see wildlife in its natural habitat.  We will adjust our daily schedules according to the goals and interests of the group and the best options for viewing wildlife.
Is this tour sustainable?
Jackson Hole Wildlife Safaris combines a love of adventure with a passion for wildlife and wild spaces to create a premium, once in a lifetime experience exploring the natural world. It is our belief that active stewardship is the only way to ensure the same experience for future generations. This is why Jackson Hole Wildlife Safaris is committed to a culture of sustainability and is dedicated to purchasing products, establishing partnerships and educating the public in a way that values the protection and conservation of our most valuable resources.  Each part of this tour has been carefully crafted with sustainability in mind.
Guides and Staff
Our Team
Local, experienced, and passionate guides and photographers.
More Adventures
Keep Exploring