Overview
Join us on a wildlife safari expedition with Jason Williams and Carrie Wild traveling to Churchill, Manitoba in search of polar bears and arctic wildlife.  Churchill is one of the best places in the world to photograph polar bears due to their seasonally high concentration and our ability to access those areas. Between 900 and 1000 of these graceful animals congregate in and around Churchill waiting for the Hudson bay to freeze, allowing them access to prime seal hunting grounds. Not only will you spend the week in the middle one of the densest concentrations of polar bears in the world, you will also spend time viewing and photographing northern lights, have close encounters with red and arctic fox, and if we're lucky, snowy owls and gire falcons.
Our expedition will be based out of the Churchill Northern Studies Center, an active research and education facility situated 23 km east of the town of Churchill right on the tundra. This modern facility provides comfortable, dorm style accommodations overlooking the tundra with complete access to the center's library, recreation room and observatory. Every evening we will gather to enjoy presentations on wildlife photography, natural history and ecology by your guides or the center's highly trained naturalists. This exclusive polar bear tour is limited to 6 guests allowing us to customize each day around the interests and desires of each person on the trip.
Expedition Dates
Expected dates, 2021:
October 22, 2021 – October 29, 2021
October 29, 2021 – November 5, 2021
What's Included
Professional Naturalist Guide

Small Group Safari : 6 Guests Max

Activity Fees / Entrance Fees
Open Safari
Based on double occupancy. Single supplement: $200. The minimum age for this expedition is 12 years old.
Pick-up Times
The meeting location for this expedition is The Grand Winnipeg Airport Hotel, located at 1979 Wellington Avenue, Winnipeg, MB, R3H 1H5, Canada.  Please be sure to arrange flights and check in to your hotel with plenty of time to arrive at the meeting location by 7:00 PM.  You'll have an opportunity to meet your guide, get an overview of the week, and ask questions about your expedition.
I want to take a moment to give a "shout out" for Jackson Hole Wildlife Safaris and their polar bear expedition to Churchill, Manitoba. Our guides were knowledgeable, friendly and always looking to improve our experience. I returned home with nearly 5000 images captured over five days including those of polar bear, red fox, ptarmigan, Arctic hare, raptors and landscapes. Would I recommend them for your polar bear experience? Yes, and with five stars!
Ed, Arizona
Itinerary
Arrive in Winnipeg, capital city of Manitoba. You'll meet your guide at your hotel for a mandatory orientation this evening. Dinner is on your own. You are free to explore the city of Winnipeg or dine at the hotel. Overnight accommodations are at the Grand Lakeview Hotel at the Winnipeg Airport.
Highlights
Winnipeg: Named after Lake Winnipeg, the name comes from a western Cree phrase for "muddy water". The First Nations people had been regularly using this area as a center for commerce and agriculture long before any europeans arrived. Archaeological estimates put the original settlement dates at approximately 11,500 years ago. The rivers around Winnipeg served as the main arteries of transportation through the area. In the late 1600's and early 1700's, many fur traders remained in the area, married First Nations women and had children who became Métis, an ethnicity recognized as First Nations who specifically trace their genealogy back to these marriages. There are about 580,000 people today who are recognized as Métis people.
Manitoba Museum: If your arrival allows for some time to explore during the day, you might get a chance to visit the Manitoba Museum. The museum houses collections on nature, conservation and heritage with special traveling exhibits and a planetarium. The museum is only open on Sunday between the hours of 11:00am and 5:00pm. The museum is a not-for-profit center for heritage and science and is noted for the excellent three-dimensional walk through galleries.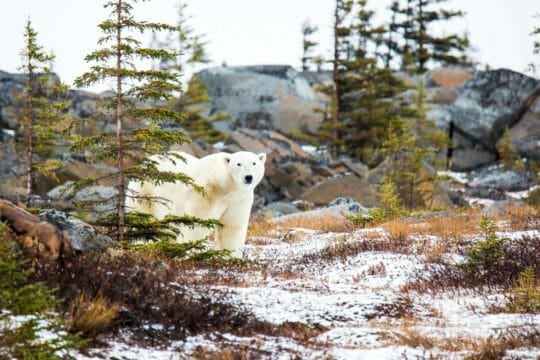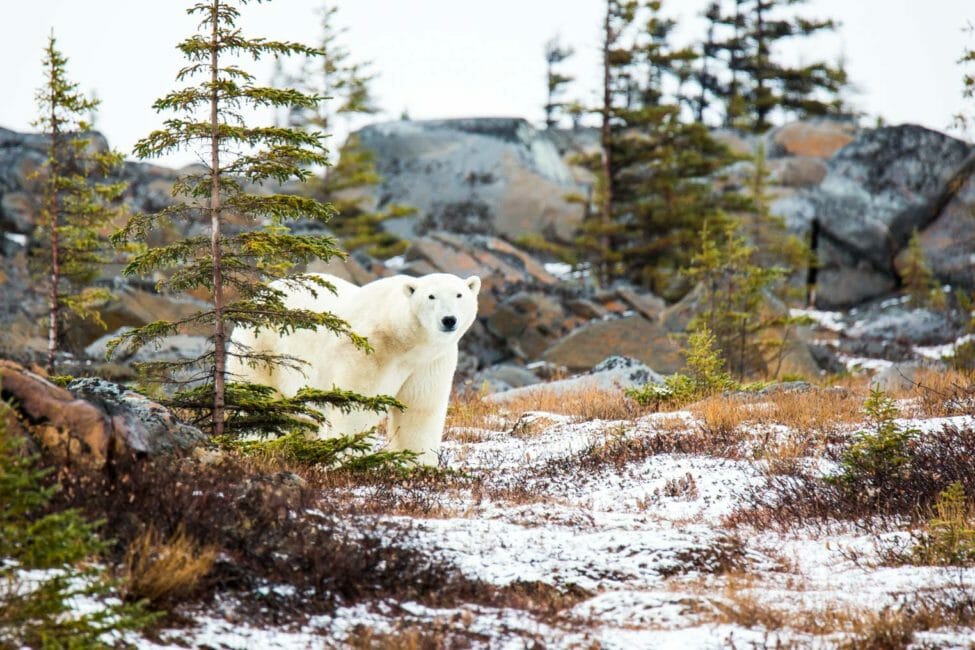 We will have a leisurely morning in Winnipeg before boarding our flight to Churchill.  After arriving in Churchill, we will make our way to the Northern Studies Centre where we will be greeted and given a quick orientation by the Northern Studies Centre Staff.  Dinner will at the Centre, with a seminar on tips and tricks to arctic photography. Overnight accommodations are bunk-style at the Centre.
Highlights
Churchill: The town of Churchill lies at the 58th parallel, roughly 100 kilometers from the Nunavut border. With no road access, Churchill is truly a north Canadian outpost. Nomadic First Nations people arrived in Churchill around 1000 years ago, notably the Thule (who would become Inuit) and the Dene people. Anthropologists believe that the Thule people were in contact with the Vikings, with references in the sagas to "skrælingjar", a term used to reference the indigenous people in the Arctic. In more modern history, the Chipewyan and Cree tribes were the predominant inhabitants. Europeans first arrived in 1619 when a dutch expedition wintered at the located of modern day Churchill. Only 3 men of the 64 involved survived the expedition and leaving a ship behind, they sailed back to Denmark. The wreckage of the second ship, "the Unicorn", was found in 1964 and artifacts from the failed expedition now sit on display in Copenhagen at the Danish National Museum.
Churchill Northern Studies Centre: Founded in 1976 at the site of a decommissioned military installation, the Centre is a field station dedicated to understanding and sustaining the north through research and experiential education. The Centre is a non-profit research facility located at the confluence of three biomes, marine, northern boreal forest and tundra. Its unique location provides an area rich in biodiversity and perfectly suited for arctic research.
Day 3
Churchill / Hudson Bay
After breakfast at the Centre, we will head into the field for a full day of wildlife watching and photography. We will spend time exploring the tundra and the coastline of Hudson Bay in search of polar bears and other arctic wildlife. We will have the opportunity to observe, study and photograph polar bears and other wildlife in a variety of landscapes. We will return to the Centre in the late afternoon to relax before dinner at the Centre. There will be an optional evening presentation. Overnight accommodations are bunk-style at the Centre.
Highlights
Polar Bears: Also known as the white bear, the ursus maritimus is a large bear inhabiting the arctic, mostly within the Arctic Circle. Seals make up most of the animals' diet and the bears spend most of the time on sea ice, hunting seals. The polar bear is distinctly suited for life in the arctic. It has very small bumps on the pads of its paws, which grip the ice and give the bear traction. The claws are short and curved, to further assist in traction and digging snow. They have a 10cm fat layer for insulation with dense underfur and hollow, transparent guard hairs (the visible outer coat). Polar bears are not typically territorial and may range large distances in search of food. Diminishing sea ice and habitat loss caused by climate change have classified the polar bear as a vulnerable species.
Tundra: The Canadian arctic tundra is characterized by permafrost, low precipitation and a largely treeless landscape. Any flora or fauna that lives in the tundra has adapted to life in this harsh environment. Flora growing in the tundra have a short life cycle and can bloom without pollination reliant on insects. Lichen growing in the tundra does not need roots or soil to grow but instead has a symbiotic relationship with algae and cyanobacteria, feeding on the organic carbon sugars generated by the organism's photosynthetic process. Flowering plants have developed small leaf sizes to protect the plant from water loss and wind. They may also exhibit fuzzy leaves to protect against snow and wind. Most birds migrate seasonally to the tundra, but both the snowy owl and the raven can be found in the tundra all year.
Days 4-5
Churchill / Hudson Bay
The next two days will be spent in the field, tracking polar bears and other wildlife. Weather conditions permitting, we may do a tundra buggy tour to explore another area near Churchill. Evenings are free, with optional interpretive sessions or film screenings available. Dinners will be served at the Centre. Overnight accommodations are bunk style at the Centre.
Highlights
Day 6
Churchill / Hudson Bay
After breakfast together at the Centre, we will head out into the field for a morning of wildlife viewing. This will be the last chance for viewing polar bears, fox and other wildlife before we board our flight back to Winnipeg. Dinner will be in Winnipeg. Overnight accommodations will be at the Grand Lakeview Hotel at the Winnipeg Airport.
Highlights
Inuksuk: These rock cairns built on the arctic tundra have a deep cultural significance for the Inuit people who have inhabited the land for over a thousand years. These cairns were built with unworked stone, usually in a spire form as its simplest form. There are questions as to whether the cross format appeared before or after european christian influences reached the area. The stones may have marked important gathering sites, food caches, animal migration routes or other significant aspects of Inuit life. The inuksuk are of great importance to the Inuit and their destruction is forbidden. The structures are often confused with the inunnguaq, a human form that resembles the inuksuk. These human-like forms may have been more spiritual than functional and traditional Inuit culture makes a clear distinction between the two.
Inuit: The Inuit people are indigenous people residing near the arctic circle in Canada. They are descended from the Thule people, thought to have migrated from western Alaska around 1000 AD and settling in Manitoba some time between then and 1400 AD. Inuit are not classified as members of First Nations or Métis people. They are classified as Aboriginal Canadians. Linguistically and culturally, they are most closely related to the Aleut and Yupik peoples in Alaska. Around 65,000 Inuit live in Canada today. Ecological threats such as climate change may have a drastic effect on Inuit culture in the future and is a concern for modern Inuit people.
If time allows, you may decide to take in the sights of downtown Winnipeg.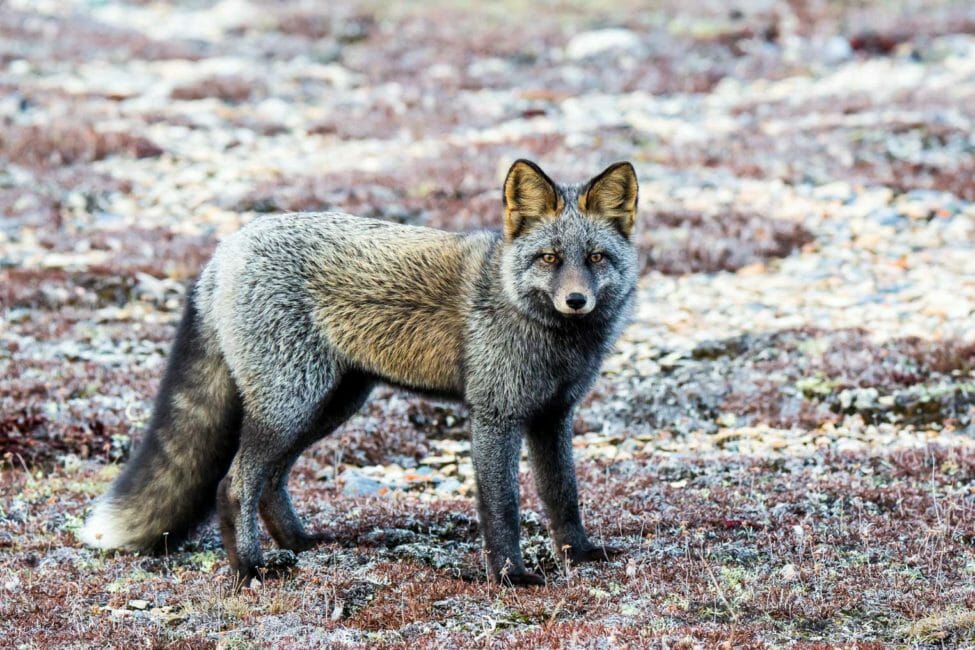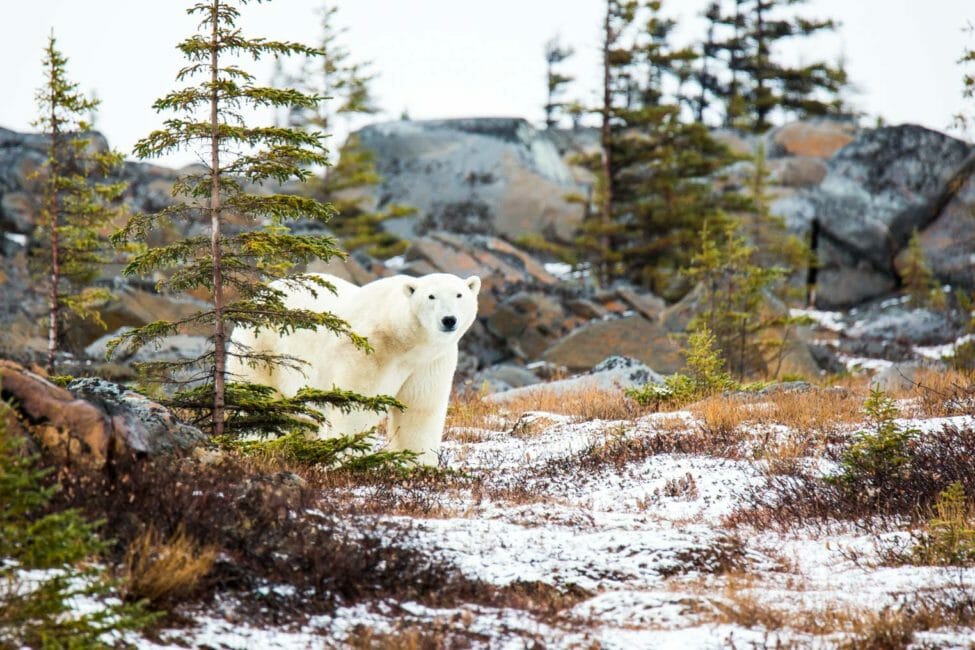 FAQs
What is your cancellation policy?
Due to the complex nature of our multi-day expeditions, our cancellation policy is 90 days on all domestic and international expeditions.  Cancellations made before the cancellation policy goes into effect will receive a full refund. Cancellations made within 90 days of departure will not be refunded. We strongly recommend travel insurance in order to protect you from unforeseen travel interruptions that prevent you from joining us.
Is this a set itinerary?
The exact routes and itineraries will depend on a number of factors – the most important being your areas of interest, current wildlife sightings and road conditions. One of the great things about our safaris and expeditions is our ability to customize each safari for you. Our guides are all highly experienced with thousands of hours in the field allowing them to make suggestions and calibrate the adventure to your experience level and desires. Every day in the field is different which makes our safaris more fun for both you and your guides. We hope that you'll join us on an expedition and walk away with an education and appreciation of this remarkable place.
Is this tour sustainable?
Jackson Hole Wildlife Safaris combines a love of adventure with a passion for wildlife and wild spaces to create a premium, once in a lifetime experience exploring the natural world. It is our belief that active stewardship is the only way to ensure the same experience for future generations. This is why Jackson Hole Wildlife Safaris is committed to a culture of sustainability and is dedicated to purchasing products, establishing partnerships and educating the public in a way that values the protection and conservation of our most valuable resources.  Each part of this tour has been carefully crafted with sustainability in mind.
Guides and Staff
Our Team
Local, experienced, and passionate guides and photographers.
More Adventures
Keep Exploring